It is no secret that the COVID-19 pandemic has changed a lot about our way of life. Undoubtedly one of the most significant changes is the way in which we gather. As a result, we have seen many of our treasured industry shows, including PFEXPO, either canceled, postponed, or testing virtual formats to keep attendees, exhibitors, and workers safe. If you attended Global Pet Expo 2020 just weeks before the world shut down, then you can remember the feeling of impending change. Empty booths, quiet whispers, and the questioning looks when you saw someone sporting a mask as they walked through the aisles. We didn't know at the time, but everything was about to change.
This year, despite all the knowledge we now have about this virus and the vaccine actively being rolled out across the world, it was still too soon to safely return to sunny Orlando, Florida, for our beloved Global Pet Expo. Instead, APPA, PIDA, and others involved in the planning for this event opted for a virtual format. Considering the typical grandeur of these events, this is no small task. I commend the organizers behind this event for doing all they could to try and keep the spirit of the physical event on a not-so-physical platform.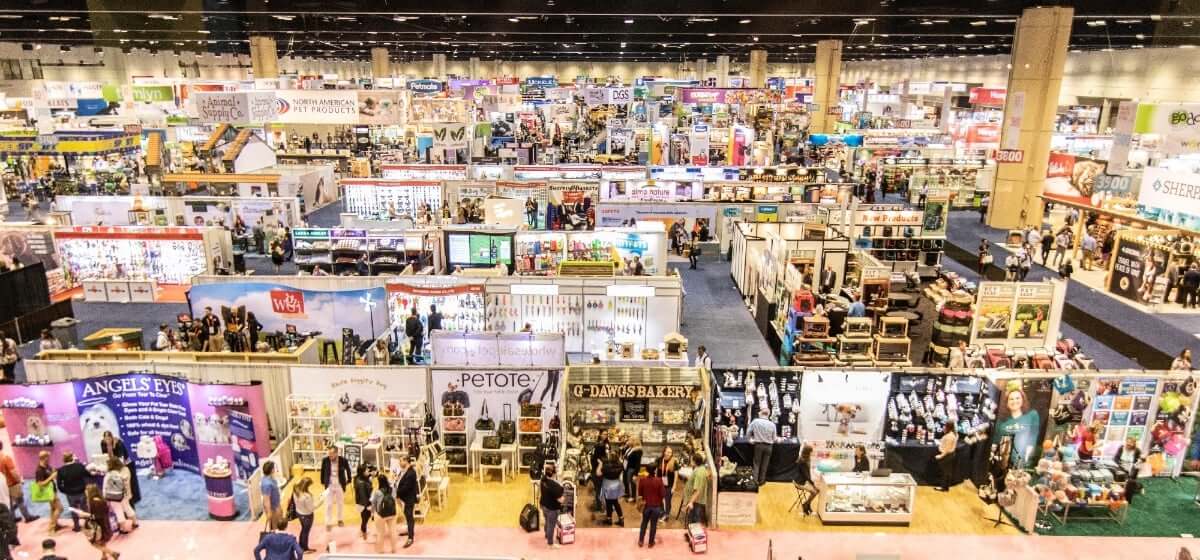 During the educational offerings at this year's GPE, there were some very clear takeaways and learned lessons from the past year that ran throughout. Adjusting to our new normal, how business has changed due to the pandemic, and the industry's growth despite all of it were just some of the notable themes. As my team and I downloaded the content during the first three days, we made note of the most essential pieces and wanted to take a moment to share them with all of you.
Key Takeaways from Day 1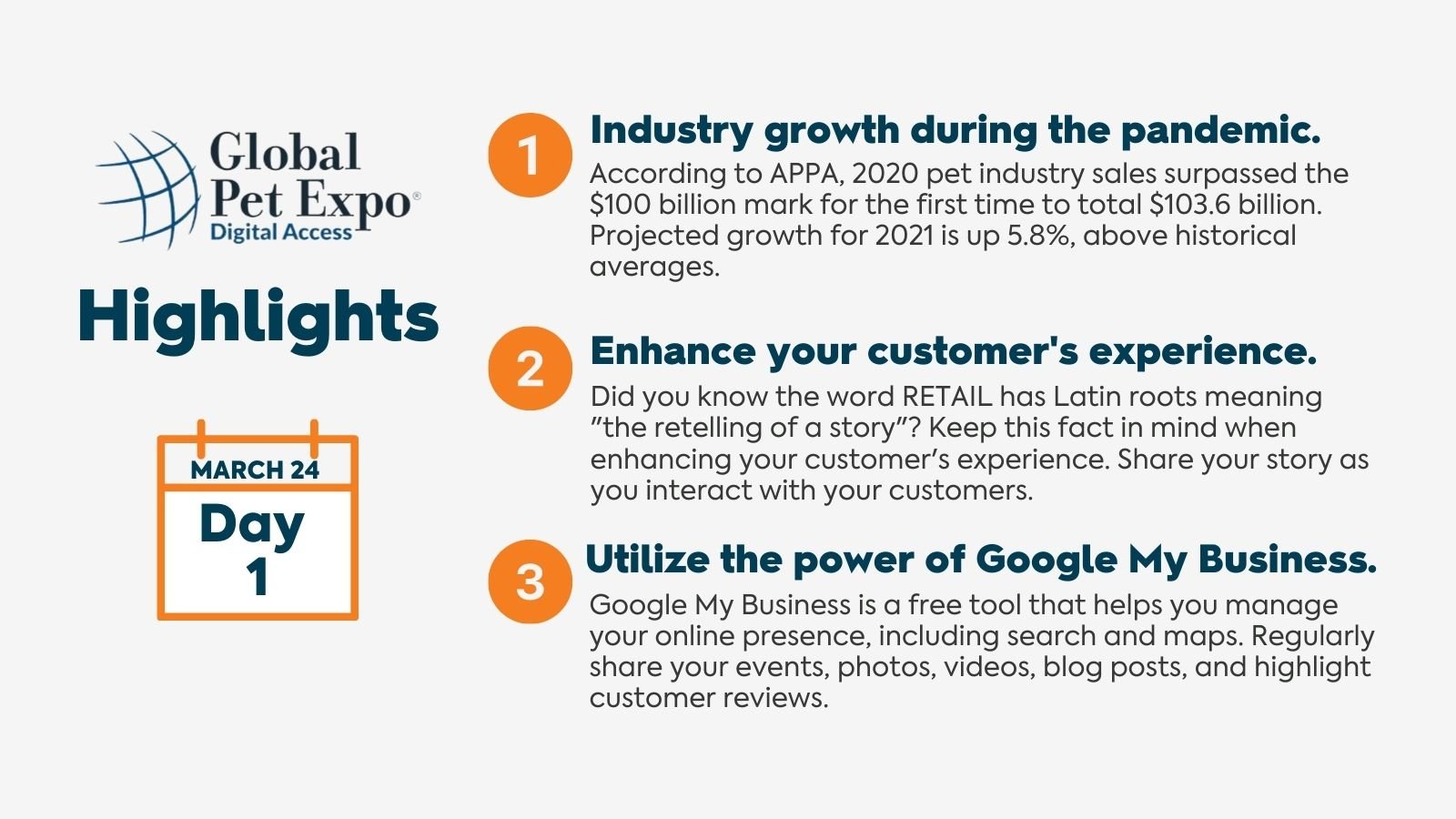 Industry growth during the pandemic.

It's no secret that with all the challenges COVID-19 has brought to small businesses across the country, the pet industry has continued to thrive, with APPA reporting revenue surpassing 1 billion dollars for the first time in history. What made this year so profitable for our industry in the face of the crippling challenges that other businesses faced?



Sales increased for retailers across every channel were recorded during 2020, with e-commerce (not surprisingly) coming out on top. According to APPA, total retail sales grew 6.7% from 2019, and pet specialty and independent retailers "experienced solid growth" despite disruptions and uncertainty caused by the pandemic.
Enhance your customer's experience. It's no secret that the modern consumer cares deeply about great experiences when choosing who to do business with. If you take a step back and look at yourself as a consumer, how do you decide who you will shop with? Is it just because they offer a product or service you love? Or is it because the company has a unique and compelling story? Chances are, it's a combination of both.



In fact, storytelling has become equally crucial in the eyes of the modern customer. All businesses should be telling their story,

sharing their "why"

, and making sure their customers understand what makes them unique, different from the competition, and the correct choice to do business with.

Utilize the power of Google My Business.

Have you ever looked up a business on Google that said it was open only to drive there and have it be closed? This has happened to me a few times during the last year and therefore left me frustrated and shopping for someone else entirely. Often overlooked

(especially with the down-to-the-minute changes of business hours and services during the pandemic)

is how often someone "Googles" your business before deciding to make the trip to visit or shop with you online.





With 46% of all Google searches being conducted locally, it is SO vital for businesses to harness the power of this free tool to keep potential and returning customers up-to-date on any last-minute changes, shining customer reviews, continue building their brand, be found in local search results, and more!
Key Takeaways from Day 2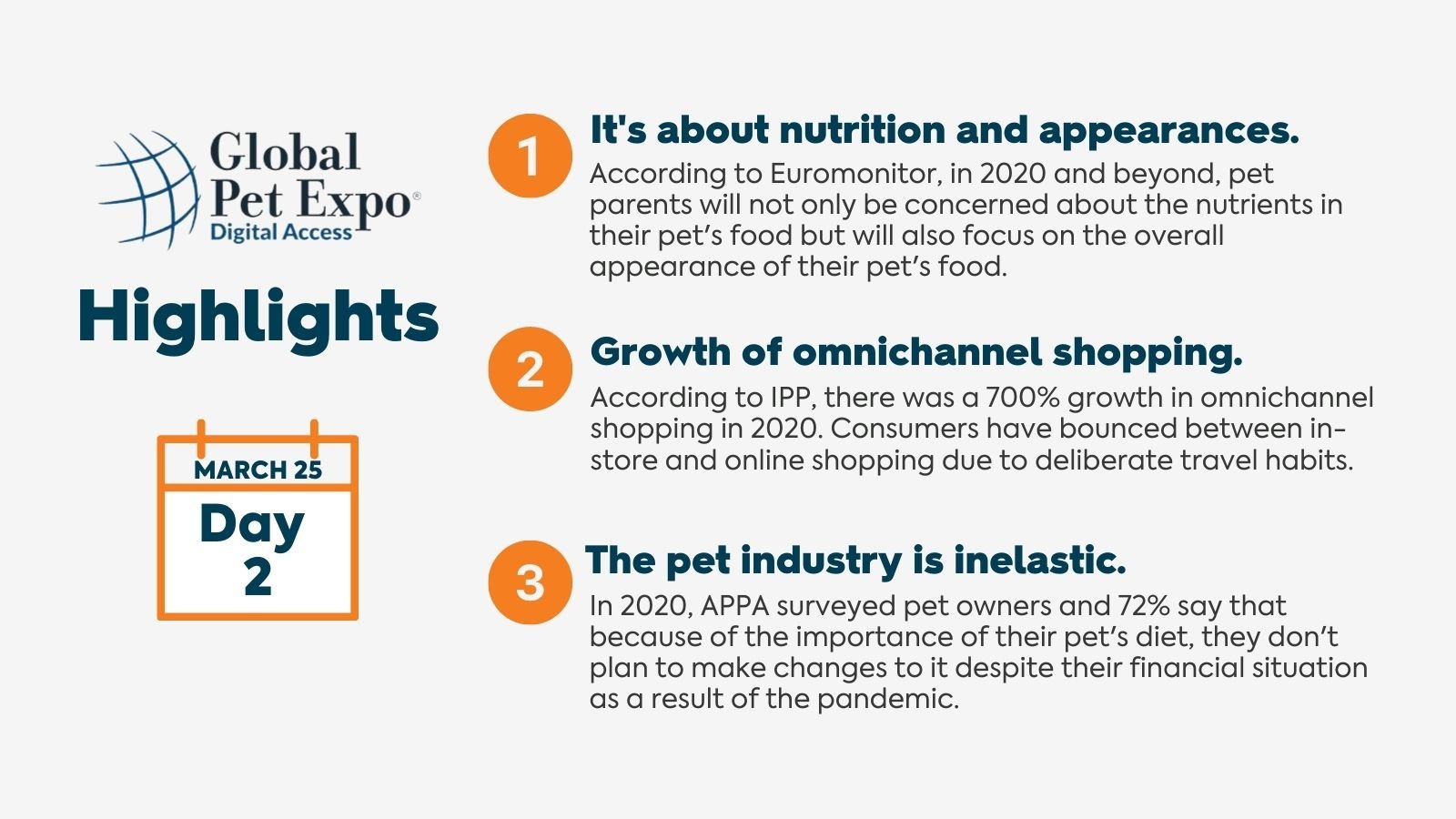 It's about nutrition and appearances.

In the coming year, studies have shown that pet parents will continue to focus on the ingredients in their pet's food and shift their focus to the overall appearance of the food. The processing method used to create the food may become as important as the ingredient list itself.



As consumers turn to fresher and less processed food in their diets, they are also seeking out less processed-looking foods for their pets, benefiting categories such as raw, gently cooked, and more.
Growth of omnichannel shopping. This year, there was a continued focus on the importance of offering an omnichannel shopping experience for customers. That is a multichannel approach to selling that focuses on providing a seamless experience for customers whether the client is shopping online from a mobile device, a laptop, or physically in a brick-and-mortar location.



By emphasizing options such as pick-up in-store and curbside delivery, the COVID-19 pandemic quickly forced many retailers that were not already in the online space to

take the leap into online sales

and quickly adapt to the restrictions in their areas. These investments will surely pay off post-pandemic, leaving those that have made the shift in a stronger position overall.

The pet industry is inelastic.

Undeterred by some of the hardships facing families across the country, spending on pets has steadily increased. With studies reporting 72% of pet owners planning on making no change to their pet's diet even though their financial situation may have changed — and 21% have spent either a little or a lot more money on their pets in the last year.





No matter what is happening in the world around us, buying pet products

continues to be an emotional experience for consumers, with many placing the importance of quality, health, and overall happiness of their pets over price.
Key Takeaways from Day 3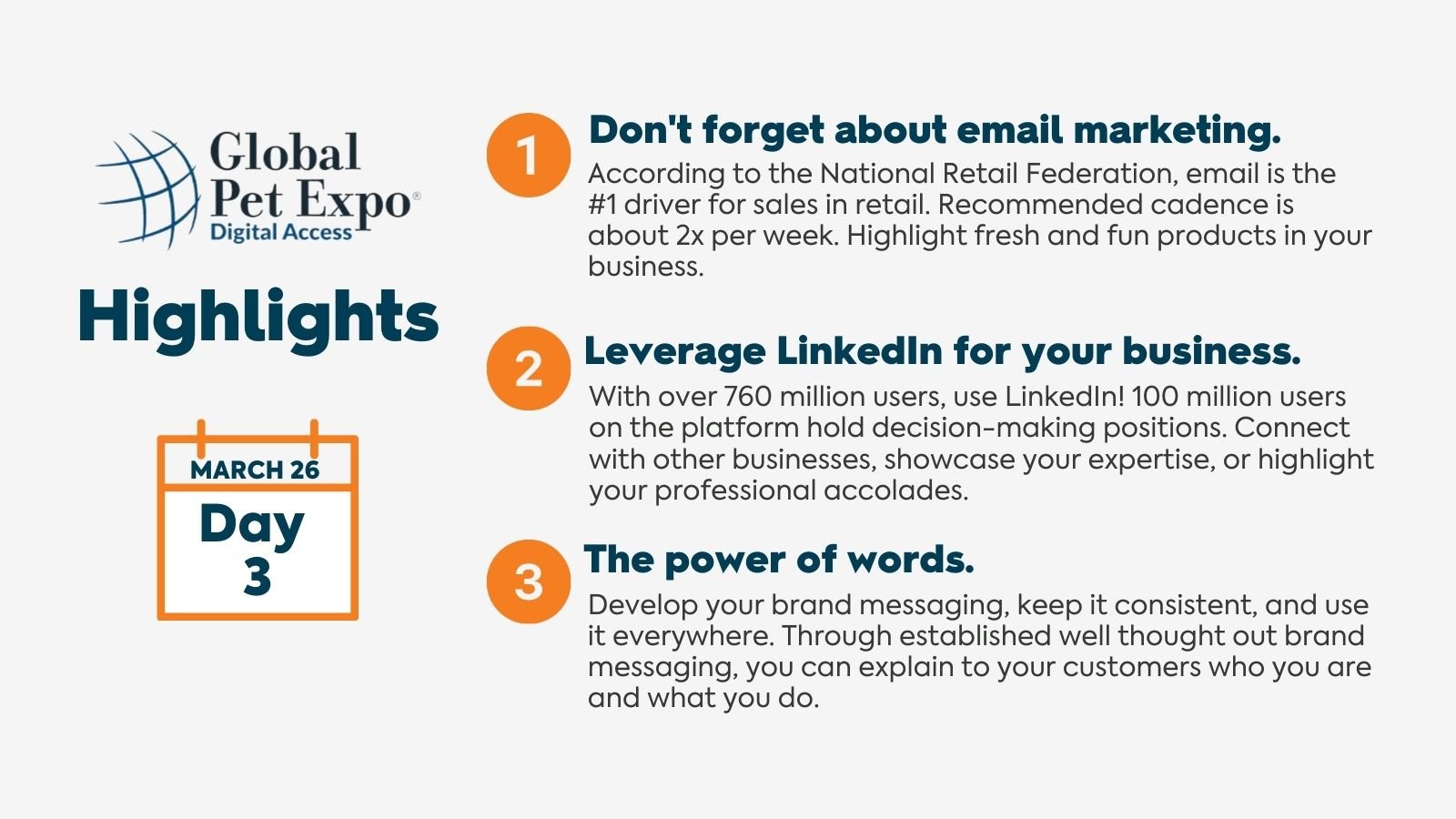 Don't forget about email marketing.

Despite some insisting that "email is dead" for years now, it continues to be

a no-brainer for pet retailers

and any small business looking to connect. With a well-thought-out email marketing strategy, proper customer opt-in, personalized, relevant content, and correct cadence, email marketing can be a game-changer for your business.



Email marketing continues to be a great way to stay in touch with customers and build your brand. Those businesses that utilize email and do it well can enjoy higher sales and a more cost-efficient approach to their marketing overall.
Leverage LinkedIn for your business.

More well known as a platform for finding new hires and networking with business professionals, LinkedIn is often overlooked as a tool for small businesses. These days, people are using LinkedIn for purposes such as building relationships with like-minded professionals, staying up-to-date with industry trends, and uncovering new leads who could later become customers.



Building your personal page and your business page can prove to be highly effective for any small business owner. Together, these assets will showcase you and your business in a professional light, give you another platform to connect, help increase your business's searchability online, and much more.
The power of words.

When developing your brand, it's important to remember that the words you choose and the tone you use matter just as much as the visual design. Great visuals may draw customers in, but words help them decide if they like you, help them identify if you understand their needs, and if they want to do business with you.



Words and visuals must work as a cohesive and complete team to paint the full picture of a brand story. Your package design, website, blog, social campaigns, and emails might be beautiful and engaging, but if the words in it aren't compelling, no one will keep reading. Words matter, and brands that tell their stories — not just show them — always win.

That's a Wrap!
Despite all these takeaways, one other lesson learned was that nothing is as good as being together in person for an industry event. Websites can be cumbersome and often lack the personalization and attention to detail that we crave from a physical event. No matter how good a virtual event platform is, there is no replacement for the electricity felt when on the show floor networking and learning from our peers.
Global's COVID pivot took a lot of thought and time to plan, and overall I believe the content was extremely valuable for those who had the time to explore. Once we are out of the woods with this pandemic and it is safe to be together again, I'm confident Global will return bigger and better than ever before.
Excitingly, the dates for next year's event have already been released, and I very much look forward to seeing you all in person in Orlando on March 23-25, 2022!