Providing pet parents with the products and services they need to make sure that they come back for more will always be one of your main goals as an independent pet retailer. It's easy to learn about your customers by asking them questions while they are in your store; however, we often forget that to build a truly valuable relationship it has to go both ways. In order to make lasting connections with your customers and your community, you need to prove your value. Sharing the story behind your business, not only the what and the how you do it, but more importantly the why you do what you do, and most importantly why pet parents should shop with you over your competition is the value proposition you need to succeed.
Let's face it, everyone loves a good story. Sharing stories is what makes people feel connected to a group and have a sense of belonging. Telling your story will make your customers feel more connected to you. In fact, businesses that tell their story are found to be 22 times more memorable than those that don't. Business storytelling can help you find your "why" and create a more human connection between your business and your customer base.
So, let's dive in and better understand what is your "why, how do you define it, and how you communicate it with your customers.
So, What Is Your "Why"?
Simply put, your "why" is the reason you started your business. It's the story behind your brand and the passion behind what you do, and to successfully market your business you should always keep your "why" top of mind. Now, owning a small business in the modern world is a challenge in many ways but maybe none more than just getting noticed by consumers.
How do you hold or even grab the attention of the very distracted modern consumer? Especially knowing that studies have shown our modern attention spans to only be about 8.25 seconds. Yes, that's shorter than a goldfish! With this in mind, you and your employees should be able to express your why at a moments notice. Work with your team to have a prepared pitch of your business's amazing story so they can bust it out when the situation calls for it. Make sure you are all on the same page as a united front will only make expressing your why that much easier.
If you are not sure how to get started crafting your "why" following Simon Sinek's, Golden Circle concept can help guide you. The Golden Circle concept states that a customer will buy from a company not just because of what they do and how they do it but because of why they do it in the first place. To craft your full story it is important to touch upon the "what", "how", and most importantly the "why" of your business so let's break it down layer by layer.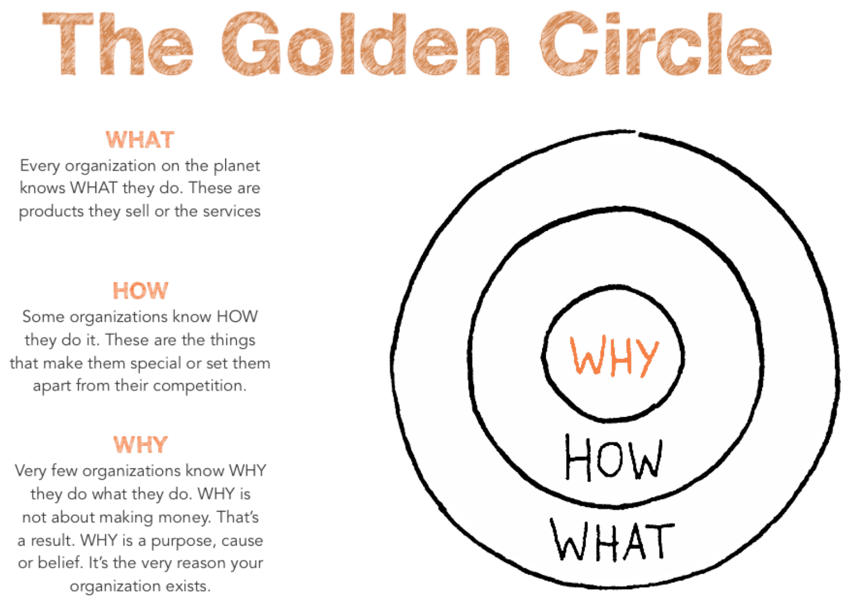 As you can see the Golden Circle starts with the easiest to define on the outside, the "what", and then moves inward to the more difficult to define "how" and "why".
What: On the outside of the circle is your "what". Every company knows what they do (or, at least that's my hope). It's easy to describe the products and services you offer to pet parents. It's the bread and butter of all pet businesses. So, when it comes to marketing you can easily communicate this to customers by listing your services and products on your website, posting pictures of product on social media, and promoting product through email marketing. There are so many ways you can market your products the sky is the limit!
How: For a pet business that offers a service like grooming or training describing your "how" is easier to do, but for those businesses that mainly just sell pet supplies it may be harder to describe how you do it and why it is different than other pet businesses out there. If you are having a hard time defining this try looking at it as defining the strengths or the value your business offers versus other businesses like yours.
Ask yourself questions like... Do you offer a convenient buy online, pick up in-store option? How about special orders of products you don't typically carry for customers? Maybe you are an expert in a specific category of products or carry products others in your area can't offer? These are all great examples of "how" you sell your products differently.
Why: Very few people or companies take the time to share why they do what they do with their customers. This isn't about making money—that's a result of what you do. Your why is all about your purpose, values or beliefs.
So ask yourself... Why does your company exist? Why do you get out of bed in the morning?... And lastly why should anyone care?
Going forward you can find ways to articulate it through decisions made in your business. Maybe you choose to take on a specific product because your values align with theirs or discontinue a product because you don't believe in their values. Before making a major decision just ask yourself, "Does this align with the values of my business?" Is this something you care about and something your customers care about? From there, you can begin to build your story.
Start Telling Your Story
You can start by engaging customers through events that support your beliefs and take advantage of social media to share with and grow your audience. Day to day there are plenty of ways to tell your story and share your "why". So now that you have established your "why" it's time to start implementing it into your marketing strategy. Here are some ways you can share your story and values through social media.
Create a killer "about us". It's important that your website and social media pages introduce you to visitors especially those unfamiliar with your business. Tools like these can let visitors know what you do, how you do it better or differently, and most importantly why you do it. Your about us can be a few paragraphs that will encompass the entire Golden Circle or you can take an alternative approach and create a short video. The average user spends 88% more time on a website with a helpful video so this is a great way to really get your story heard. You can also share it on social media or anywhere it makes sense.
Share your milestones. As a business owner, I'm sure there are certain milestones that you are looking forward to or never imagined you'd make it to. Sharing those special parts of your story with customers and thanking them in the process is a great way to communicate your why. Consider celebrating your milestones with a social media post, special event or promotion in your store. Don't forget to take advantage of email marketing and send out a coupon to any customers who have opted into your messages.
Capture customer testimonials. I'm going to go out on a limb here and guess that many of you reading this started your business partly because you love pets and you're dedicated to helping them and thanks to your dedication your customers love you. You can use your customers' love for your business as an opportunity to share your why. Getting your customers to review your business and express how much they love it is a great way to say, "Hey! Do you see this? This is why we started our business."
Show your smiling faces. Your story or "about us" doesn't need to be just about your business. Share the personal interest you and your employees have in the business and its goals. Get all your employees on the same page and inspire them to believe in your why. Then encourage them to share their personal connection with it through social media. Post pictures of you and your staff with short bios or at community events. You can showcase your company's culture and humanize your brand. Customers want to support companies they feel connected to and sharing these moments will help create a deeper connection.
Celebrate your customers. Helping pets and their parents is at the core of all you do and it's thanks to those people coming in week after week that you can continue to do what you love. So show them how grateful you are with a customer appreciation event. Consider offering them great deals and maybe some free goodies! Throw in some free snacks and treats for the pets and their people and it is sure to be a success. Let them know that they are part of your "why" and build a deeper connection through celebrating their support of your business.
Complete Your Golden Circle
When you're selling from the inside out, the "why" is the reason customers might buy from you over the competition and the "what" serves as the tangible proof of that belief. Communicating your business's story is a sure fire way to share your "why" with all that are willing to listen.
Like I said before, storytelling is a way to build deeper connections so find a way to share your story. Make it your creed. Let your "why" guide you when making decisions both large and small. Whether it's a post on social media or a much bigger business decision like determining whether you want to expand, your "why" will help you succeed.
What is your "why"? Share your story in the comments below!