As the temperatures outside steadily drops and the sun sets earlier in the evening sky it's a sure sign that winter is creeping up on us. Humans are not alone in suffering from the harsh effects of winter; our four-legged friends are also feeling the effects. Make sure your furry friends are safe and warm this winter. From apparel all the way to diet you can find ways to help your customers' pets survive the winter and make your store thrive.
Yes dogs get cold, despite their built in protective layers and lovely fur coats. Some people think a dog doesn't need any more protection from the cold other than their own skin and furry coat. But this is not always the case. So how can we tell when the cold is too cold? Dogs usually will not begin to feel discomfort from the cold until the temperature drops below 45℉. So, if you are cold they probably are as well.
No one wants to be out in the cold, so use winter as a way to draw customers into your warm store and do some shopping! Check out these these tips to boost sales and help pets and their parents make it through the winter.
Take Advantage of Inclement Weather
A bad winter storm can leave people and their pets cooped up indoors for days on end. When you know a storm is coming try and contact your customers about remembering to pick up some storm essentials for their pet. Whether they are running low on food or don't have any ice melt they can stop in your store before they head home to brave the storm.
An easy way to do this is by posting on your social media accounts. Sharing a picture of what you consider the "winter essentials" may be just what a pet parent needs to see to head to your store. If you employ email marketing send out an e-blast containing some tips and tricks to keep your pet safe this winter and offer a discount on items like coats, doggy booties, paw waxes and pet safe ice melt.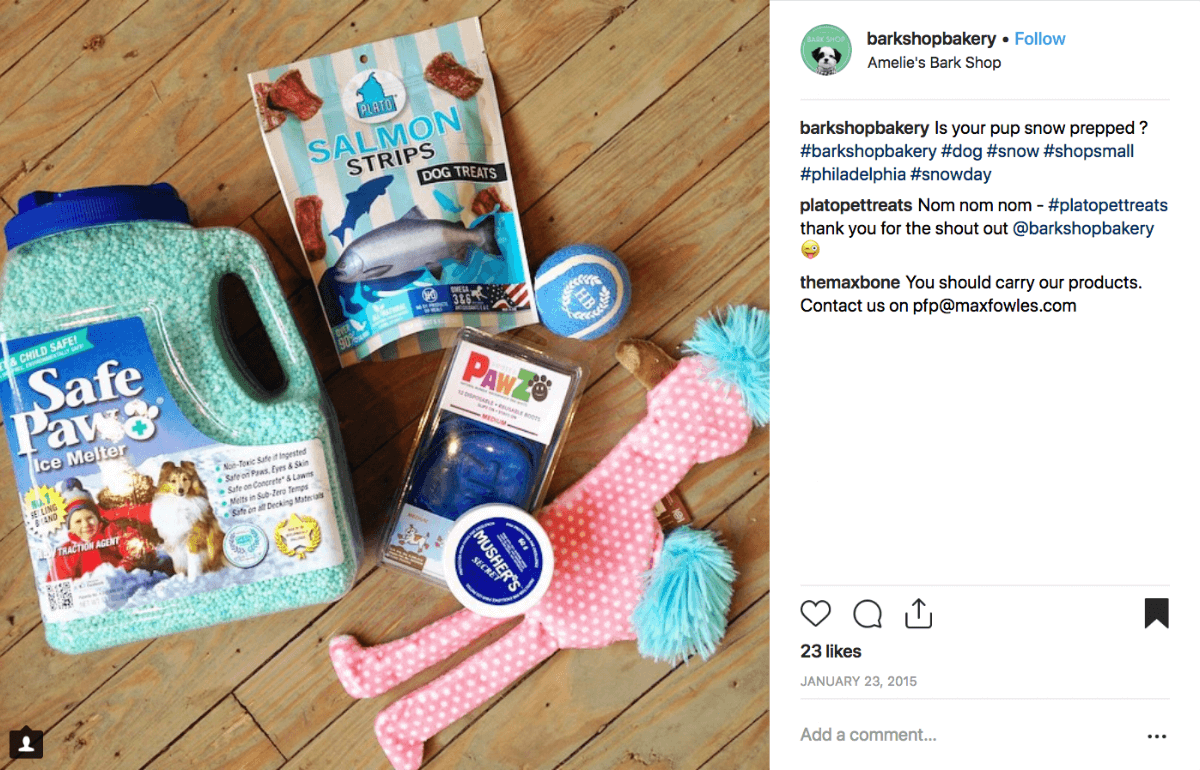 Here is a great example from Amelie's Bark Shop, in Philadelphia, PA. They know that once that temperature drops, their customers will be looking for the products needed to care for their pet.
Warm Pets Are Happy Pets
Luckily most of us have the luxury of indoor plumbing and won't have to step foot into the cold outside world to do our business, but our dogs are not so lucky. Despite their fur coat, dogs will still feel the same bitter cold we do so be prepared for customers looking to accessorize their animal companion with a winter coat or sweater.
Some dogs are double coated, like a Siberian Husky, and may not necessarily need a coat or jacket. In fact, some dogs are more sensitive to the cold than others. This usually depends on their breed, thickness and length of fur, age, health, and weight. If a pet parent isn't sure whether they're pet really needs a coat you can reference this list that will tell you all the breeds that are double coated.
Sizing a pet can be tricky and you may need to help pet parents that don't know what would be the best size for their pet. Keep a soft measuring tape handy so you can help customers who bring their pet in to be sized. You can keep a sizing guide handy for reference when measuring pets. If you don't have one you can download one on the bottom of the page!

If your not sure exactly where you need to measure a pet this video from Kurgo is easy to follow and will help make you a pro in no time.
There are many options for coats and boots like the Canada Pooch Army Parka and Everest Explorer Vest. These are great if you are located in an area that sees very harsh winters. Or you could go for the Kurgo Loft Jackets that are water-resistant, reversible, and come in a plethora of colors for cold wet weather. If you live an area where there temperature drops but you don't see too much precipitation consider the new Huggle Hounds Wool Jackets which are perfect for the cold dry days.These options are sure to make pet parents happy since their pet will be both warm and stylish.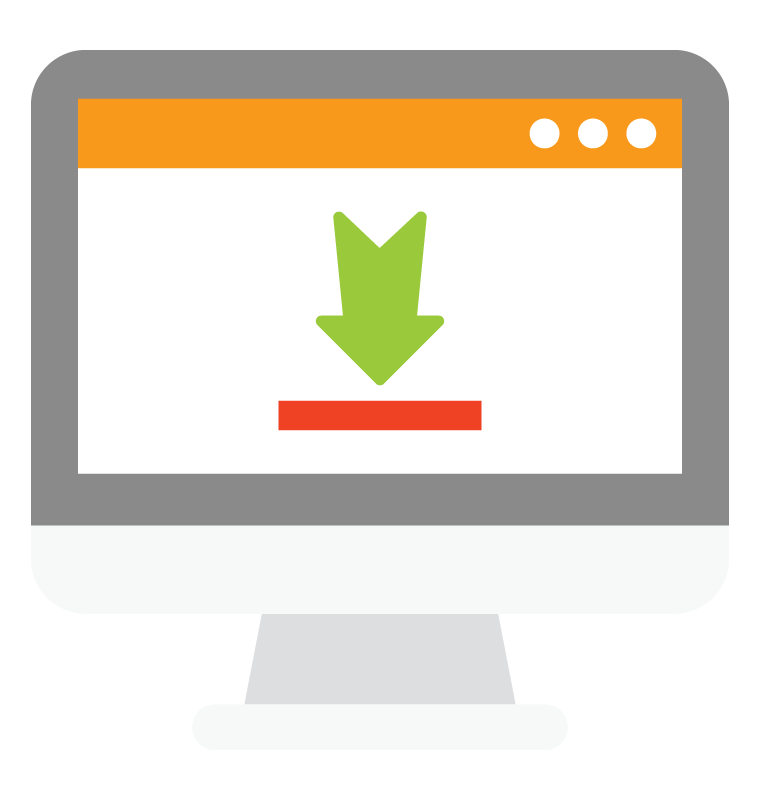 Paw Care is a Must
During the winter months, a pet's paws can take a beating so it's important to give their feet some love. Pet parents should take special care to wash and dry between their toes after being outside because the ice and salt can irritate a pet's paws.
If a dog has long fur around their paws they have a risk of painful ice balls forming in between their toes. For retailers that offer grooming services this is a great opportunity for you to draw in customers. If you don't offer grooming try partnering with a local groomer and have them come in for a couple hours a week. Together you can offer a discount on nail trims and paw clean ups throughout the winter months.
To take it one step further and consider setting up a "pawdicure" display in your store. Some great items to go on this display would include pet safe ice melt, paw wax, and doggy booties. Some options for this display could be the Safe Paws ice melt, Pawz paw wax and booties which come in many colors and range from size tiny to extra large. They are great for protecting paws from the salt and ice on the ground. Another option is the Canada Pooch Wellies which come in a fleece lined and unlined styles in three colors.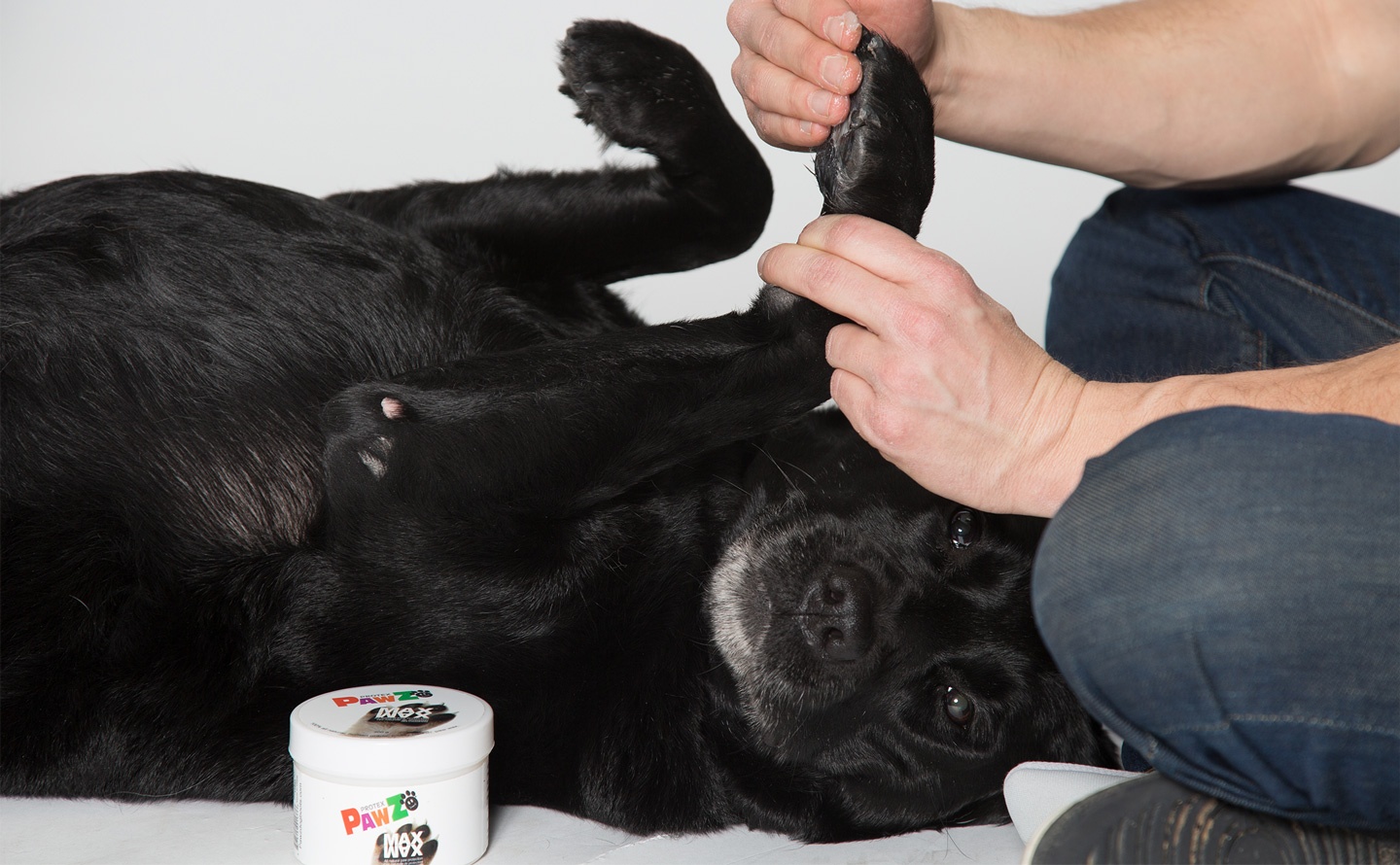 Paw protecting waxes like Max Wax from Pawz , should be applied on the pads and between toes approximately once a week or more depending on the level of activity and outside exposure of the dog. Year-round use is recommended to promote overall paw health.
Take Care When Grooming
It's important not to bathe a pet too often during the winter months, because this can wash away important oils naturally produces by their skin. If a pet has a longer coat make sure to steer pet parents away from shaving down their pets during the colder months so their coat can provide more warmth.
Another great tip to remember is that brushing a dog's extra thick winter coat can help stimulate blood flow to the skin, remove dirt and stray hair, and distribute oils throughout their fur to keep them healthy and shiny. Knowledge like this when shared with customers can result in add on sales, and also make you look like an expert.
Give Dogs a Cozy Spot Warm Up
Be sure to stock up on warm and cozy beds for pets to curl up in on a cold winter's night. Tell pet parents to make sure and place their bed in a spot that isn't near any cold spots or drafts ideally on a carpeted area and not cold tile.
Try making a creative display to showcase those cozy beds by turning old boxes into a fireplace using some brick printed wrapping paper, construction paper, and other materials you may have around. Some of the most comfortable options available include the Canada Pooch birch beds and all those cozy blankets from Tall Tails (we love these!).
Set up a winter display to help bring attention to some necessary winter items customers may be forgetting. Using a chalkboard a-frame sign can be a creative way for you to advertise a sale on those items. Placing the sign on a corner (as seen below) can allow you to utilize both sides of the sign and capture customers' attention from either direction.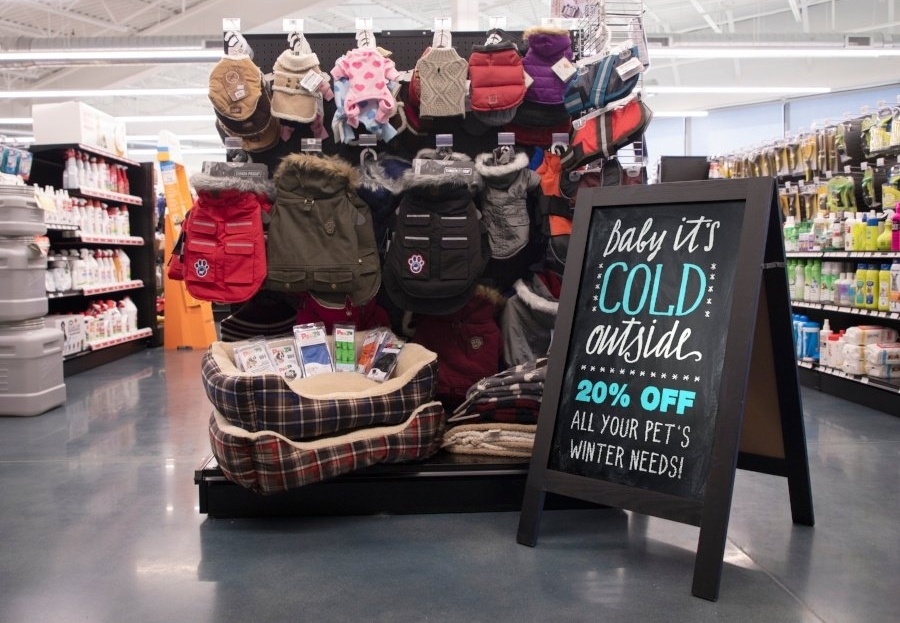 Using a chalkboard sign to communicate with customers is cheap and effective marketing. Chances are one of your employees has a creative flair and would be more than willing to maintain a sign like this for you.
Adjusting a Pet's Diet
I think we can all agree that it's difficult for us to keep off the pounds during the winter months and the same is true for our pets. It is important to make sure pet parents adjust their pet's diet in accordance to their activity level.
If a dog remains active during the colder months and is frequently outside they will need to intake more calories since shivering to maintain their core body temperature will burn a large number of calories.
If they are more of a lay by the fire type of dog, and only goes outside to do their business then maybe suggest a pet parent considers cutting your pet's calorie intake to prevent unnecessary weight gain.
This can be a great opportunity to push freeze/air dried mix-ins and bone broth toppers that can give that extra boost to a pet's diet. Try placing these items at your checkout line as impulse buy for your customers. Make sure to be ready to answer any questions customers may have and dazzle them with your knowledge about these unique products.
Consider The Importance of Supplements
Cold weather can aggravate existing medical conditions, especially for senior dogs. If a dog suffers from arthritis or skin issues the winter can be particularly bad. Adding a supplement to their daily diet can help ease some of the aches and pains caused by the cold, wet weather.
CBD supplements can be a great cure for many medical conditions heightened by the winter months, but if a pet parent is not comfortable with those a regular hip and joint supplement will do the trick. A couple options include the soft chews from Nootie, the oil and chew sticks from True Hemp, or various items from the SuperSnouts line.
Just like you, the dry and cold weather can do a number on your pet's skin. Giving your pet a fish oil supplement has many benefits to your pet's health during the winter. There are two Omega-3 fatty acids found in fish oil, EPA and DHA, that come straight fish like salmon, sardines, and mackerel.
The EPA acid in fish oil can help reduce inflammation and dry, itchy skin. It also has shown to be effective in reducing the occurrence of hot spots. The DHA acid helps with brain and eye development and is great to give to pregnant or nursing animals. The fish oil supplements from Bravo Pet Food and Plato Pet Treats are good options for customers looking to improve their pet's coat.
Get Creative to Help Cure Cabin Fever
As the snow piles up this winter, it's going to become very difficult to exercise and play with your pet outdoors. The longer a pet is cooped up the more restless they're going to get so you should offer your customers some new treats and toys they can satisfy their pet with. These things can make for great basket builders so consider putting them on clip strips and end-caps throughout your store.
Consider treats and chews like ones from Bocce's, Sojos, Wellness, The Honest Kitchen, or Earth Animal No-Hides. Toys like Kong, can be filled with a variety edible items and recipes, even frozen, keeping pets busy and stir crazy pets sane.
Now is the perfect time to prepare pets for the bitterly cold weather and numbing precipitation of winter. Make sure to stock up on all the winter necessities so you can be a reliable source for pets' needs this winter. Keeping pets safe, happy, and warm while the temperature drops will be a sure way to make your sales rise!
Share your winter must-haves with us in the comments below, and stay warm!