It's official, CBD products are here to stay. Google the term "CBD", and you'll find that it's projected to be a $2.1 Billion industry by 2020, an astronomical jump compared to last year's CBD market of around $202 million. When it comes to CBD brands and their products, it can feel like you're swimming in a sea of options. With so many companies out there making claims about their product being the best, the most effective, and the best priced it can feel overwhelming to know exactly what to stock your shelves with.
If you are not at all familiar with Cannabidiol products (aka CBD) then take a look at this helpful infographic to give you an overview of what these products can do for dogs. With CBD growing in popularity many states are legalizing hemp-derived oils. These oils are usually cultivated from a strain of the cannabis plant that produces only trace amounts of THC (which is the active chemical in cannabis, or marijuana). Once harvested, any residual is removed using a process such as chromatography, leaving only the beneficial cannabidiols behind.
CBD products offer a large range of benefits, and are actively being studied for all their possible therapeutic uses in both the human and pet sectors. Before jumping head first into the CBD game, be sure you check to see if such products are legal in your state of business.
Now that you know what CBD can do for pets and that its completely legal there's still a lot of factors that will play into your decision. So where do you start? Here's a few things to consider.
How Good Are You at Selling Supplements?
If the answer is "meh, not the best", this is a great opportunity to get that category moving in the right direction. You can start by looking for brands that offer a wealth of knowledge and are backed by a supportive and passionate sales rep. Even better are any companies that offer online, easy-to-access training for you and your staff.
Also, check out this article on increasing supplement sales in your store. Your expertise is so important in this category, if you don't know your stuff, it will become obvious very quickly.
Have More Than One Option
You don't offer just one brand of food or treats in your store, so why would offer limited choices for such a quickly growing category?
Research shows that consumers prefer choice, however, customers need to be able to perceive meaningful differences between the options on your shelf. Simply put, you need several options that have clear differences and you need to be able to explain those differences in depth when a customer asks you.
Know What You're Talking About
Now, this is a complex category with a lot of information out there. Understanding how CBD works is key to making good choices about what products you carry. Do your research, call companies and ask for their "30 second in-aisle pitch" to a potential pet parent.
Don't be afraid to ask questions if you're unclear about something. There is no greater resource then the product manufacturer if you have a specific inquiry. Some brands even have great resources available online, so the first place you look might be their website.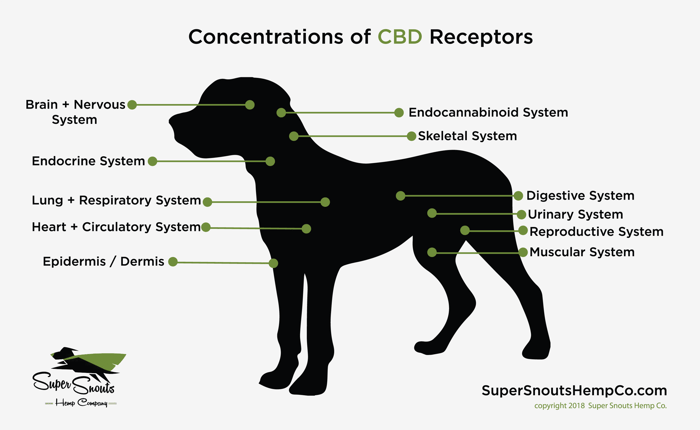 SuperSnouts Hemp Company has plenty of great educational resources, like the one above, on their website.
Keep Your Mind Open to Compatible Products
Most of us are probably familiar with the little bottles of CBD oil, which typically consist of a specific amount of CBD mixed with a base oil like hemp seed or coconut oil.
What about alternatives like Colorado Hemp Honey sticks? Or SuperSnouts new Soft Chews? Both are fantastic CBD products that offer an alternative delivery system to pets.
Consider the Supply Chain
Many of the CBD companies out there only sell direct, which is a popular way to bring in a new line. However, this can mean meeting expensive minimums and sometimes waiting a week or more to receive your merchandise.
Consider brands available through a distributor. This avenue of buying allows you to have less money tied up in inventory and keep exactly what you need in stock - you'll never again miss a consumer sale because you're waiting to thin out your inventory before placing your next order direct with the manufacturer.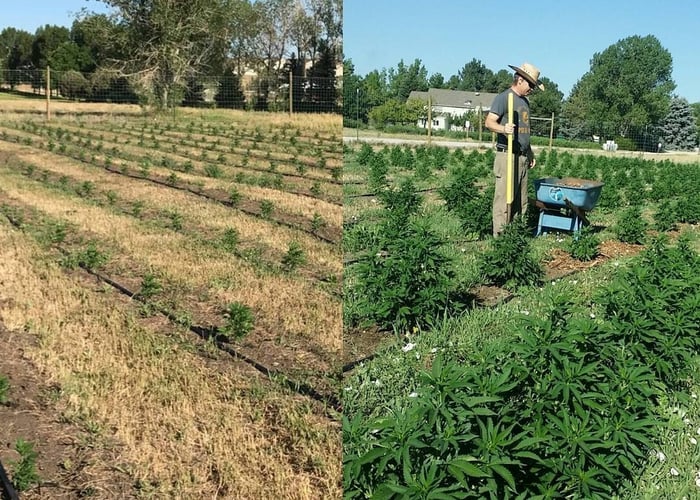 Speaking of "supply chain" also consider where the product is sourced. Here is a great before and after shot from Colorado Hemp Honey; farming in the cannabis fields of Colorado USA.
Know Where to Merchandise It
Many of these products are high dollar in a very small package. Consider setting up an attractive display near your counter where you can both easily strike up a conversation about CBD and keep your eye out for sticky palms.
No room on the counter? How about a display case specifically for CBD?
Stores like IKEA offer inexpensive display cabinets like this one. Having a featured spot not only brings attention to the category, but can be an easy way to start a conversation with your customer. Oh, and if you decide to get a display case, make sure it's well lit.
Know How to Merchandise It
No one buys the last few apples in the bottom of the bin at the grocery store. Shoppers generally don't like picking over the last remaining products on the shelf, so make sure to stock your shelves well. Be sure to order at least two of each SKU you decide to carry, and carry at least three SKUs per brand. Less than this results in products getting lost on the shelf.
The faster you get your CBD section setup and featured (and start talking about it!), the quicker you'll be seeing sales. Additionally, you'll be positively affecting pets' lives by offering a product with such a robust range of solutions for many of the issues they deal with.
We'd love to see your CBD section! Share a pic and we'll feature it on our facebook page.
What are your thoughts on CBD products, have you had success in this category? Share your thoughts in the comments below!