It is no secret that creating a memorable in-store experience is one of the biggest ways independent pet retailers can compete with big-box stores and boost their sales. Several factors contribute to a customer's experience in your store such as interactions with knowledgeable staff, engaging events, and an inviting store layout. The look and design of your store is one of the things that will make a lasting impression on customers both old and new. Taking a strategic approach to merchandising your store will not only improve the customer journey but ultimately boost your bottom line.
As a busy business owner, it can be easy to put off making changes to your store, especially if it has always been the same. Yes it's possible that your store design is already working well and hey, if it ain't broke, why fix it? But revamping your store can make a world of difference to a customers experience in your store. In fact, 73% of buyers point to customer experience as an important factor in purchasing decisions. So if you are looking to make a change you can get started on creating some merchandising magic in your store with these tips and tricks.
Cater to the Senses
The first approach you take should be one that appeals to the senses. Yes it's true, sight, smell, sound, touch, and feel are all very important to your customers. If you think of merchandising and the five senses I am sure that the first one coming to mind is sight. However, you can bring your efforts to the next level by catering to all the senses. Let's take a look at some easy ways you can cater to the senses in your merchandising.
Sight: The easiest way to spruce up your store while spending little to no money is with a nice deep clean to remove any visible dust. Then on an everyday basis, you can periodically walk through your store and neaten things up by pulling products forward and making sure the labels line up. When I worked in pet retail my boss wanted every aisle to have what he called the "wall effect" meaning if he looked down an aisle he wanted the shelves to look like walls with no visible gaps or product overhanging. Keeping your store neat like this improves the overall shopping experience by making it easier for customers to find what they are looking.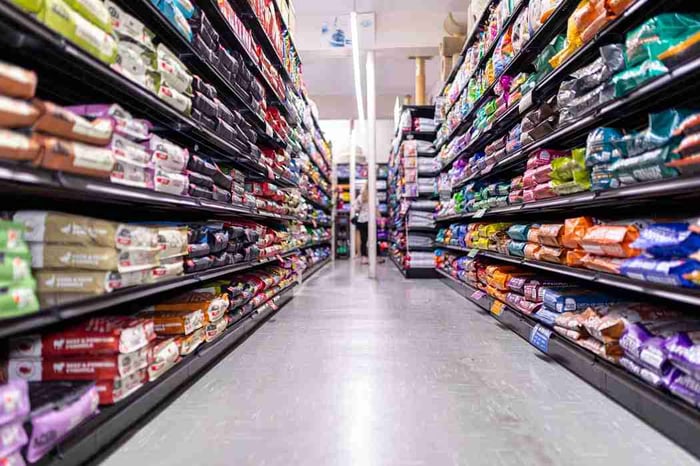 This gorgeous aisle in Pet World in Natick, MA is a great example of the "wall effect". Every bag is pulled forward with labels facing out making it that much easier for customers to find what they need.Smell: Of the five senses smell is one of the most important alongside sight. When you welcome pets into your business the likelihood of unpleasant odors lingering increases ten-fold compared to other businesses. This can also be a problem if you stock small animals or birds in your store. In order to avoid turning someone off you could use plug-in air fresheners and scented candles too. Also, make sure to keep cleaning supplies handy so your staff has the tools to clean up unpleasant messes when needed. Consider creating clean up stations throughout your store so pet parents are able to clean up after their fur babies as needed.
The last thing you want to happen when someone enters your store is something like this! So take care to make sure that your store smells fresh and clean. Stinky stores are much less likely to get a return visit.
Touch: You might think touch doesn't make as big of an impact on the atmosphere of your store but that doesn't mean you shouldn't cater to this sense as well. A pleasant shopping experience is free of frustration. If a customer can't reach the bag they want because it's shoved to the back of the shelf this is going to negatively impact their experience in your store. Being able to feel a product is a HUGE part of the buyer experience especially when they are purchasing something they are unfamiliar with. In fact, 49% of buyers cite not being able to touch, feel or try a product as one of their least favorite aspects of online shopping. Touch is one of the biggest advantages independent pet retailers have over online competitors.
Taste: As a pet store owner finding a way to incorporate taste into your merchandising strategy may leave you scratching your head (since customers probably don't want to eat dog treats) but it's actually the easiest. Keep pets happy by offering sample treats or invite a vendor rep into your store to promote their product through a demo. You could go the extra mile and offer yummy treats that can be shared with pets and owners. Be sure to keep some bags of your sample treats at the counter so customers can add it to their purchase if their pup really loves it. A happy dog works as a great salesperson!
Sound: Studies have shown that the use of sound, particularly, music in stores can have a major effect on the shopping habits of customers. Uptempo music will make customers shop quickly and typically buy less. If the music you play is at a slower tempo customers will tend to linger in your store and ultimately buy more. Depending on the size of your store an elaborate sound system may not be necessary. A decent Bluetooth speaker can usually do the trick. So, queue up some Spotify playlists and play around with the music selection to see what works best.
Variety is the Spice of Life
Static merchandising is something that every retailer should try to avoid. Don't be afraid to change things up in your store by moving fixtures around or even product sections. For your regular customers, moving things around can be like walking into a brand new store. Something different and exciting to look forward to. Even if your store doesn't have any new products in stock you can rotate their location so to customers it may seem like you do and it will encourage them to take a second look.
I'm sure you're thinking, "When do you expect me to have the time to reset my entire store?". Well, you don't have to do it all at once or all alone you can do it by section and enlist the help of your employees to get it done. You can start with dog toys, then move onto dog treats, and so on. Think about investing in displays with wheels on the bottom so you can make quick changes more often.
More Signs, More Sales
A gorgeous store with neat and interesting fixtures may help move some product out the doors but sometimes customers need more encouragement to grab a new product off the shelf. A bright legible sign can lead customers to promotions or help them easily navigate your store. If a product is not easy to find or a promotion is not clear this will cause unnecessary friction in your customer's buying journey that may prevent them from buying more.
Use signage as an educational tool to keep customers informed while promoting product. List what makes that product unique and it may be just the thing to convince a customer to drop it in their basket. Especially if it is something they didn't realize they needed. You can also talk to your vendor reps to see if they have any informational materials they can provide you with to promote products on your shelf.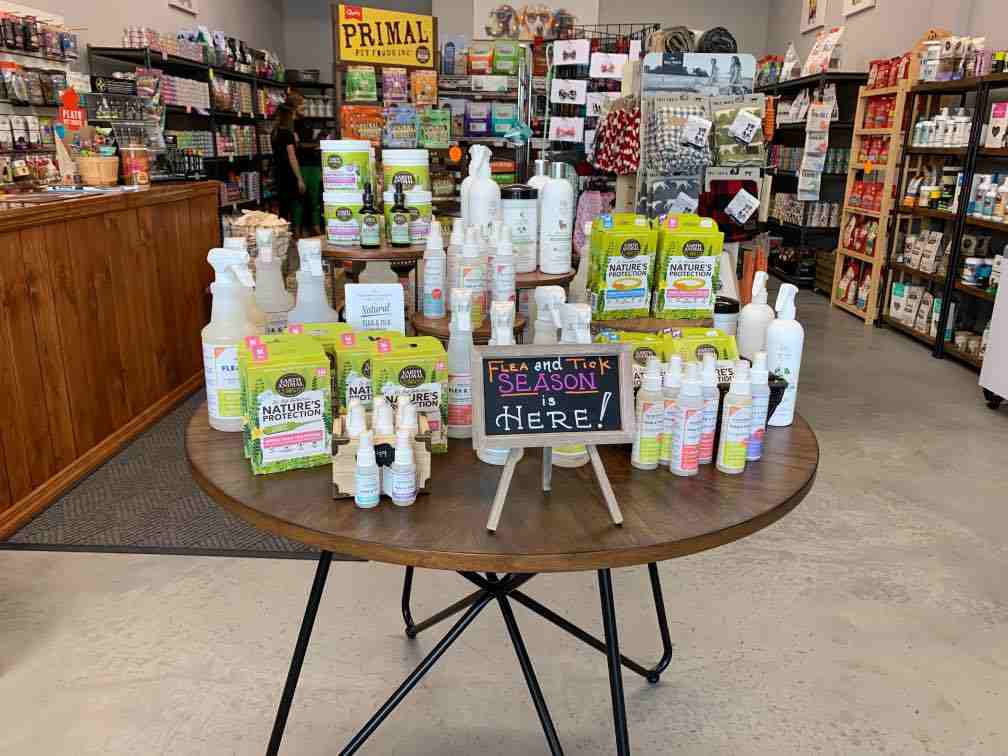 For rotating displays that frequently change consider investing in some small chalkboard signs you can reuse like Better Beagle Company in Woodbridge, CT did for their seasonal flea and tick display.
You can also use signs as tool to communicate promotions to visitors. A simple sign taped to a shelf may do the trick, but if you frequently rotate the same promotions you may want to create a system for your signage. Consider color coding your most used promotions with colored paper to make them easily identifiable to customers. For example, green could symbolize BOGOs, pink for 25% off, blue for 50% off, etc. Keep a key for what each color means posted around your store so customers who are not familiar with the system can figure out each represents.
Boost Your Brand Recognition
You carry and promote many brands in your store but the most important brand when it comes to merchandising is your own. When merchandising, incorporate your brand identity (aka the look and feel of your business) throughout your store to create an immersive shopping experience for visiting customers. You want to make sure that as they shop it is impossible to forget which store they're in.
There are a couple of ways you can achieve this kind of branding in your store. The easiest and probably the most impactful way is by decorating your store with your brand colors. So if your logo is green consider painting an accent wall in your store to match the green of your logo. Another way you can make brand your store is by making sure all your signage uses either your brand colors or your logo.
Start Making Magic Today
Successful merchandising requires consistency and focus so set about doing tasks you can achieve and avoid taking on too much and leaving unfinished projects around your store. You can begin by taking the sensory approach and go one sense at a time. Or you could do something small like adding signs to your shelves and then something major like resetting your entire store. Regardless of what you choose these touches can create merchandising magic and improve the customer experience in your store. Improving the customer experience in your store can build brand loyalty and boost your bottom line so get started today using these merchandising tips to create some magic and reap the rewards!
Do you have any merchandising magic tips and tricks of your own? Let us know in the comments below!