Spring has sprung! Flowers are blooming, the sun is shining, puppies are prancing! This is a great time of year to take a look around your store with fresh eyes. There are things every store owner or manager can do to improve your customer's shopping experience and increase sales.
Take a walk around your store and bring a notebook with you to write down any thoughts. Try to see everything as your customer sees it. If you struggle to see your shop with "fresh eyes", ask a trusted friend or family member who hasn't been in your shop for a while to give you their opinion.
Here are some important questions to ask yourself:
What's it like to be a customer walking into my store?
Are they greeted by someone friendly and knowledgeable? It can be off putting for a customer to walk into a store and no one is there to greet them. Even a quick smile and friendly "hello!" can be enough to make them feel welcomed.
What is the first thing my customer sees when they walk in the door?
Is it an attractive display of new items you just received, or possibly a bin of old, dusty clearance items you've been holding on to for over a year? First impressions are important, so consider having well stocked, thoughtful displays that you rotate monthly/quarterly. These will draw customers in to your shop and encourage them to spend more time shopping. Get creative (or delegate to a creative staff member) if you have great windows for displays.
Does it smell nice and fresh in my store?
Scent is closely linked to memory and emotion. Having a pleasant smelling shop can influence your customers to buy more. Conversely, a shop that smells like small animals, dog urine, or open bags of food can have quite the opposite effect. Find a pleasant, subtle fragrance you enjoy, or several to rotate through. A few thorough cleaning days can make a huge difference in eliminating unwanted odors in your store.
How's my lighting?
Do I have dark spots in my store? If you do, find ways to fix them quickly. A dark aisle or spot can quickly turn any products placed there into slow sellers. Bright, cheery lighting can draw customers in to your shop and even to specific areas of the store you may want to feature. Hardware shops and places like Ikea often have inexpensive lighting options to help you brighten up your shop.
If your shop has a lot of overhead fluorescent lighting, consider adding a few table or spot lamps around your store to break up the monotonous overhead lighting and bring attention to special/higher margin categories in your store (i.e. specialty collars, home goods, apparel, new treats/chews, etc).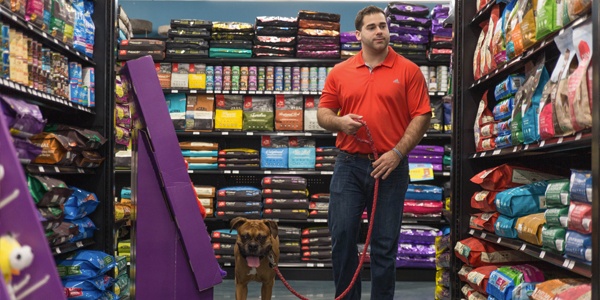 Are my shelves stocked and all items neatly pulled forward?
Does everything have a price tag? Make it a habit for you and your staff to routinely "face" the store. Think about how to make grabbing a product off the shelf as easy as possible for a customer. Items that are pulled forward, clean and clearly priced sell faster. If you're leaving a lot of out of stock gaps on your shelves, items aren't clearly priced (either individually or with a shelf tag), or you're not dusting/cleaning items regularly, you're just leaving money on the shelf.
To prove this point, think about when you buy produce. Would you rather pick your apples from the tall, brightly lit pyramid of beautifully stacked apples, or from the bin that only has a few bruised apples at the bottom? Treat your shelves the same.
Is shopping at my store a social experience for those customers who want to engage?
We all love to feel included. When time allows, chatting with customers and engaging with their pets can have a big effect on their overall impression of your store. Take pics of their pets (maybe even with their new goodies!) and post on your store's social media account. Offer species-appropriate treats to both your 2 legged and 4 legged customers. Helping your customers to feel welcomed into your shop will help build their loyalty to your business.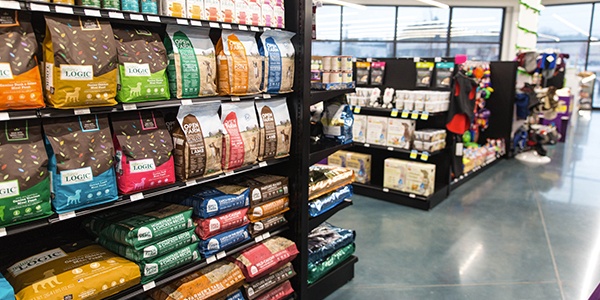 If time feels like a serious constraint to improving your store, ask yourself how you're spending your day. Are there things on your to do list that you can delegate to a staff member or use a service to automate? Increasing your staff's responsibilities to include important tasks like ordering, processing distributor returns, researching new products and managing a category like treats, collars/leashes, toys, etc, can help them feel ownership in the business and can result in higher quality work.
Most importantly, don't reinvent the wheel. Think about your favorite store to shop at, whether it be a local grocery shop, a big box retailer with everything you need, or just a little boutique. What's your shopping experience like there? Next time you go in, take a few minutes and just observe. What's the first thing you see? How is the lighting, the smell, the cleanliness? Are the shelves stocked, faced and priced? If you enjoy shopping at large department stores and all-in-one stores like Target, remember that these big business already spent the money on the research behind creating an environment where shoppers will spend more money. Observe what they're doing and incorporate things you like in your own shop.
You are doing a LOT of things right! Take a few moments each day to build and improve upon what's working. Hit the reset button on anything that's not working. Don't be afraid to simply try something new, even if you don't think it will work. A small step forward in any direction is better than standing still in the same place.
If you need any assistance in your spring cleaning, ask your Pet Food Experts sales rep to take a look at your store with a fresh set of eyes. We're happy to help!