Do you find it difficult to draw in new customers while maintaining a strong connection with your current customers? Now, there are many ways you can build customer loyalty and promote your business, but holding a successful store event is a sure way to show customers you are grateful for their business and engage new customers that stroll in.
Store events are meant to be fun so find a reason to celebrate, but if you want to have a great store event you can't just throw it together at the last minute… you need to plan it!
Now, Let's party!
Event planning can be stressful and overwhelming especially when you are working with both animals and people. If you a take step by step approach it will really help alleviate some of the stress. Follow this process and your event is sure to go off without a hitch!
Determine What You Want to Accomplish
Are you looking to gain new customers? Are you hoping to engage your repeat customers? Or are you just looking to celebrate and have fun?
Having goal will help shape the event and making the planning process that much easier. When I worked at PetSmart (I know... please find it in your hearts to forgive me!) I was in charge of all in-store events. I started the planning process sometimes months in advance to give myself plenty of time to adjust and perfect the plan.
Timing is Everything
Timing is key so be careful when choosing the time and date of your event. Try to choose a time where you know people will show up. So if your store gets a lot of traffic Saturdays from 11am-3pm maybe set your event time on a Saturday from 12pm-2pm.
This may change depending on what the event is. Be sure to consider all factors when choosing the time that works best for your business.
What Are You Celebrating?
Now that you know the why and when it's time to figure out what you are celebrating.
If your goal is to engage repeat customers maybe you should throw a customer appreciation day. You could give them special coupons and free samples.
Maybe you are holding an adoption event in partnership with a local shelter, or even partner up with a food manufacturer and hold a sample day. The possibilities are endless!
Be Sure to Promote Your Event
You can time the event right to make sure you definitely have people in the store, but the customers in the store may only want to shop. So, you need to draw customers in to specifically attend the event. Promotion is the way you will get those customers in the door.
Flyers and signage in your store can be a great way to inform customers. If you employ email marketing send out invitations to the event about two weeks beforehand. Within the email you could offer coupons or discounts for that day as a way to draw customers in.
Don't forget to use social media to promote the event. Post an image of your flyer advertisement to Instagram, update your Facebook calendar. In the upcoming weeks there are many ways you can utilize social media to promote your event especially using Facebook.
During the event, post pictures and videos to let people who aren't there to come on over. If you have a good turn out try going live during the event that way you are sure to pop up on your followers' news feed.
Always Be Prepared
Meet with your associates prior to the event so you can run through the plan for the event and anything that might go wrong. Make sure they look presentable and are ready to greet the customers with a smile.
Make sure your store is clean and the shelves are organized. If you are displaying any products, or have decorations make sure they look top notch.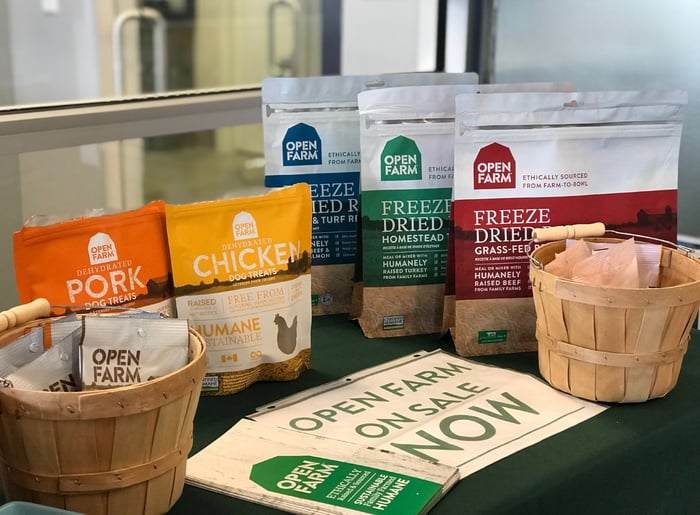 Here is an example of an Open Farm demo table. You should always be sure to feature the products you're displaying in their best light. A sign is also helpful to communicate any sales. Isn't it pretty?
During the event you should make sure that all dogs are leashed and provide them with bowls of water. Make sure to have cleaning supplies on hand for any pet accidents!
Make Sure You Can Keep in Touch
Even if your event hopes to engage recurring customers you may also draw in new customers. This is your chance to capture their information so you can engage them later.
You can ask for information when they RSVP to the event, have a clipboard to ask permission and gather information for a mailing list, or just keep a stack of business cards out during the event for guests to grab. Follow up within a few weeks and provide them with something of value. A discount code or even pictures from the event will make a great addition to the message.
After each event meet with your team and go over what went well and what should be changed. The more events you host the easier it will get so try and make this a regular occurrence and set a schedule.
Store events will be a great way for you to engage customers and build loyalty, so join the fun! Share with us some of your store events on our Facebook page.
We want to talk to you, so comment below any questions you have or share your tips on how to throw the best events!