While it's not necessary for dogs to perform circus tricks, having good manners is always appreciated. Dogs have to be taught that you don't want them jumping on people, that the couch isn't a chew toy, and that sitting in place will earn them praise. Despite what many think, you CAN teach an old dog new tricks, whether the dog is 10 weeks old or 10 years old it is never too late to start training. This is why the Association of Professional Dog Trainers dedicates the month of January to educating pet owners on why dog training is important. Now is the time to be prepared for customers looking for all the tools they need to train their four-legged family members.
As you know, proper training strengthens the bond between dog and owner. It also makes for a more pleasant household creating a healthier life for both dog and human. When dogs can walk well on a leash, they're more likely to be taken for pleasurable walks. If they're house trained, well, that's certainly better for everyone and dog training also helps them to become more socialized. As a pet retailer, you can use this knowledge to your advantage to align forces with area dog trainers or simply use it as a theme for the month.
Create Displays of Training Products
As a pet store, you sell leashes, harnesses, training treats, and other training tools. As you know, creating an attractive display area encourages people to look, ask questions, and purchase needed items. Why not gather your favorite training items and create a "Recommended dog training tools" end cap or display?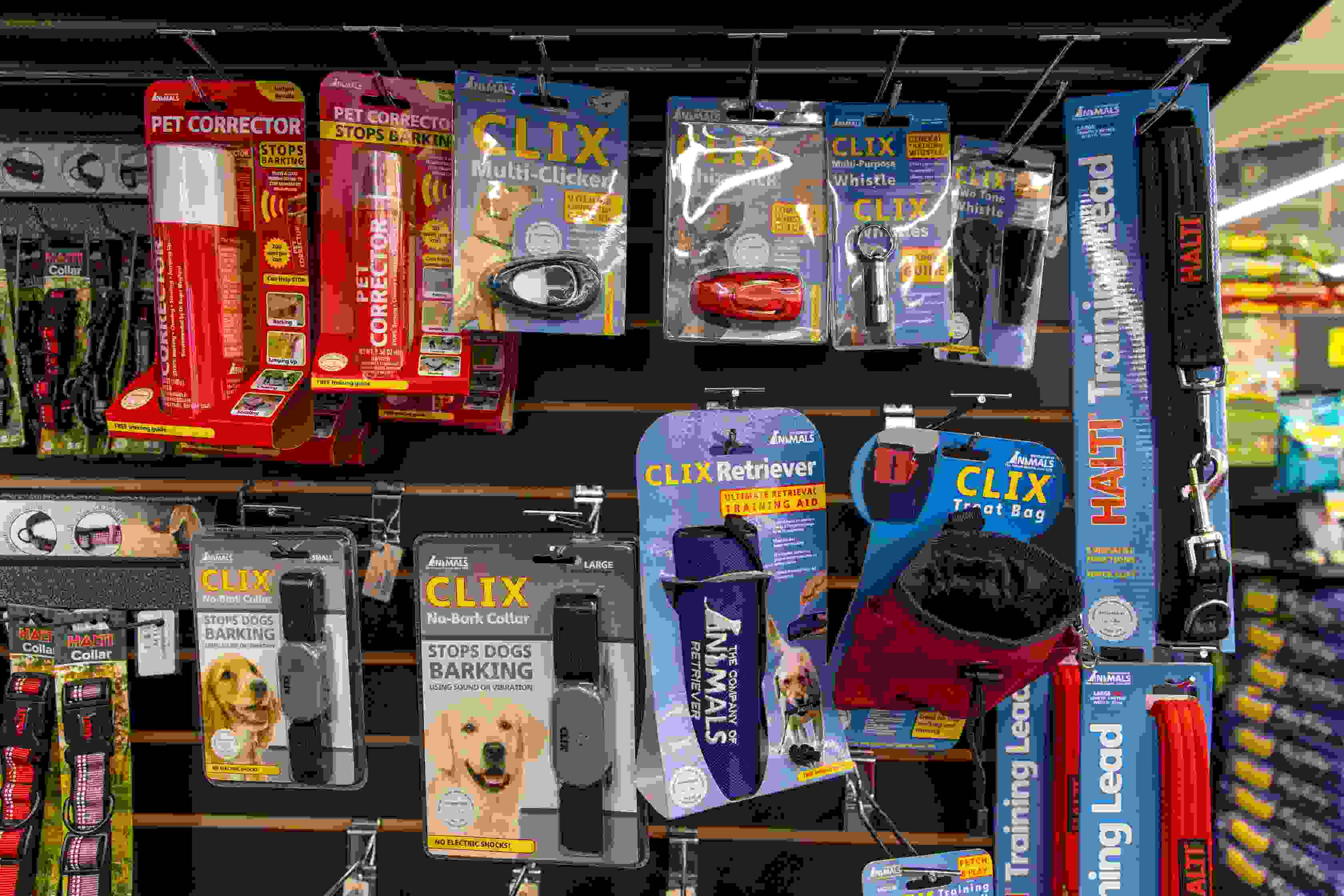 The display above is a great example of how you can create a special section for training tools on an end cap display. Training collars, harnesses, and clickers are easily available for any customers passing by.
A great way to improve upon your pet training display is to put up some informational materials about pet training to help customers when someone isn't available to answer their questions. Consider reaching out to your vendor reps for your favorite training products to see if they have any materials they would be willing to provide.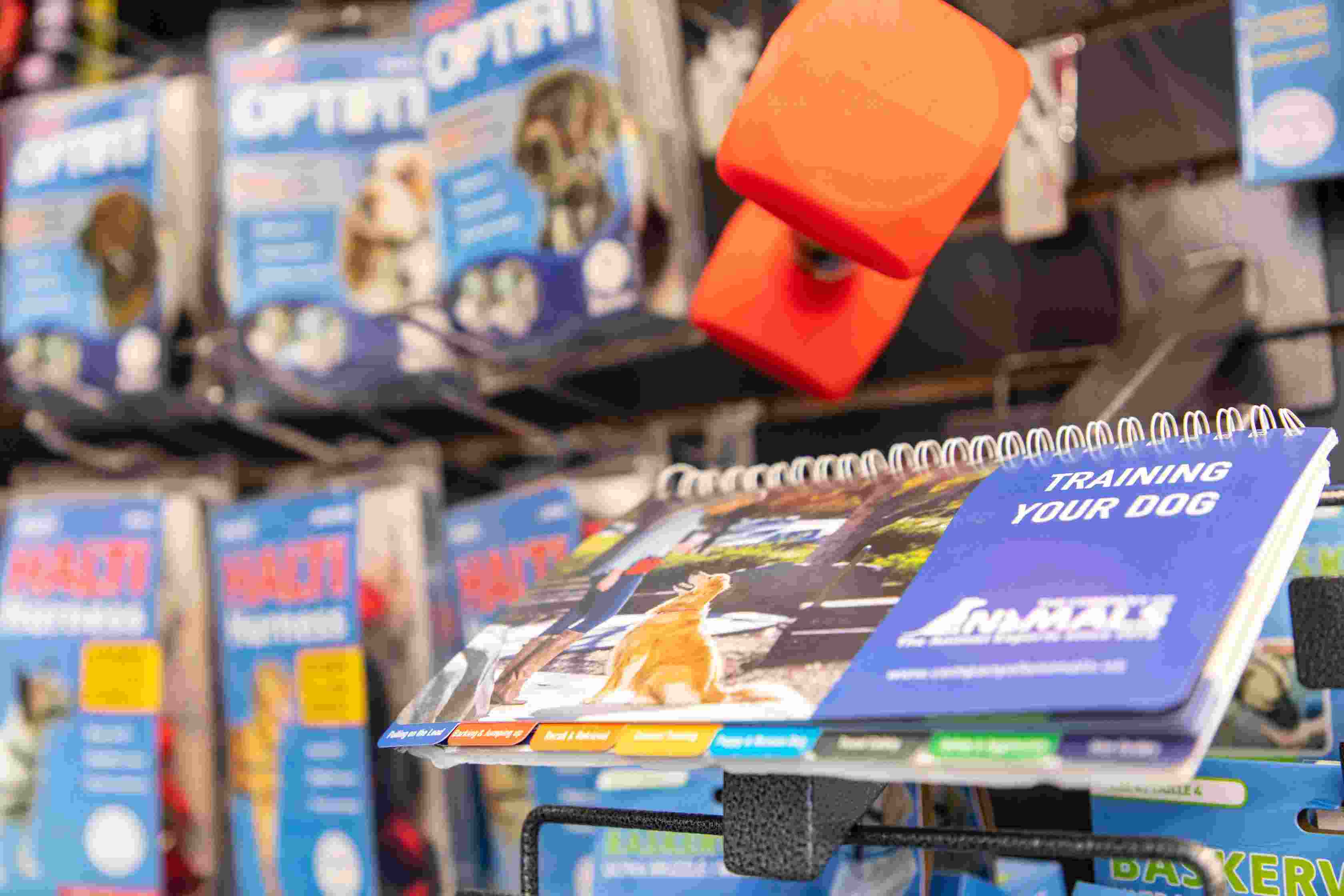 Company of Animals has a booklet that can be attached to an end cap as a shelf talker filled with useful training information that will help guide customers when someone is not available to help them.
Partner with a Local Dog Trainer
If you have the space to offer training classes, that's a great way to bring people into the store. Consider holding an open house for your training services. This will allow customers to meet the trainer and learn more about the training programs you may offer.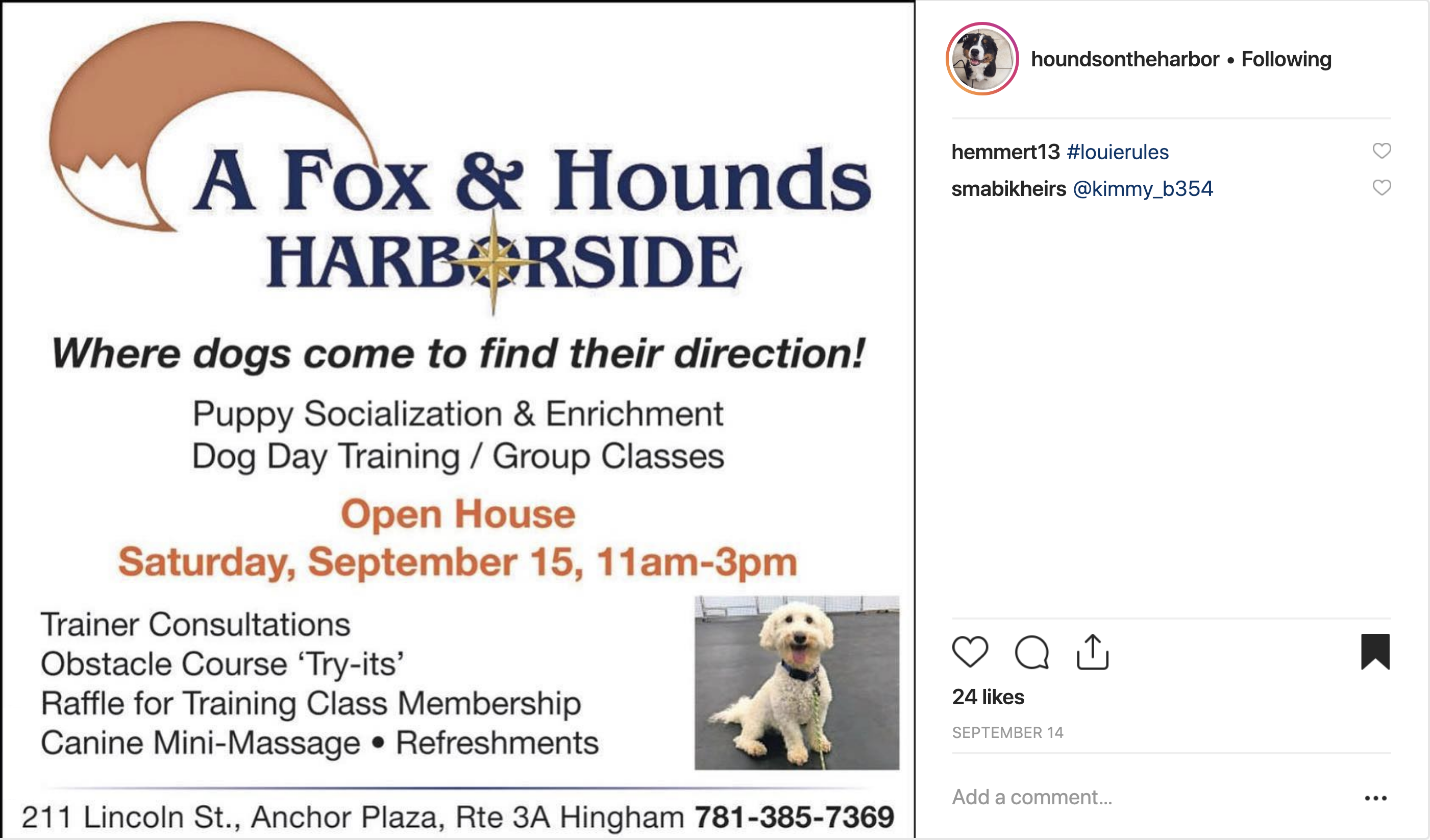 A Fox & Hounds located in Hingham, MA recently held an open house at their training facility. This is a great way to get potential students in the door and chat with interested parties face to face.
But even if you don't, you can still help your customers. Partner with an area dog trainer to cross-promote one another. You can have flyers on your counter about the upcoming classes and post about them on your social media. The dog trainer in return can recommend your store as a good resource for training tools.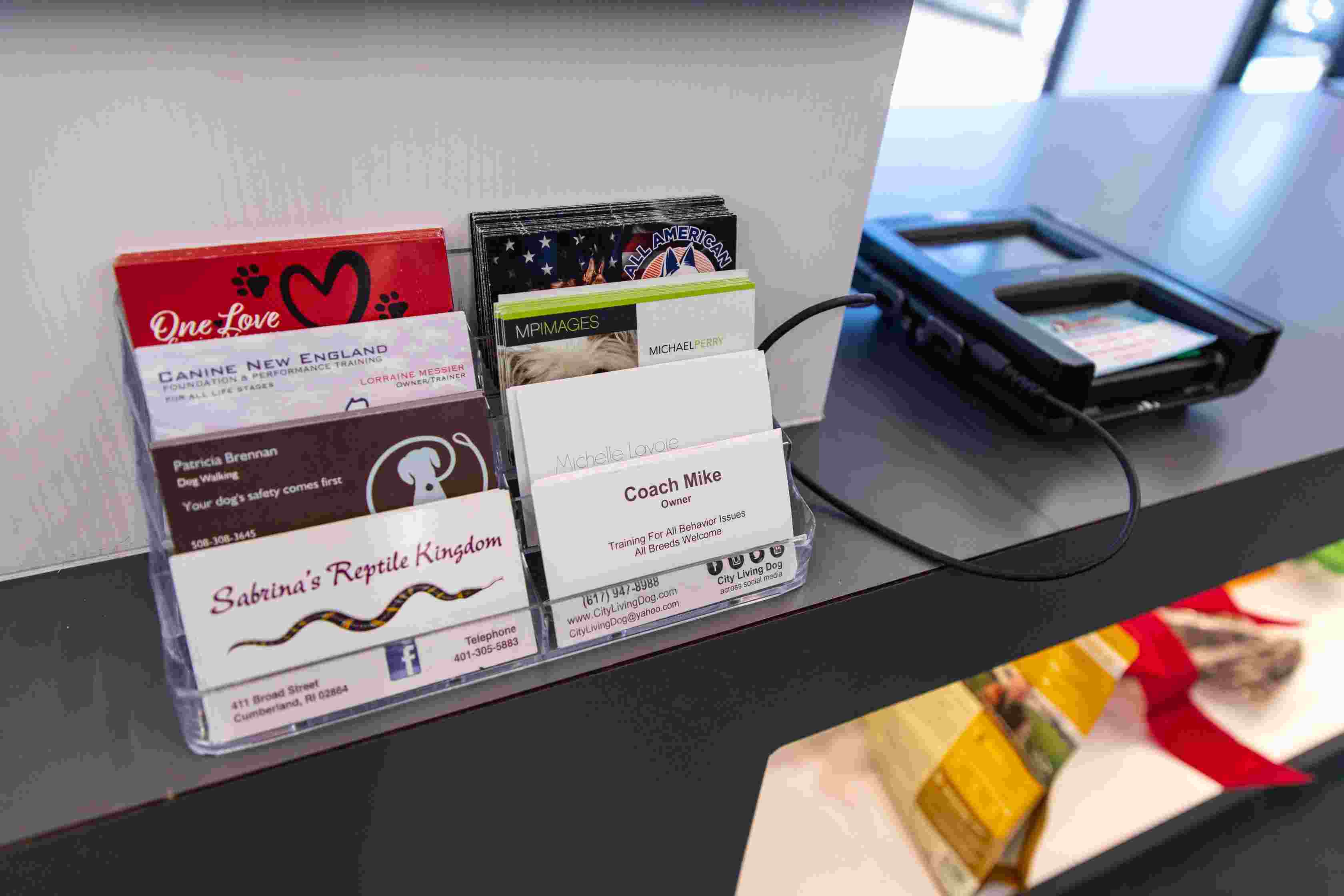 Partnering with local trainers and dog walkers can be as easy as putting their business cards at your checkout counter. That way when a customer asks you if you know of any trainers in the area the info is easily on hand.
If you have the space for in-store events but not for full training classes, you could bring a trainer in for a demonstration. A 45-minute presentation about the importance of training your dog plus tips on how to improve your dog's leash walking ability (along with how to choose an appropriate type of dog collar, harness, and leash) can be very helpful. Include a Q & A and you have an informative session that provides value to your customers.
Make it the Theme of Your Newsletter
Whether you send a weekly email newsletter or a monthly one, there are lots of ways you can include National Dog Training Month in it. For example, if you send one email a month, use it to educate dog owners on the importance of training their dog and announce area dog training classes. Offer a discount on dog training tools, and include a picture of your display area.
If you don't offer training services yourself, but still want to help your customers learn, try including an intro video like this in your newsletter.
If you send a weekly email, you can include a dog training tip in each email or a reason why people want to get the best training for their dogs. Consider including an infographic with pet training tips as an easy and visually pleasing way to share information at a glance. Enhanced bonding, improved socialization, and a pleasant home life should be big pluses!
Share It on Your Social Media
Posting on social media is an easy way to remind people of the importance of dog training. Training is about more than not jumping on people and being housebroken, it helps prevent (or reduce) behavioral issues like digging, excessive barking, and biting. Social media is also the perfect place to promote training services and sales on training products.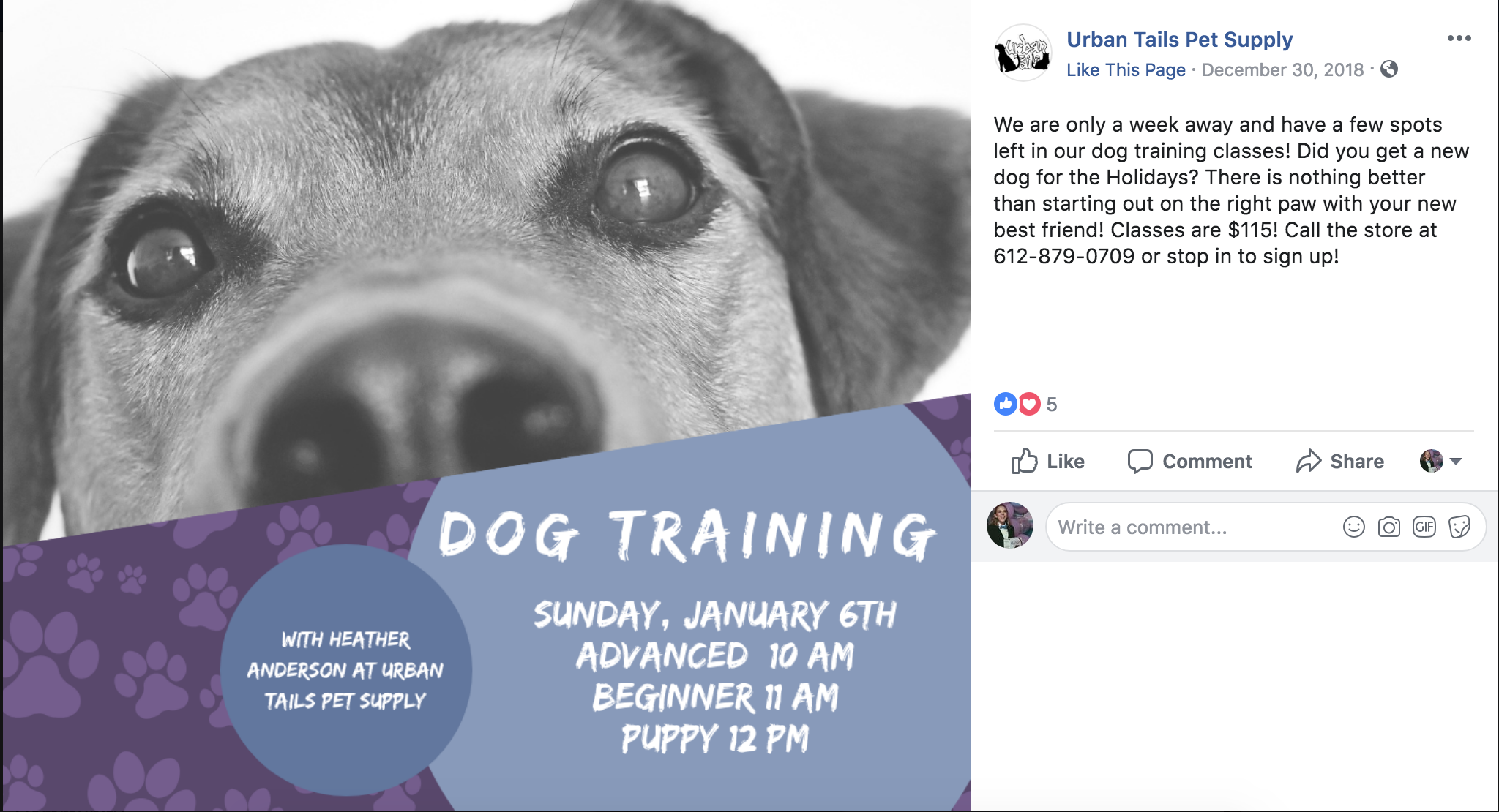 This social media post from Urban Tails Pet Supply in Minneapolis, MN is a great example of how you can use social media to promote training services and deals in your store.
Final Thoughts
Dog training obviously has many benefits for both the pet and their parent, and when done right, it's also fun for both of them. Now is your chance to share these benefits with your customers and help pet parents and their pets create a strong bond through training. These four marketing suggestions can help you harness the power of National Train Your Month by educating your customers and cementing your spot as a community pet expert.