Instagram is no longer just a social media platform for personal use, in fact, there are more than 25 million business profiles on Instagram. For businesses, Instagram can be an excellent tool to help humanize your brand, engage with customers, showcase products and services, and most importantly boost sales! As the fastest-growing social media platform, it is more important than ever that small businesses have a presence on Instagram. As a busy pet retailer, it may be overwhelming to try and figure out how to use all of Instagram's features to your advantage but our quick start guide can help you get a jump on it.
With 800 million active monthly users and more joining every day of which 50 percent follow at least one business, Instagram has amazing potential for you to grow your business through social media. So, how can you get started using Instagram to increase the reach of your business? Well, let's take a look at the basics for starting your own Instagram account for your business so you can bring your marketing efforts to the next level.
Creating Your Account
Obviously, in order to begin using Instagram, you need to first create an account. Now some of you may already have an account set up if so, feel free to skip ahead. Otherwise, you can start by downloading the app to your phone. Since Instagram is a mobile-only platform, you cannot use the full features on a desktop computer you can only like, comment, and follow users' posts. When you first open Instagram you will be given two options to create an account — Log In With Facebook or Sign Up With Phone or Email. Since this is an account for your business, I recommend using your business email or store email as the login for your account.
If you do have a personal account already logged in you can select Add Account by tapping your username at the top of your profile and from there you can create your account. After your account is created you can easily toggle between the two without your personal information ever being connected to your business account.
With your new account setup, you'll need to create a username, pick a profile picture, and write your bio. Your username should be easily recognizable, ideally, you would have your business name but if that is already taken try to keep some part, if not most of your business name in your username. For example, you could include the location in your username and make it "Pet Food Shop Iowa". Keep in mind that you can always change your username later through your account settings.
Pro Tip: Make sure to switch your account to a business or as Instagram calls it a "Professional Account" so you can get insights on your posts and track the success of your marketing efforts.
Your profile picture and bio will have a big impact on a visitor's first impression of your business. Profile pictures should be approximately 1350px by 1080px (that's pixels) otherwise it will be cut off. Using your company logo would be the best practice here, then once it is set up you can get to work crafting your bio. Instagram bios have a limit of 150 characters so your goal is to introduce your business in a short succinct message that describes the "why" of your business. Your bio is the only place you can feature a clickable URL so to drive more traffic to your website be sure to link it there.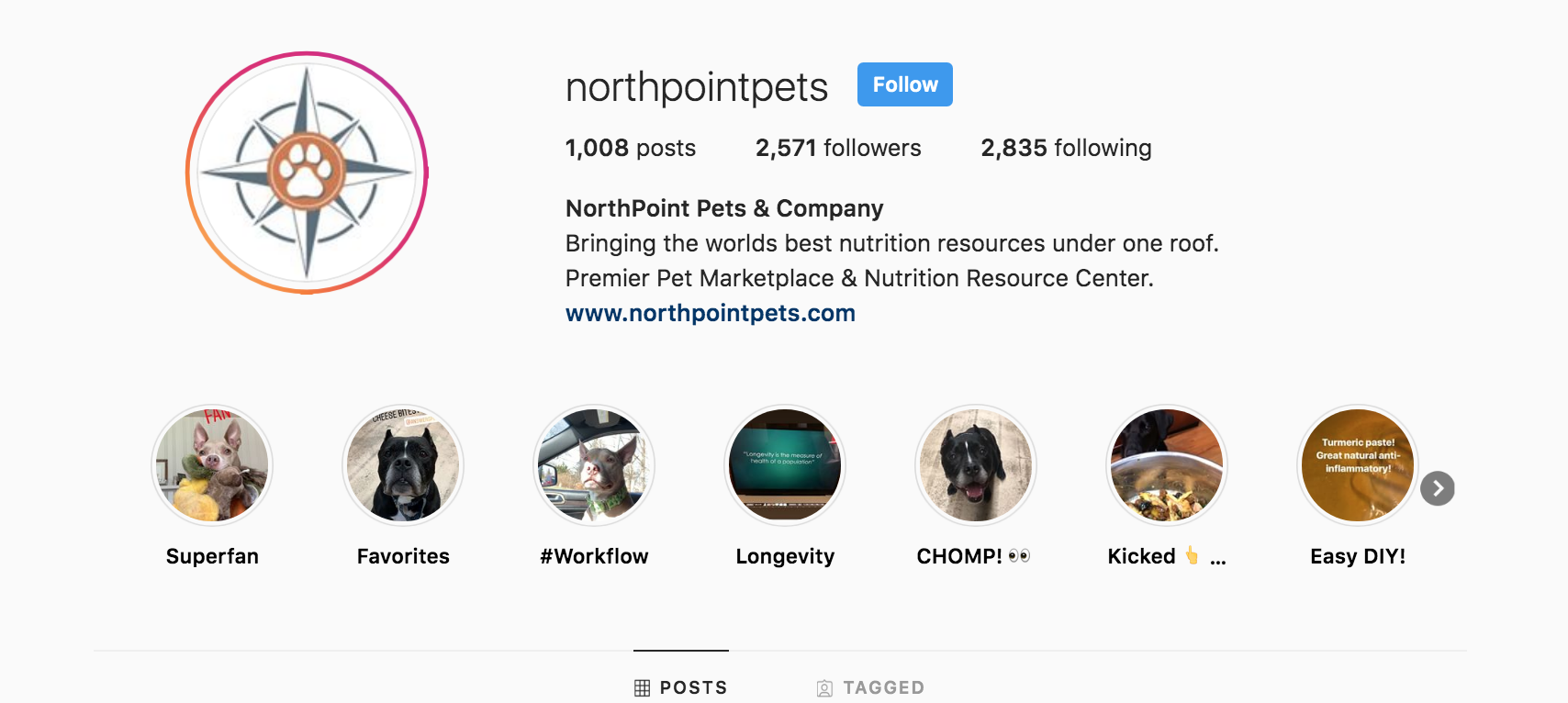 Northpoint Pets & Company in Cheshire, CT uses their bio to help establish themselves as a pet nutrition resource and when you look at their profile they have tons of educational information to back it up.
Start Posting and Build Your Business
For your content to be successful you must keep in mind that there are some best practices you should adhere to whenever you are posting on Instagram. Instagram is designed to make you focus on the quality of content you put out over quantity. All images uploaded to Instagram will be displayed in a square view regardless of the size of the original upload. Square images should be at least 1080px by 1080px, landscape images should be 1080px by 566px, and portrait images should be 1080px x 1350px. If you're not sure what to post, here are a few ideas you can use to get started!
Behind the Scenes: Bring your customers on the journey of being a pet store owner with behind the scenes posts. Posts like these are a great opportunity to share the work that goes into giving your customers the best service and products they need.
New Product Arrival: This is an excellent way to inform your customers that you have the hot new item they've been waiting for. Whether it is new treats from a brand you already carry or a whole new brand itself. A post like this can allow you to inform your customers about the product before they even walk through the doors which will make it that much easier to sell once they do come in.
Educational Posts: As a pet retailer you want to be the local trusted resource for everything pet care and nutrition in your community. You can use social media to share educational information about pet health and wellness to further establish yourself as a trusted resource. If you want to take it a step further you can host an educational seminar in your store and use Instagram to share content from it.
User-Generated Content: User-generated content is an awesome way to connect with your followers and you don't have to lift a finger! Encourage your customers to share a photo with you on social media of their pets enjoying their new treat or rocking their new collar. Before reposting make sure you ask the original poster for permission. Then you can repost using an app of your choice and add a little information about the product they are rocking.
Event Marketing: You can build excitement for customer engagement events you hold in-store by marketing them on your Instagram. Create a graphic you can post online or take a picture of a sign you have in store for the event and share it on social media. If you pair a promotion with the event you'll be sure to get a few extra customers shopping in your store that day.
Pro tip: Make sure to tag EVERYTHING...I'm talking neighborhood names, store location, products featured, etc.
Share Your Daily "Stories"
Instagram has grown from simply being a newsfeed of pictures and videos that users could like and comment on into a highly interactive platform. The introduction of stories on Instagram has led to several new functions that can be used to interact with your followers on a more personal level than simply liking a post. What are "Stories"? Well much like other platforms with similar features they are quick 15-sec images or videos (or a series of them strung together) that last for only 24 hours and allow you to post at a higher frequency without over-posting and clogging up followers' newsfeeds.
Some of the key camera settings you will need to get familiar with include:
Live: Captures and publishes live content to your Instagram for followers to watch and comment in real-time. Live means live, so be sure you are prepared.
Type: Creates a text post with a plain color background.
Superzoom: Adds an animated zoom to a video. These can be fun in the right situation.
Hands-Free: Allows you to capture video without having to hold the record button.
Boomerang: Takes a short burst of photos that get stitched together to play forward and backward to create a looping video.
There are a few other camera settings available to use in stories, but I wanted to share with you the ones I think would be most relevant to your needs. After taking a photo or recording a video for your Instagram story have some fun with the "stickers" you can add on to your post by selecting the smiling square or swiping up. There are a ton of stickers you can use, but here are the ones that will be most useful to you and your marketing efforts.

Location: Using the location sticker will help people discover you. When someone searches for that location your story will appear. Using the location sticker will be especially useful for marketing an event or if you are located in a popular section of town. Users in the area will see your post when they click on the location tag you use and they may just stop by to see what your business has to offer.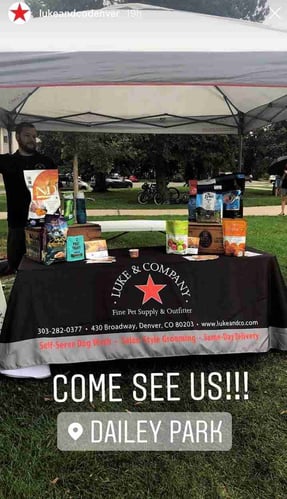 Luke and Company in Denver, CO used the location sticker to invite customer to join them at a local event.

Poll: Adding a poll to your story post can help boost engagement. You can ask your customers a question and they will get two options for answers. It could be that they are saying yes or no to your question or they are choosing between two items, promos, puppies, etc. You can use this as a sales opportunity by reaching out to followers through messages based on their answers.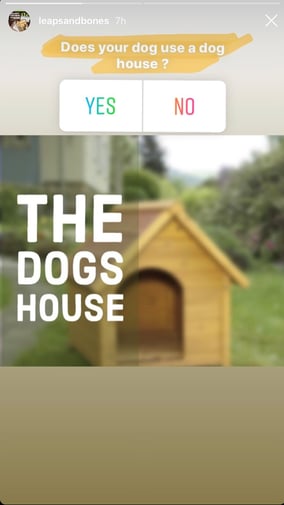 The store, Leaps and Bones in South Windsor CT used the poll sticker as a way to ask their customers if they use a dog house. This can be a great way to tell if taking on a new product is worth it by asking if they even use it.

Question: The question sticker is similar to the poll since it allows you to ask your audience a question. The key difference between the two is that your audience is allowed to answer what they want to your request. You can then screen their responses and respond to them by posting them in your story. Being able to respond directly to your customers' questions will leave a lasting impression on that customer and give you some great sales opportunities.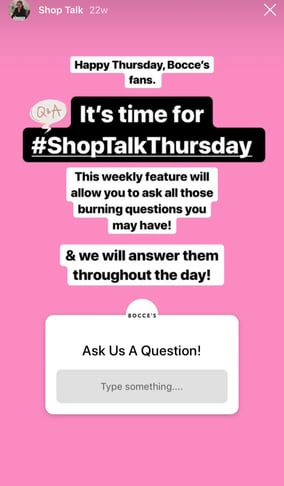 Countdown: The countdown sticker is great for building hype around a big event. Do you host an annual blow-out sale or customer appreciation event? Post a countdown on your story to build excitement!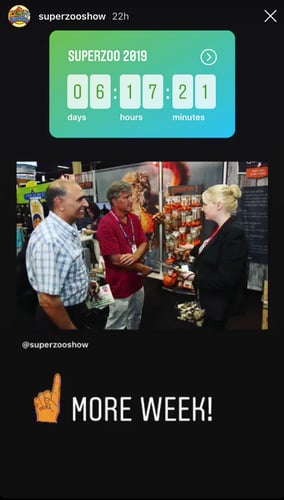 GIF: You can add small moving images to your stories called "GIFs" to make them a little more fun and help convey emotion. These quick graphic animations help catch the attention of someone clicking through stories, just make sure they are relevant to the post itself otherwise your intended message may be misunderstood.
Pro tip: Use more than one of these stickers to gather more information about your audience while increasing engagement.
Become An "Instagrammer" Today
Instagram can be used to promote your business and products in a more personal way that comes off less like selling to your customers and more like connecting with them. Since Instagram is owned by Facebook it is much easier for you to connect your businesses social media accounts and create a cohesive social media presence using the features on both platforms. There are so many amazing features you can use to make your Instagram more fun and engaging but it can be a little overwhelming. Play around with the various features to get more comfortable and use this quick guide to get started on Instagram today!