Creating a unique shopping experience and building customer loyalty is the most surefire way to beat out big box stores and online retail giants. You can offer insights and advice to pet parents that they can't get anywhere else and by doing this you offer a more personalized shopping experiencing. Manufacturer frequent buyer discounts paired with your own rewards program is another great way to improve the customer experience and grow customer retention. Research shows that acquiring new customers can cost 5x more than retaining current customers and by increasing retention by just 5 percent through customer loyalty programs you can boost revenue by 75 percent. Wow!
There are several frequent buyer programs out there, but the one that stands out is Astro Loyalty a frequent buyer program dedicated to helping independent pet retailers grow their business. They offer you an integrated, real-time platform that can transform traditional punch cards, paper forms, and files into a digital point-of-sale system that can be accessed online or through the Astro app. This makes having a frequent buyer program easier for you and also easier for your customers. Astro Loyalty helps you process frequent buyer rewards and offers you special deals from manufacturers along with marketing tools that come free with a subscription to Astro Loyalty.
Sound too good to be true? It's not! Check out this great video that shows you just how easy Astro Loyalty is to use for your business.
This quick overview of the Astro Loyalty shows just how easy it can be to automate the frequent buyer process.As an independent pet retailer, you have a lot on your plate and it can be difficult to take on more work even when it is to the benefit of your business and customers. Astro Loyalty is an easy way to bring added value to your customer's experience in your store in a cost-effective manner. Let's take a look at some of Astro's best features.
Gain the Competitive Edge
To get started all you need is a subscription to Astro and a tablet at your register so customers can easily sign up while at checkout. From there all it takes is a quick scan and Astro can keep track of purchases and automatically apply rewards. Data is sent to your distributor partner immediately and your coupon redemption time is therefore cut in half.

This graphic shows just how simple Astro Loyalty makes having a frequent buyer program in your store.
If that wasn't good enough, Astro Loyalty is exclusively offered to the independent pet retailer. That means you are able to offer a great deal to your customers that they can't get at your big box competitors while also making your job easier.
Astro Loyalty can also be integrated with several popular POS systems such as Lightspeed, Retail Pro, and most recently NCR Counterpoint. Astro has partnered with Soft Intelligence who a offers Pet Rewards POS module that works with the NCR Counterpoint POS system which makes it perfect for the independent pet retailer. Astro Loyalty and Soft Intelligence share the common goal of wanting to help independent pet retailers beat their big box competitors through building customer loyalty and they have made it even easier through this integration.
Enrich Your Programs with Astro Offers
You can enrich your own loyalty program by pairing it with Astro Offers. These exclusive deals provided by Astro can get your customers great discounts on some of their favorite brands. You can also utilize the data gathered to send out your own e-blasts and segment customers to better target your email marketing messages.
As always you can share your frequent buyer offers on social media as well. This can be a great opportunity to get more customers to join Astro Loyalty and to get customers who have already joined back in your store.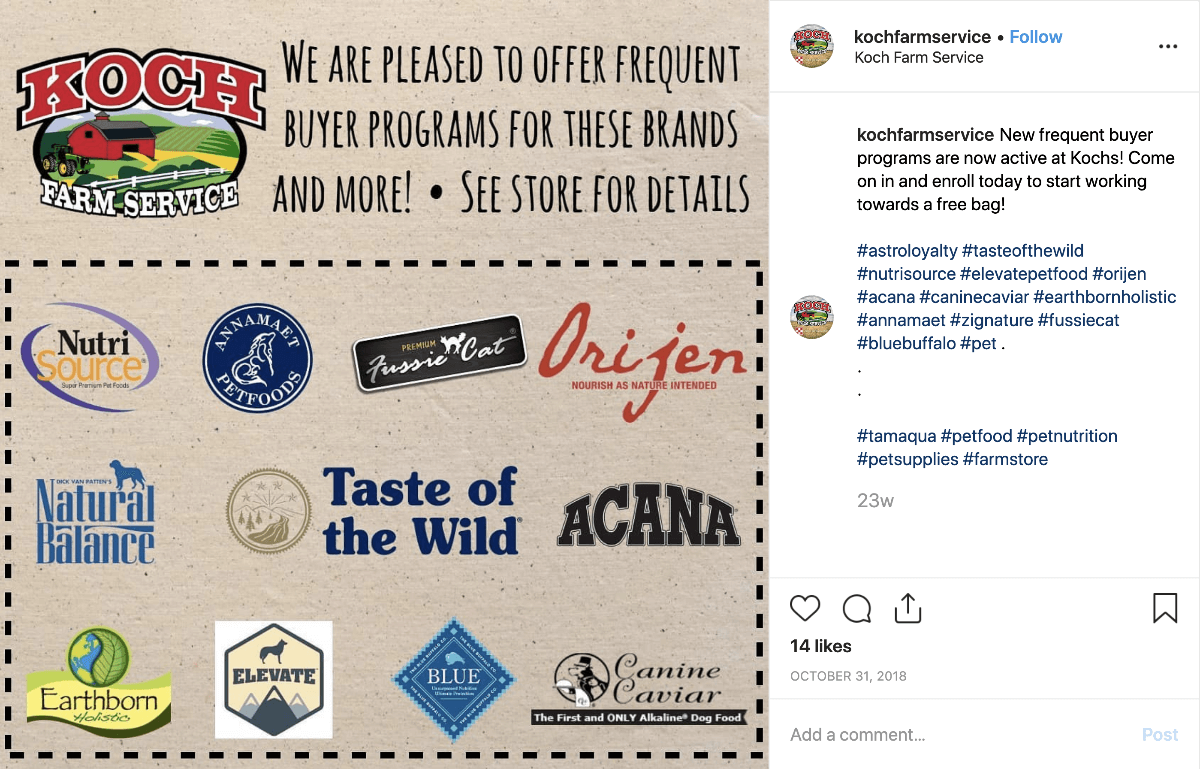 Koch Farm Service in Tamaqua, PA shared this post with their customers featuring all the brands available through their Astro Loyalty program.
Make Marketing Easy With Astro Tools
If you are not sure where to start when it comes to marketing the products you carry in your store Astro provides you with the tools for success. Astro Marketing Suite offers several ways to connect with your customers anytime an gain the competitive edge.
Using the customer data gathered through their loyalty program you can:
1. Segment customers with customer lists so you can improve your communication by making it personal to the pet parent. You will be able to target customers based on previous purchases, time since last visit, rewards, offers the preferred, purchase volume, pet type, and more!
2. Build your own branded templates using advertisements provided by Astro that will appear on a tablet screen while customers are checking out. Astro does not provide you with the tablet necessary for the display, but you once you have one you can use it as an electronic display that is easily changed. The ads can show customers deals available through Astro Loyalty and entice them to sign up if they haven't already.
Click Astro Loyalty email examples below to enlarge:
Within the email feature you can build your own branded templates and customize them to the specific deals in your store. By building a template you can easily expedite the email process because all you will need to do once it is built is choose the different deals you want to promote within the message monthly or weekly.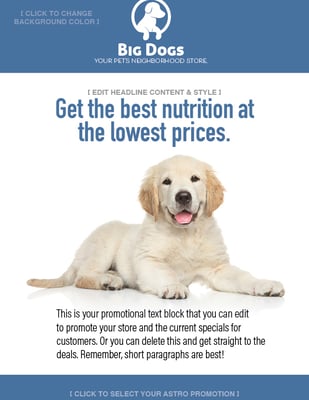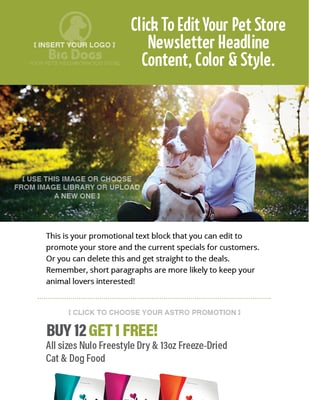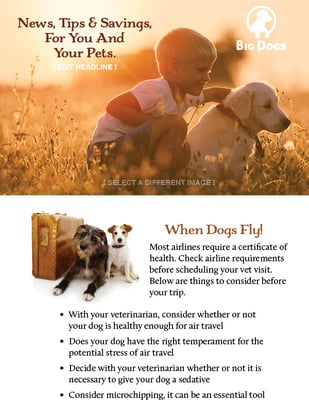 3. Have your own branded loyalty page available online or through the Astro app where customers can view the frequent buyer deals that apply to them. You can link your branded loyalty page onto your own website homepage or customers can log in using just the app using the email they used to enroll in store.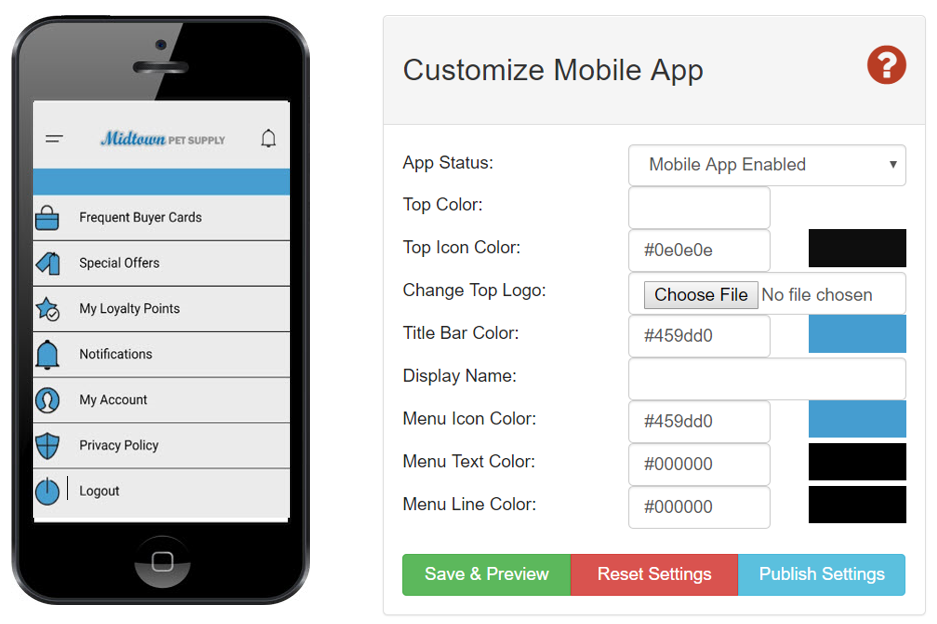 4. Measure the success of marketing tools with reporting and analytics. You can view track things like customer participation for the general frequent buyer program, Astro Offers, loyalty point redemption, the status of your distributor credits and much more!
What Are You Waiting For?
Astro Loyalty will save you valuable time and help you get credits back from distributors faster all while building customer loyalty through exclusive offers and targeted personalization. With supplemental manufacturer offers, exclusive deals, and a user friendly marketing platform you will not only make your job easier but your customers happier.
These services are exclusive to independent pet retailers are a great way to get leg up on the big box competition by providing your customer with a better shopping experience. If you aren't ready to make a full commitment yet...don't worry! You can test out their services with a free trial. Sign up with Astro Loyalty and start maximizing on your frequent buyer programs today!
Do you have a frequent buyer program in your store? Tell us about it below!