In the fight to compete with online and big box retailers, one of the strongest tools for the independent pet retailer is offering services. A groomer, daycare, training, self-service wash, or boarding will help increase traffic and widen your customer base. However, just getting them in the door doesn't mean that they will also shop your shelves. There is some work and selling required. So take the time to get your team on board so you can tackle services in your store.
Services on their own can be an incredibly successful business, so mixing that with your own retail business can really differentiate you from your competition.Bringing services into your small business may seem like an overwhelming task so here are some tips to help get started.
Start Small and Measure Success
Integrating services into the retail side of your business can sound intimidating but if you start small and test how well they do, and analyze the results you can avoid losing money on a big investment. Partner with a local groomer, vet, or trainer and offer services once a week or even once a month starting out. You can have a vet come in to do a monthly shots clinic, a groomer come in and complete nail trims and ear cleanings, or a trainer hold a potty training seminar.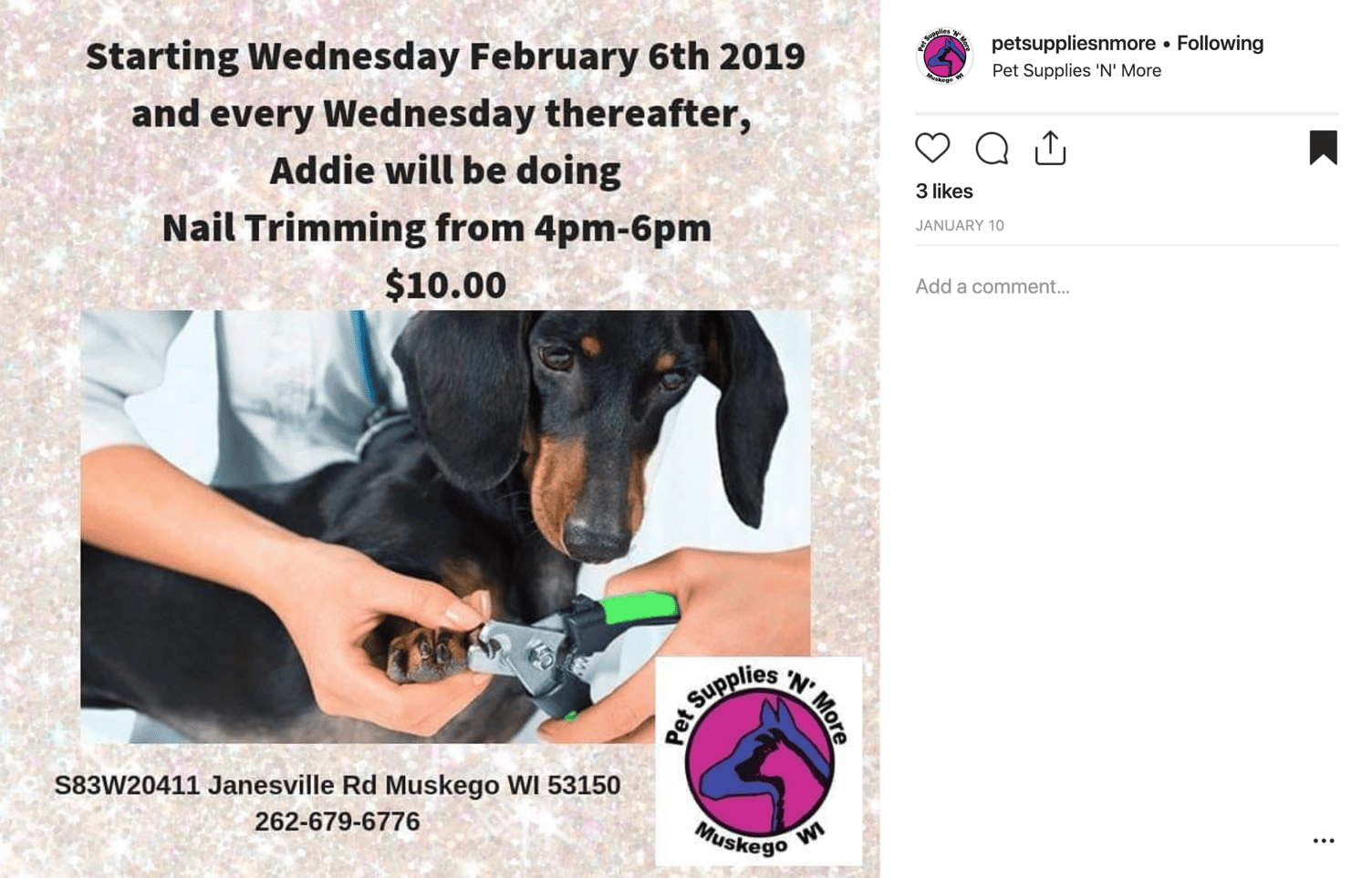 This is a great example from Pet Supplies 'n' More in Muskego, WI of how you can integrate services slowly by having someone come in once a week to offer nail trims.
You can use a small service offer to help get customers in the door and to test whether investing fully in a particular service is worth it. How many more sales did you have on those days? By measuring your results you will be able to better identify successes.
Consider offering discounts to get initial customers participating. If offering a service ends up being beneficial to your business create a loyalty program so customers will keep coming back for more. Wash your dog three times with us and get your 4th free! Something along these lines is sure to encourage repeat business, the possibilities are endless.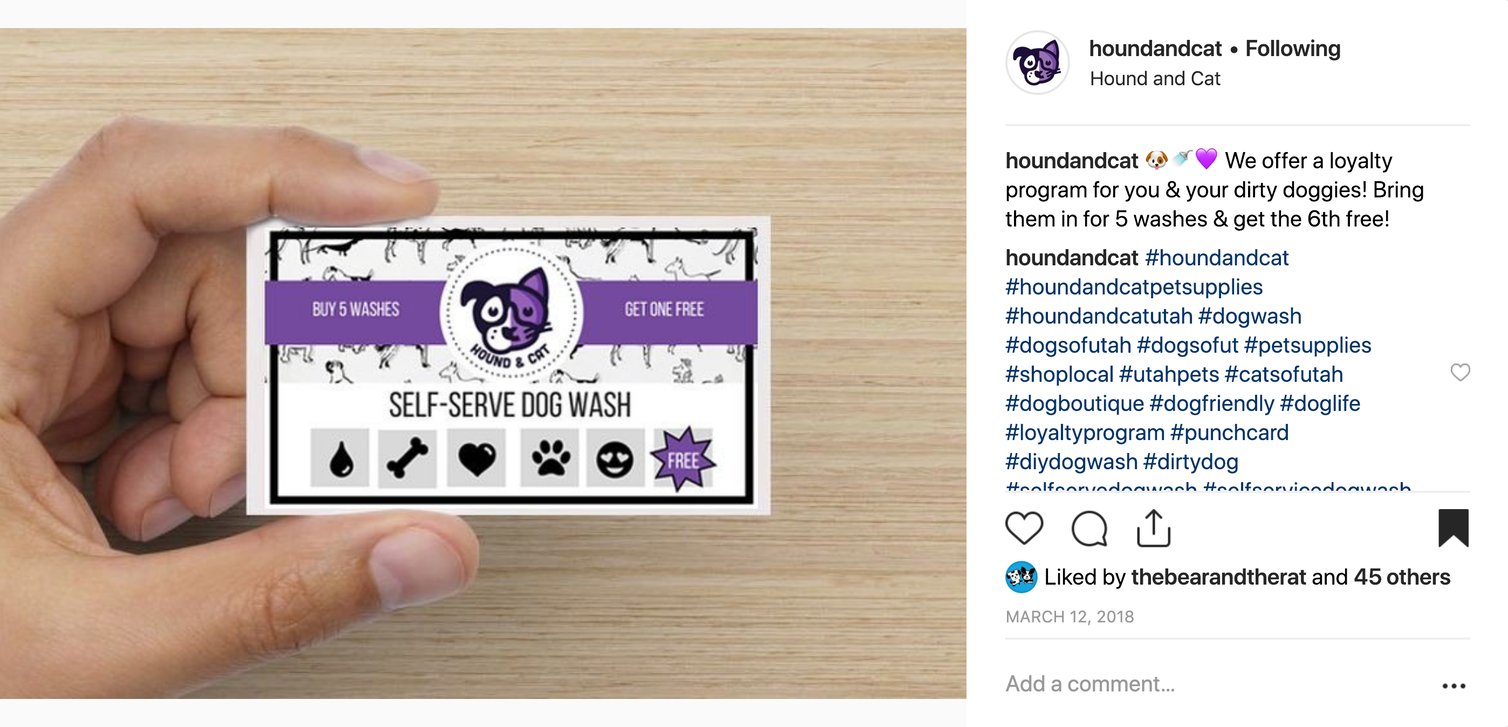 The Hound & Cat in Draper, UT has created a loyalty program with super cute punch cards for their self service dog wash. Promoting on social media can help bring awareness of such program to your followers.
Train All Employees to Sell
If you offer services in your store there are most likely customers who come in just for your services and customers who come in to shop the retail side and don't use your services. The customers that see the same cashiers every week when they come in are going to trust the opinion of that employee. These employees can be crucial in selling services you offer and help making integration of retail and services that much easier.
For customers that primarily visit your store for services they are more likely to trust the advice of their groomer or trainer over a "salesperson". These staff members are also in a better position to identify the needs of the customer due to the type and amount of interaction that they have with the owner and pet.
The groomer can see a dog with yeasty ears and recommend that the owner work with an associate to change the pet's diet or buy an ear cleaner. The trainer can make recommendations for training harnesses, treats, and other tools available on the store shelves. Leaning on each other to increase sales, will only stand to benefits both parties.
Even daycare employees can recommend treats and toys to enrich the pets when they go home. If you have service staff that you'd like to have trained on products and selling, reach out to your sales reps. They'd be happy to set up some training!
Use Your Staff as "Guinea Pigs"
Your employees are far more likely to recommend things that they use themselves and are comfortable with up selling. Many vendors offer samples and will work with you to offer employee sampling. Using your employees, and their pets as guinea pigs for products is a sure fire way to create excitement around a specific focus.
In addition to that, there are several vendors that offer online training with a free product samples (or even prizes!) as an incentive for employees studying up on their brands. Your sales reps can guide you through the existing samples and programs while working with vendors to create customized programs for your store.
Give Goodies and Get Sales
At various times of the year, send samples home with the pets using your services. If you have a puppy class with the trainer, send every graduate home with a tasty treat sample and chew that they will love. If a couple of those puppies enjoy the goodies and their owners come back for more, you have new customers and new opportunities to sell. Hold a customer appreciation event and stuff bags to help sell both products and services. Include a coupon for a groom and a sample of some pet shampoo along with other treats.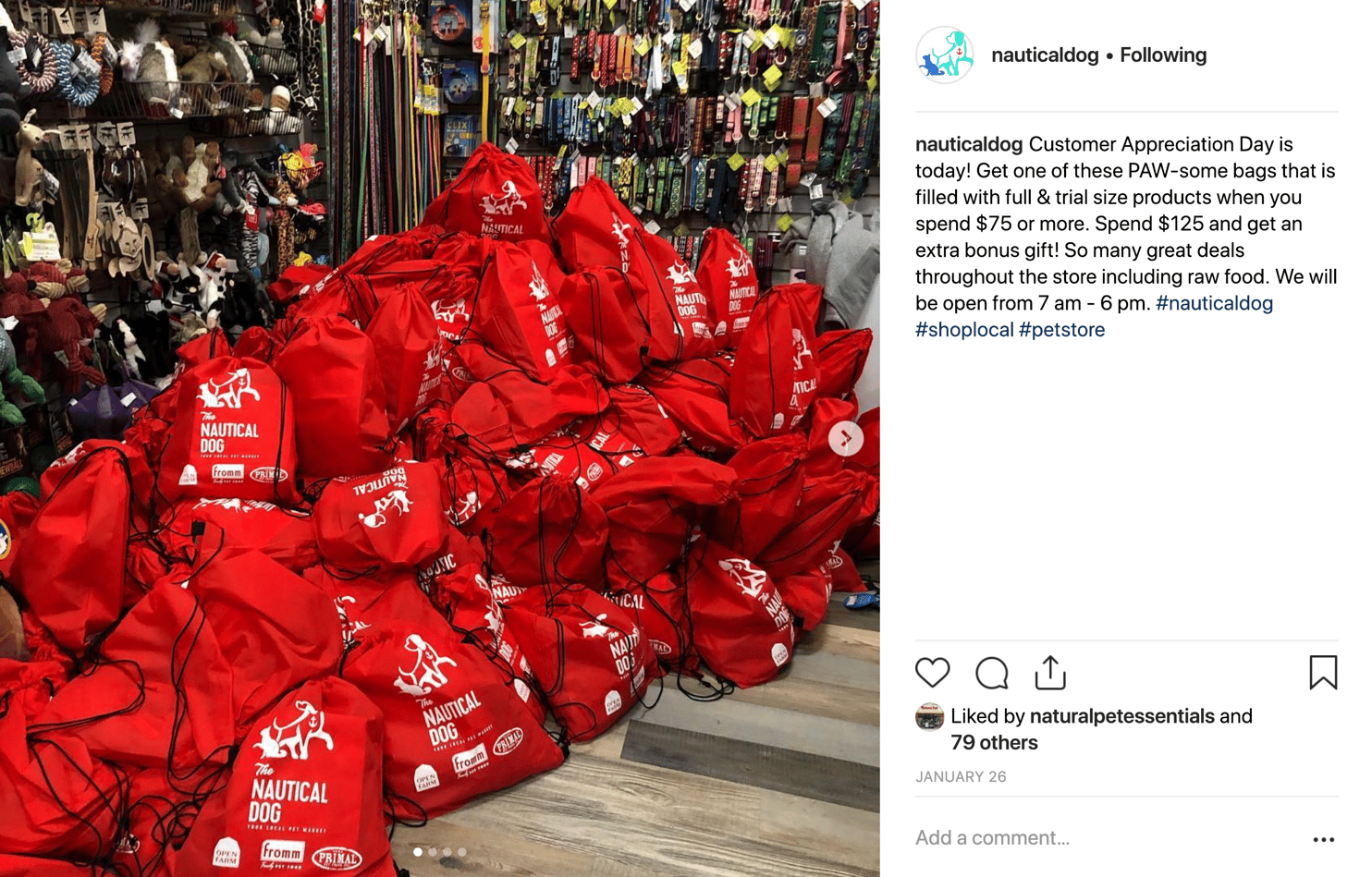 The Nautical Dog in Williamsburg, VA held an amazing customer appreciate event where they offered these great goodie bags to customers filled with trial size products.
In the month of December, you could send every grooming or day care customer home with a small goodie bag. You can fill it with treats and food samples. It's a great way to thank them for their business and a chance to get them hooked on some of your great products. Your vendor and distributor partners can help you figure out the items to use. It may be a small up front investment, but getting a few of those customers to start shopping your store can have a big impact on your bottom line.
Target Service Customers with Promotions
Run an in-store promotion specifically for customers seeing you for services. For example, when the customer buys a bundle pack of daycare days, it comes with a free gift or coupon. For grooming, you can have a month where every grooming customer gets a special coupon offer for the store. You can set up a coupon book for training graduates. Try things like a free small bag of food, BOGO on a chew, 20% off of a toy, etc.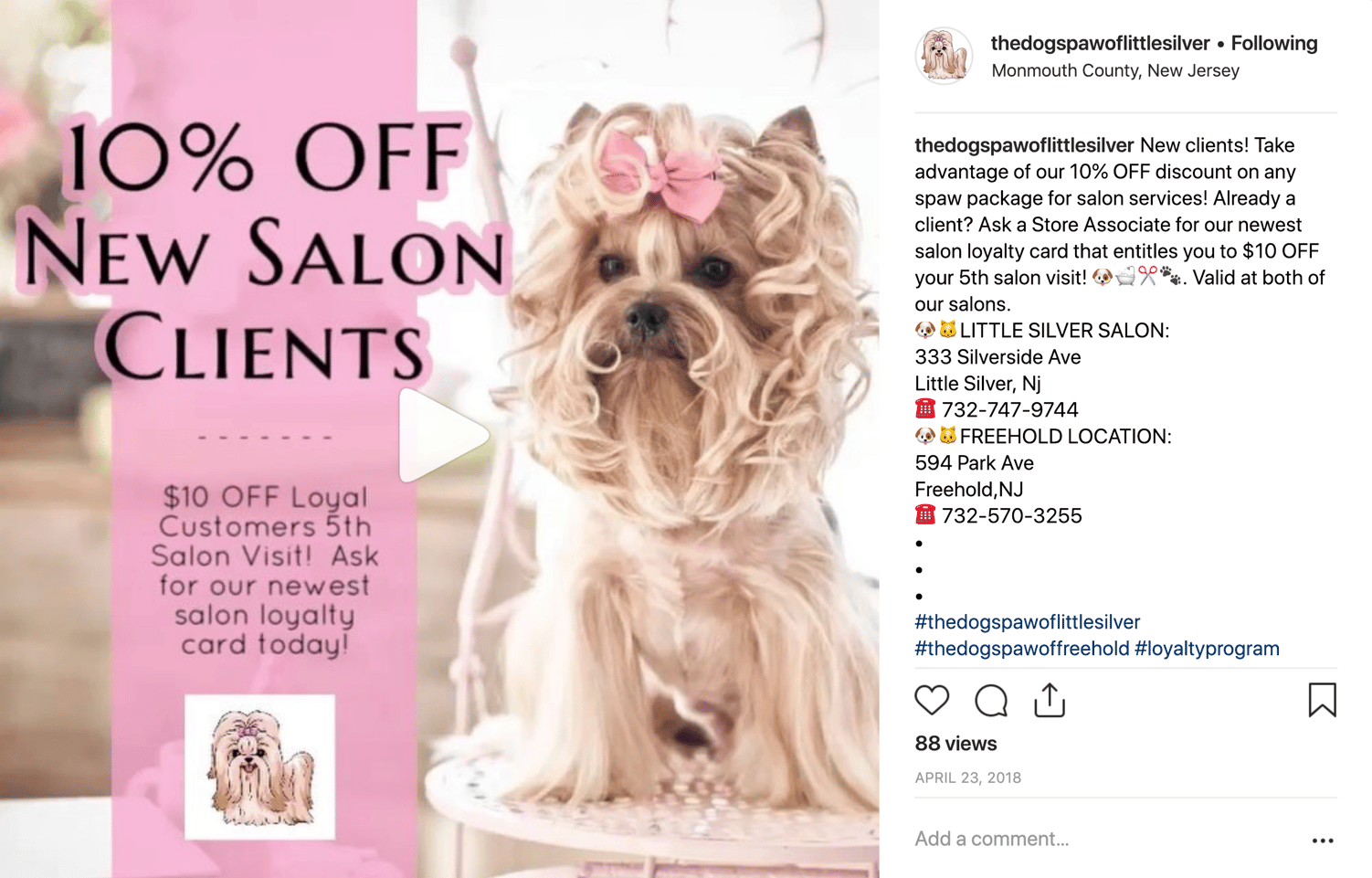 You can offer a discount like The Dog Spaw in Little Silver, NJ did for their service customers and also promote your loyalty program at the same time through a social media post like this.
Hold an Open House for Services
Many of your customers may know you offer services like grooming, training, and doggy daycare but they haven't been enticed to try any of them out. An open house is a great opportunity to get retail customers in the door. Pet parents and their pets can come in and get to know your service staff and learn more about what you offer.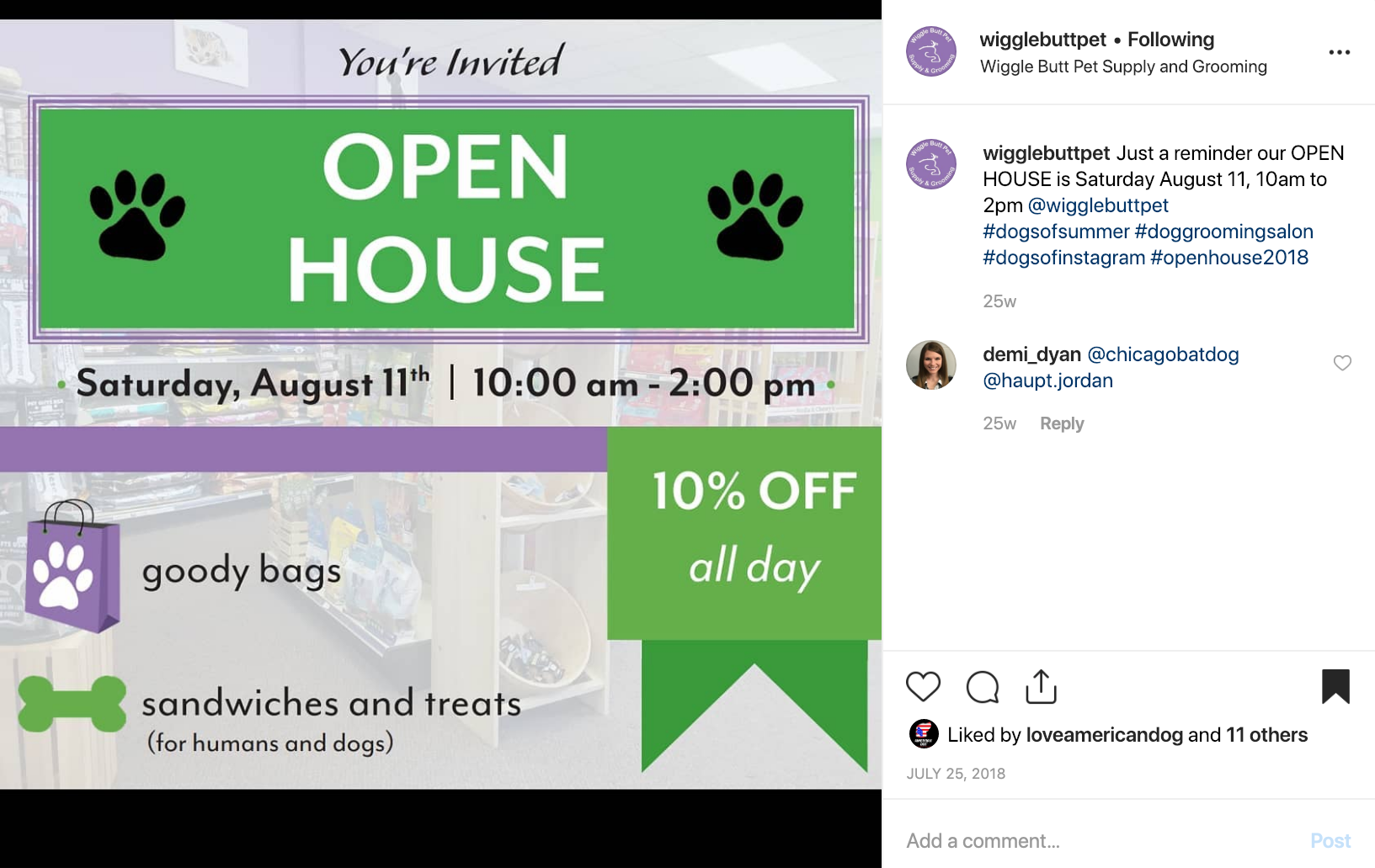 An open house like the one held by Wiggle Butt Pet Supply & Grooming can be a great opportunity to get your retail customers to start using your services.
Invite them through a promotional e-blast, flyers and bag-stuffers in your store, or through a social media post. During the event you can offer a coupon on a service to encourage them to try them out.
Be Sure to Get Creative!
While the growth of this industry is making it more competitive, it also pushes us to rise to the occasion. When you add services, it gives you a leg up, but be sure to take the extra steps to maximize the business that those services bring. Get those customers hooked on the brands that they need to get through you. Get your entire team engaged in maximizing the sales for every customer that comes through your door.
Remember that your team includes your PFX rep. We are here to partner with you because when you win, we win! Let us know your thoughts below.