The term "Made in the USA" has become a label that consumers trust and seek out when searching for the perfect food or treat for their pet. After all, the horror of the 2007 melamine debacle still resonates with pet parents and subsequent pet food recalls remind us that it's important to know the source and manufacturing of our food sources. A "Made in the USA" stamp on the packaging is one way to alleviate fears of off-shore (and often less standardized) sourcing. But can you trust it? Just because a product says it's made in the USA, is it? Does it matter? Who decides this? What rules do they follow? As the trusted resource on everything pet you'll need to be ready to answer these questions for pet parents in your community.
Due to the growing concerns for the safety of pet products, knowing where pet food is made and sourced has become incredibly important to pet parents and thanks to that "Made in the USA" products have become popular sellers. As an independent pet retailer you need to be able to answer questions about the sourcing and manufacturing of your customers favorite products. So, what does "Made in the USA" really mean and how can these products benefit your independent pet business? Let's take a look.
What does "Made in the USA" really mean?
According to the Federal Trade Commission (FTC), to legally use "Made in the USA", a manufacturer must prove that all or virtually all of its ingredients were sourced or manufactured in the US. So, what does "all or virtually all" even mean? Well according to the FTC it means that all significant parts and processing that go into the product must be of US origin.
But what if the product was made in the USA with ingredients purchased in the USA and those ingredients were imported from elsewhere? If the imported ingredients make up a large percentage of the final product then the "Made in the USA" claim cannot be made. The country of origin is what is most important when making a "Made in the USA" claim. The "all or virtually all" rule always applies even if every ingredient is sourced in the US.
When it comes to the "Made in the USA" claim on packaging there are two types that are used. An express claim which explicitly says it is made in the USA or an implied claim which is shown using a symbol like the American flag somewhere on the packaging.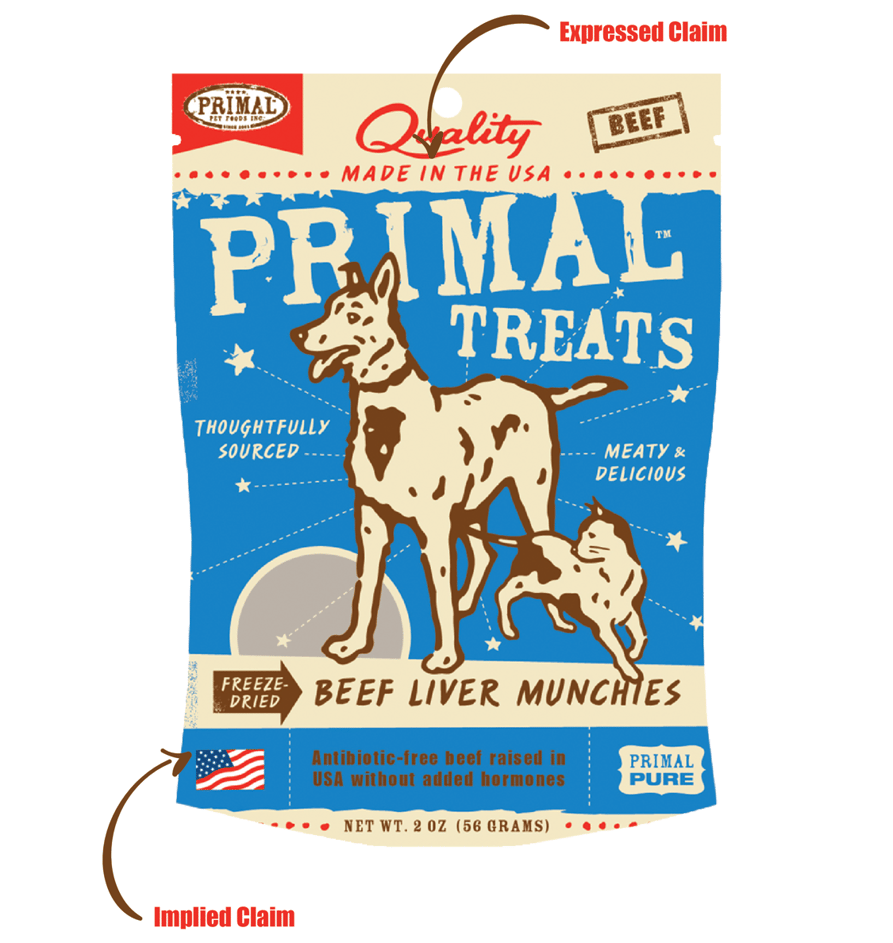 Primal's treat bags are a great example of what a "Made in the USA" label would look like if it was and expressed claim or an implied claim.
Is "Made in the USA" Quality Assurance?
Like "organic" and "all-natural", the "Made in the USA" stamp inspires confidence that you know the source (and quality) of your food. As we learned above all ingredients may not technically be sourced in the USA so there are other indicators you can look at to assure customers that products are made from quality materials. Take a look at the grade of the ingredients used in a pet food as one indicator of quality.
Manufacturers give grades to different quality of ingredients and when it comes to food, there's traditionally been two different grades of ingredients in the US.
Human grade (also called "edible grade"). According to the American Association of Feed Control Officials, ingredients deemed "edible" must pass rigorous standards of quality including roughly 100 manufacturing and quality control regulations. Things like food additives and even food containers are all included to ensure safety.
Feed grade (also called "pet grade"). Ingredients marked "feed grade" or "pet grade" aren't as heavily controlled. They only have to adhere to about 15 of those regulations. Feed grade foods may include rejected ingredients like 4D meats which are slaughterhouse animals who are dying, diseases, disabled, or dead on arrival.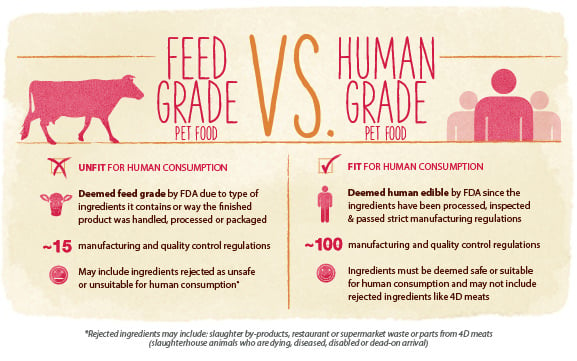 This graphic from The Honest Kitchen can be used to help answer a customer's question about the difference between feed grade and human grade pet foods.
As pet owners have gotten more discerning in what they feed their pets, more pet foods are made with the human grade ingredients. Seeing this label is good news for those looking for a high-quality product.
Can You Trust "Made in the USA" Stamps?
So, what's a savvy consumer to do? To confirm that a product uses ingredients made in the USA and the standard of ingredients (edible vs. pet grade), consumers and pet retailers can call the manufacturer for further clarification. That or know which brands are diligent about their ingredient sources. Some brands make it easy for you and put their ingredient sources on their website. For example, Open Farm allows you to get a full report on the sourcing of each individual product by searching the lot code on their website.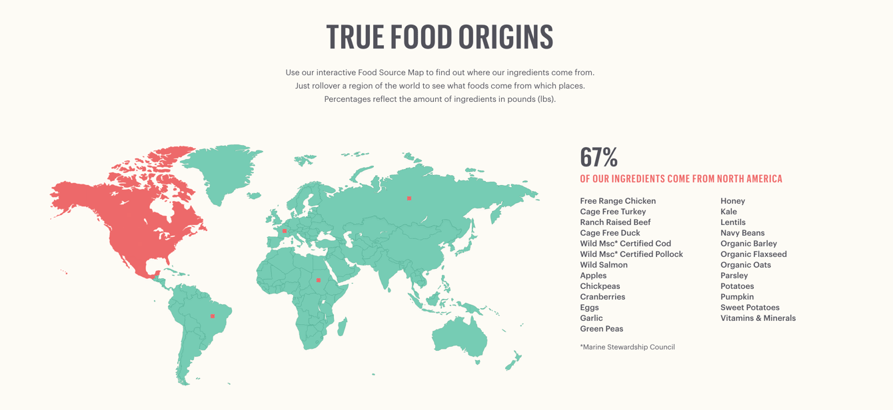 The Honest Kitchen provides visitors with an interactive map that tells you where all their ingredients are sourced, the percentage sourced from, and what ingredients specifically are sourced from that location.
If you can't find the information through some online research don't hesitate to reach out to manufacturer. You can ask for verification on where the ingredients were sourced including requesting a Certificate of Origin. Like the name indicates, these certificates tell where the ingredients originate so that you can know if the country has rigorous testing standards.
For example, kangaroo is tough to find in the US, so it's usually imported from Australia or New Zealand. Like the US, those countries also have rigorous standards. When you get right down to it, your goal is to feed your pet high quality, nutritional food.
As Lindsay Meyers BS CVT/LVT, Veterinary Outreach at Primal Pet Foods says,
"Made in the USA is a great start, but for Primal it isn't simply the control over manufacturing our products, but also where the raw materials come from. Sourcing meat of the highest quality sometimes means getting your lamb from New Zealand where it's grass-fed & -finished or getting your rabbit from France where it's human-edible grade, pastured, and non-GMO fed. The bottom line is that responsible sourcing matters as much as where the end product is manufactured to ensure safety & quality at every step of the supply chain."
Get Patriotic With Your Product Selection
For most pet parents, the phrase "Made in the USA" on pet food label is something they trust to assure quality. As we learned that is not necessarily true so it is important that as a pet retailer you take the time to educate customers about what products are the best for their pet regardless of whether they are made in the USA or not. With pet parents' growing concerns for safety the "Made in the USA" category sector has grown in popularity. As a retailer you can use this an opportunity to boost sales and also educate customers.
Here are a few promotional ideas you can use to boost sales of "Made in the USA" products:
Set up an end-cap display of the best "Made in the USA" products you carry. Adorn it with American flags and add red, white, and blue decorations to call attention to it.
Have a sale on "Made in the USA" products in your store. Use American flags to indicate which aisles customers can find American-made products and use signage within aisles to specify which products are discounted.
Take advantage of patriotic holidays like President's Day, Memorial Day, Independence Day, and Veteran's Day and create displays, have promotions, and hold educational events to help pet parents find the best "Made in the USA" products for their pets.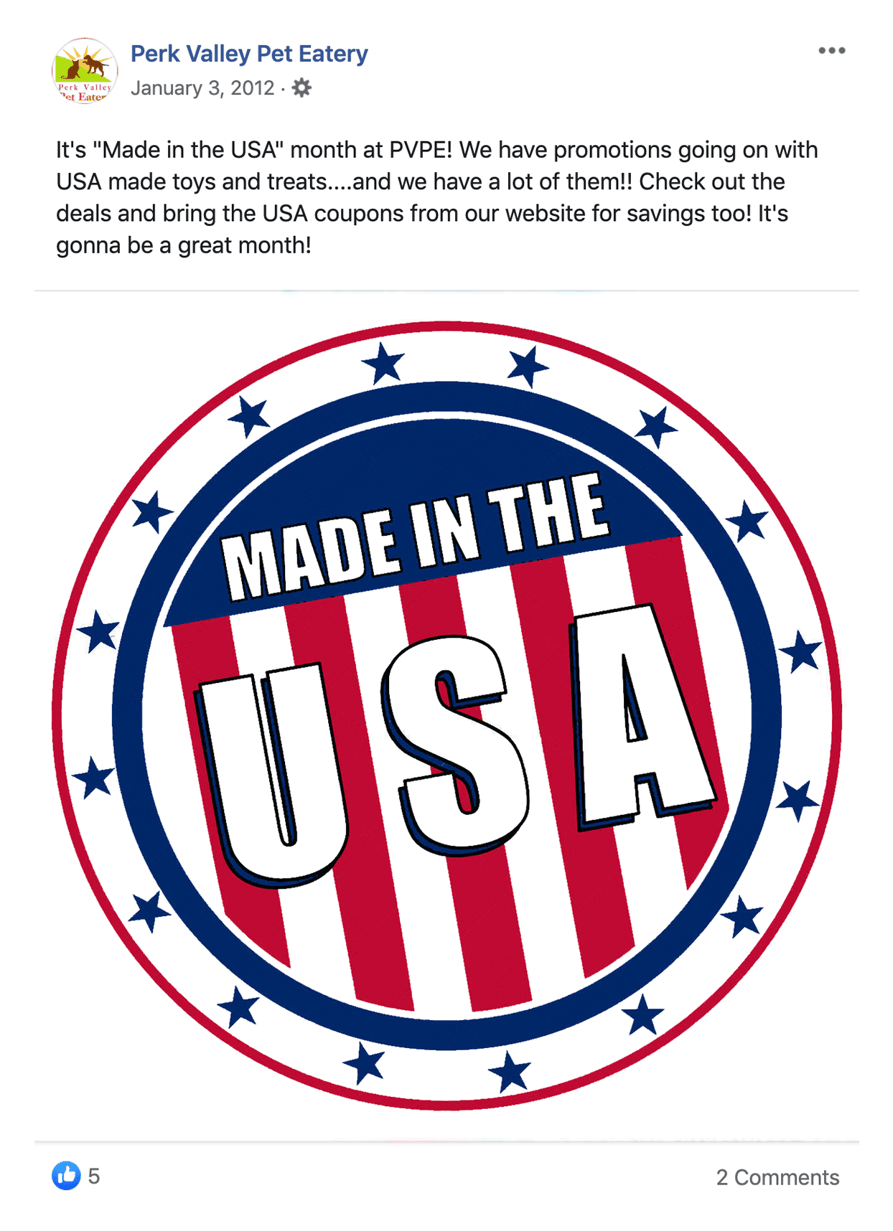 Perk Valley Pet Eatery in Perk Valley, PA promoted "Made in the USA" products for a full month in their store with great sales available on American-made toys, food, and treats.
Educate Customers on Patriotic Products
Customers often associate "Made in the USA" products as being better quality and safer than foreign made products. When you get down to it, "Made in the USA" is a label that gives you a starting point but isn't the final word. Instead, it's worth educating yourself about the true source of the ingredients so that you really know what you're feeding your pet and you can do that by speaking with your distributors and calling the food manufacturers. As a pet retailer you can guide pet parents looking for American-made products towards the best options all while boosting sales using displays and promotions to call attention to it.

What are favorite "Made in the USA" pet products? Let us know in the comments below!