On this 51st Earth Day, four Pet Sustainability Accredited brands are taking extra steps in celebration and action to advance their communities' wellbeing. While we're of the mindset that Earth Day is every day, this annual holiday prompts us all to take an extra step to protect and preserve this beautiful planet we all call home. Our amazing planet not only provides a bountiful place for our families to work and play, but it also generously provides the natural resources needed to successfully run our businesses.
In a world where companies are held to higher environmental and social impact standards, the PSC Accreditation Program is the only program in the pet industry enabling sustainably focused businesses to verify and celebrate their positive impact in the communities and environments where they do business.
See how four Pet Sustainability Accredited brands have incorporated sustainability into their business operations, resulting in environmental benefits including carbon reductions, cleaner energy, and safer waterways in their communities.
InClover Research
A Best-in-Category Pet Sustainability Accredited Company
InClover Research, the Top Supplement Brand for sustainability, is celebrating their love for planet Earth by announcing its partnership with CarbonClick, a carbon offsetting platform. CarbonClick allows InClover to embed climate action in every sale, allowing any consumer to offset their emissions while making a purchase. Through various sustainability and community development projects that align with the United Nations Sustainable Development Goals, emissions will be offset.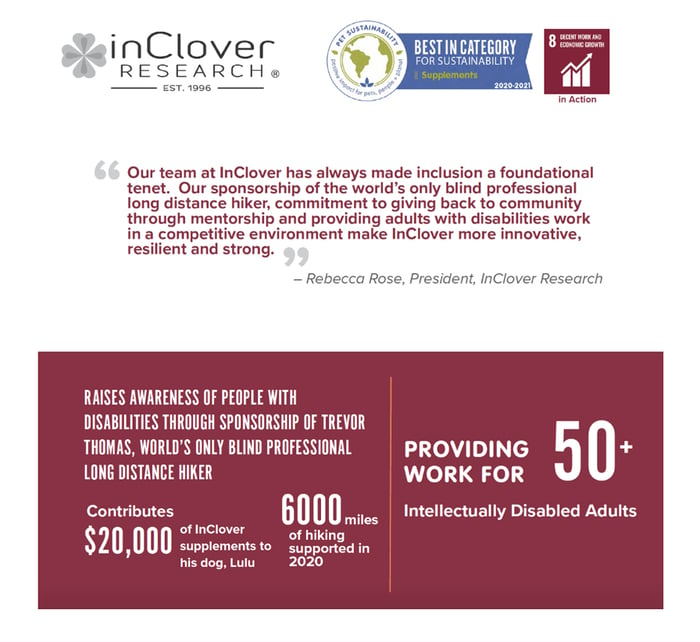 InClover has also partnered with Project V.E.T.S. Through cash and product donations, InClover has provided over $18,000 for Project V.E.T.S. mission of uniting the global veterinary community and healing the planet, one animal at a time.
Earth Animal
A Top 20 Pet Sustainability Accredited Company
This April, Earth Animal is working with The Canopy Project, an earthday.org initiative, to plant 3,000 trees, which is up from their goal of 500 trees in 2020. The Canopy Project works with global partners to reforest areas with some of the world's most at-risk communities affected by climate change and environmental degradation.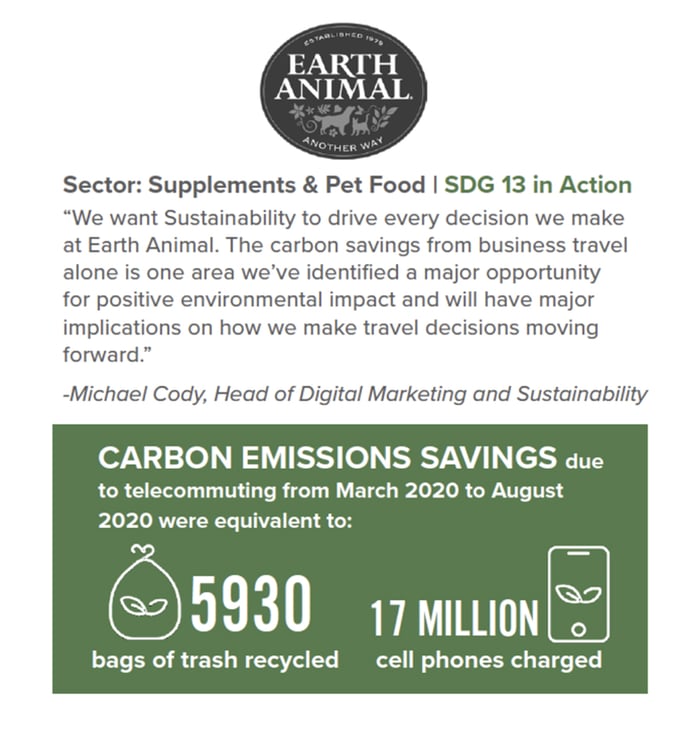 Earth Animal's work with The Canopy Project is a small part of their sustainable initiatives. Their multi-pronged approach tackles different parts of the plastic problem. Flex Forward, Earth Animal's collaborative effort with Pet Food Experts and the Pet Sustainability Coalition to pioneer a return to retail recycling take-back program, successfully collected over 7,000 pounds of used plastic pet food packaging. The cooperative nature of Flex Forward is an inspiring reminder that we can all work together to find the solutions to the biggest problems impacting our industry and our world as a whole.
Nature's Logic
A Top 20 Pet Sustainability Accredited Company
This year, in honor of Earth Day, Nature's Logic is sponsoring various local environmental groups across the nation to help them further their mission with their Earth Day promotions. The groups include Tree-Plenish, a group of college students who mentor high school students across the country to hold tree planting events in their communities, Green Columbus, Sound Rivers, Grow NYC, Montana Renewable Energy Association, Garden of the Gods, and more!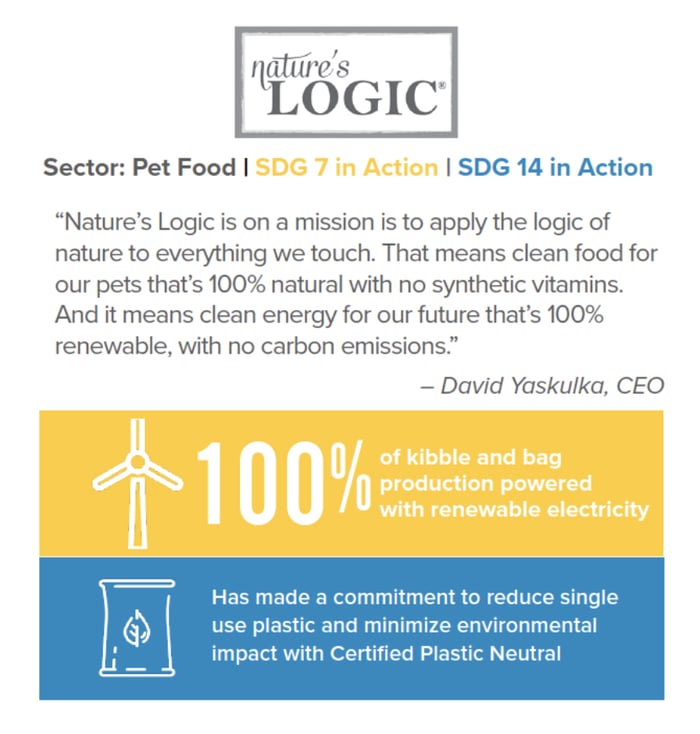 Nature's Logic is also celebrating their Certified Plastic Neutral (CPN) initiative. For every pound of plastic they use in their CPN packaging, Nature's Logic invests in the removal of an equivalent (or more) amount of plastic from the waste stream. While the initiative is only part of the solution, it allows Nature's Logic to lessen their impact on the environment.
PolkaDog Bakery
A Top 20 Pet Sustainability Accredited Company
Upcycling sustainable co-products is a key tenant of PolkaDog's business operations. This Earth Day, they are showcasing the suppliers that inspire them to include "waste" ingredients, such as cod and haddock skins. For example, one supplier, Walden Local Meat, supplies Polkadog all pasture-raised meats along with organ meat that would otherwise go wasted.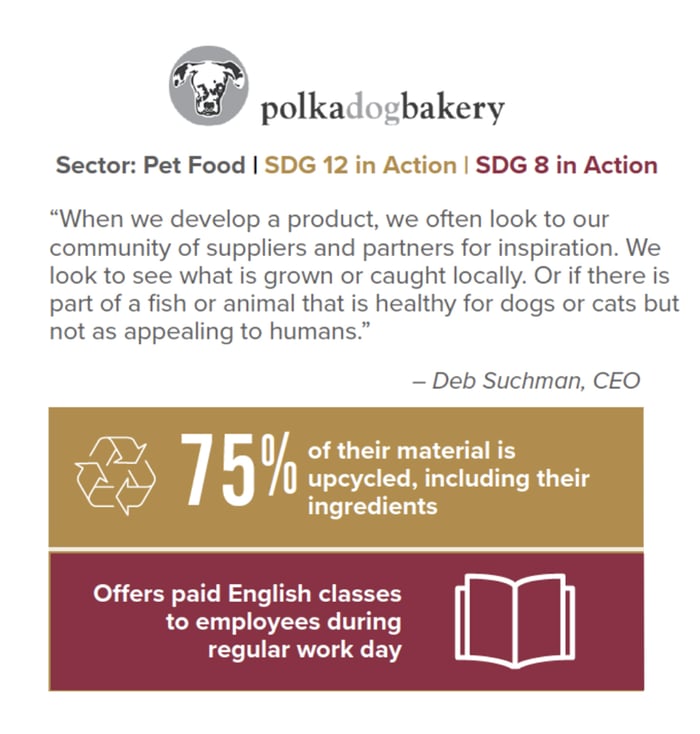 PolkaDog is also proud to offer an in-store collection for their #4 packaging, picked up from a local manufacturer in Boston. It is their first step of many towards minimizing their carbon footprint when it comes to packaging.
Right now, they are advocating for a #4 plastic drop-off at the Boston Fish Pier, where they make their treats in small batches to make it easier for customers to dispose of their treats' pouches responsibly. While it is uncertain when the program will come to fruition, they are determined to decrease the number of their pouches going to landfills.
Celebrate Earth Day
We only have one planet to call home, and it is critical that we do all we can to protect it. Big kudos to these pet companies taking action this Earth Day and every day to stand up for a cleaner and healthier planet! By pursuing sustainability through their operations, they have a positive impact on their communities and the environment while also meeting high consumer demand for sustainability. By supporting these brands, you too can celebrate Earth Day and their sustainable initiatives.