As a pet store owner, you're well aware that there's no shortage of food options. In fact, every month sees new pet food releases each of them designed to be the healthiest and more palatable than the rest. Where there used to be adult food and puppy/kitten food; now there's breed specific foods, novelty proteins, vegan, gently cooked, fully cooked, raw, frozen, etc. It's no wonder your customers are confused about what to feed their pets! Part of that confusion stems from the idea there's one best food to feed your pet. Of course, there isn't. There are many brands that can provide pets with top-quality nutrition and variety they need to thrive.
The key is in the ingredients, but for the average person not familiar with everything pet nutrition simply picking up a can or bag and reading the ingredients isn't all that helpful. Helping customers to understand pet food labels and separate the quality from the marketing is a great way to establish yourself as a trusted resource in pet nutrition. Here's everything you need to know about pet food labels so you can help customers find the perfect food for their pet.
Food Labeling Requirements
The Association of American Feed Control Officials (AAFCO) has pet food guidelines that manufacturers must adhere to. Thanks to these guidelines all pet food must follow labeling requirements that make it easier to understand what is actually contained within your favorite pet foods. On any pet food label, you should find the following things.
Product and brand name and species specification
Ingredients list and quantity amount
Nutritional adequacy statement
Feeding guidelines and caloric content
Manufacturer information and address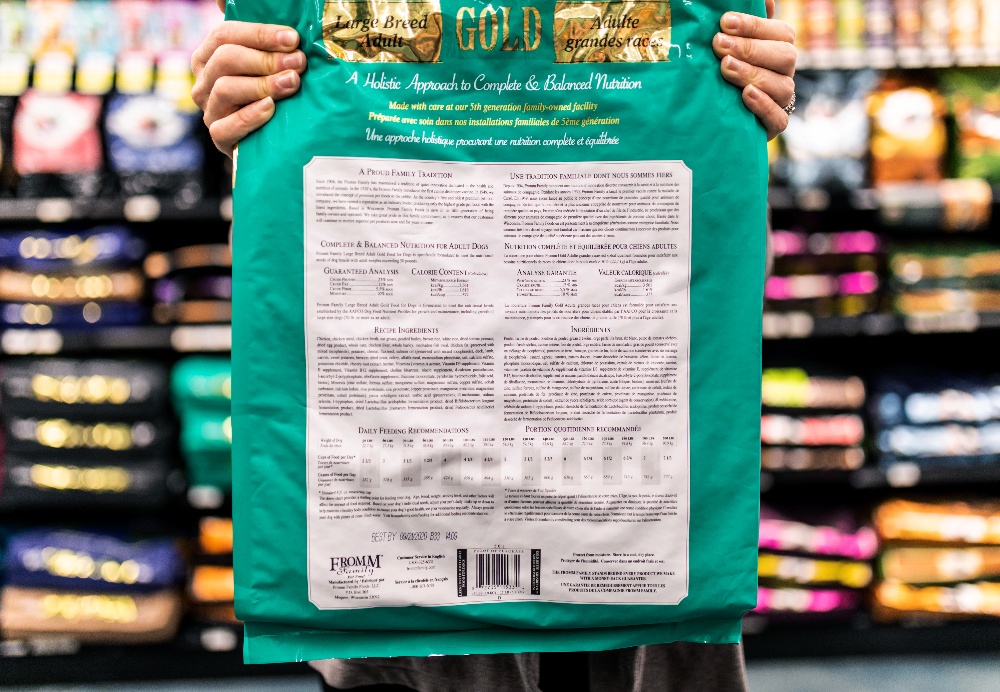 Now that you know what you can find on any dog food label it is important that you and your customers know what it all means so you can navigate the growing pet food world and find the right food for all our furry friends.
Playing the Name Game
When it comes to pet food the product name is more than just clever marketing it also has meaning. The name will let you know what kind of animal the product is intended for and it can actually give you some clues about the ingredients. Names like, "lamb for dogs" and "cat food with lamb" may seem like just a simple description, what it actually represents is the amount of lamb that is in the food. Here's how it breaks down.
The 95% Rule: Pet food with labels like "Lamb dog food" or "Lamb food for cats" would indicate that this product is required to have at least 95% lamb protein or beef protein, not counting water weight. Pets with high protein requirements will benefit from foods like this.
The 25% Rule: "Lamb dinner for dogs" or Lamb recipe for cats" is more than a change in the language, it means it has less lamb. Foods with this designation need to have at least 25% of the named protein. Older pets typically need less protein than puppies or kittens and if the other ingredients are high-quality, this can be suitable.
The "with" Rule: Labels like "Dog food with lamb" has far less lamb than the others. The simple word "with" is important. It means there must be at least 3% lamb, but 3% isn't very much. So, what else is in there? It's possible that there are lots of low-quality ingredients.
The "Flavor" Rule: A bag of "lamb flavored dog food" will have the least amount of lamb. As in, there is some lamb, but tests haven't really picked up a specific amount. This is often the lowest-quality foods.

Pay attention to what else labels may say when helping customers find the correct food for their pet. Are there veggies? Omega 3's? These are a few other good-for-you ingredients that pets benefit from eating... Maybe it's grain-free, or limited ingredient, formulated for puppies, or for seniors. Whatever the case may be, a quality bag of pet food will clearly state what the products primary feeding intentions are on the packaging.
Ingredients Make All the Difference
The ingredients section is one of the most important parts of the label. The AAFCO has a list of approved ingredients and the names they go by that you can reference to make sure products are following the appropriate standards. Just like you would when shopping for your own health foods looking at the ingredients panel is a great way to determine whether a food will fit what a pet needs (or doesn't need) in their diet.
Make sure to consider the way an ingredient list can split ingredients. Think of corn. Some ingredient labels will list flaked corn, ground corn, and kibbled corn which adds up to a lot of corn yet without a careful reading of the ingredient label, you may not realize how much corn is in the food. Obviously, if a pet parent is looking for food free of corn this one will not work.
It is important to remember that looking at the label alone will help determining which food is best for your pet, but additional research should be done before making a final decision.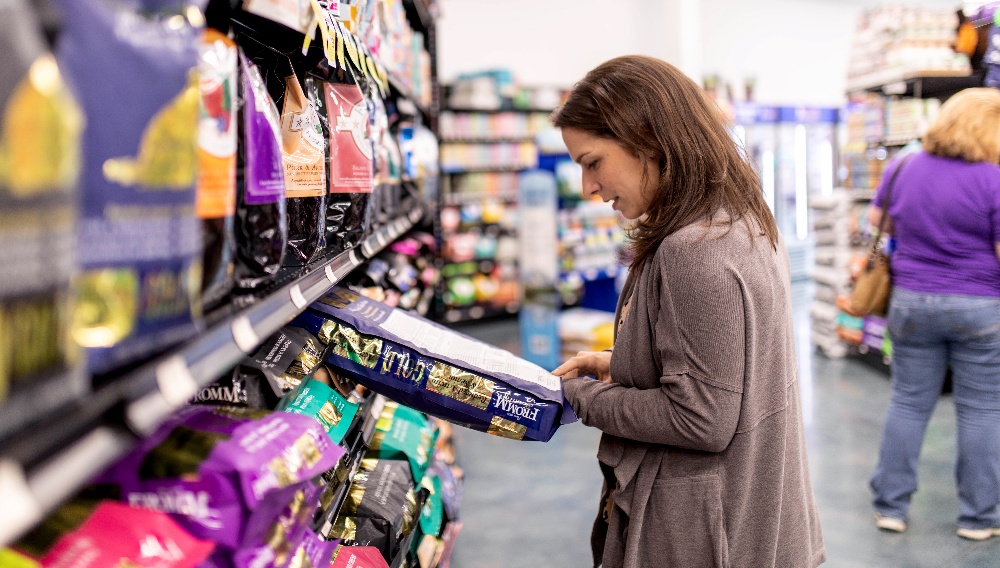 Something you will see often in pet food and get a lot of questions about are meat "by-products" These ingredients are controversial because, as they sound, they incorporate the "by-products" of the food processing world. Think leftovers on the butchering floor.
"By-products" can include brains, blood, the spleen, and other "parts." Many pet parents may not want to give by-products to their pets, so check the ingredient list before recommending a product.
You may also see meat meals listed among the ingredients on pet food labels. For example, "lamb meal" is a ground-up powder of lamb tissues which are found in some lamb-based pet food to add more protein to the food. They're ground up into a fine powder to improve the digestibility and work like flour in the pet food making process. They usually include all lamb tissues, but not by-products such as blood, hair, hoof, stomach, and horn.
There are several grades of meat meal and some of the cheapest "pure" meals may be less usable than the highest "by-product" meals, so it is important that you trust the manufacturer. Look for pet food manufacturers that use a combination of fresh meat and meals as an indication of quality manufacturing.
Note: Ingredients are listed in descending order by weight (not nutritional value). If a protein is listed first it does not necessarily mean that food is high in protein. However, the most important ingredients are typically the first five listed on the bag.
Analysis of "Crude" Nutrients
Per AFFCO regulations, all pet food labels must state guarantees for the minimum percentages of both crude protein and crude fat, as well as the maximum percentages of crude fiber and moisture. This is what's called the Guaranteed Analysis. Within the analysis, you can see the percentages of each of the nutrients in the food. The minimums and maximums of the nutrients stated above are always required. Guarantees for other nutrients may be required to support certain claims made in labeling (such as "high in calcium and vitamin A"), and manufacturers may include voluntary guarantees for other nutrients as well.
Note: "Crude" refers to the method of measuring not the quality of the protein, fat, fiber, etc. These nutrients will appear much lower in wet foods due to water content so it is important to remember when trying to make meaningful comparisons between wet and dry foods.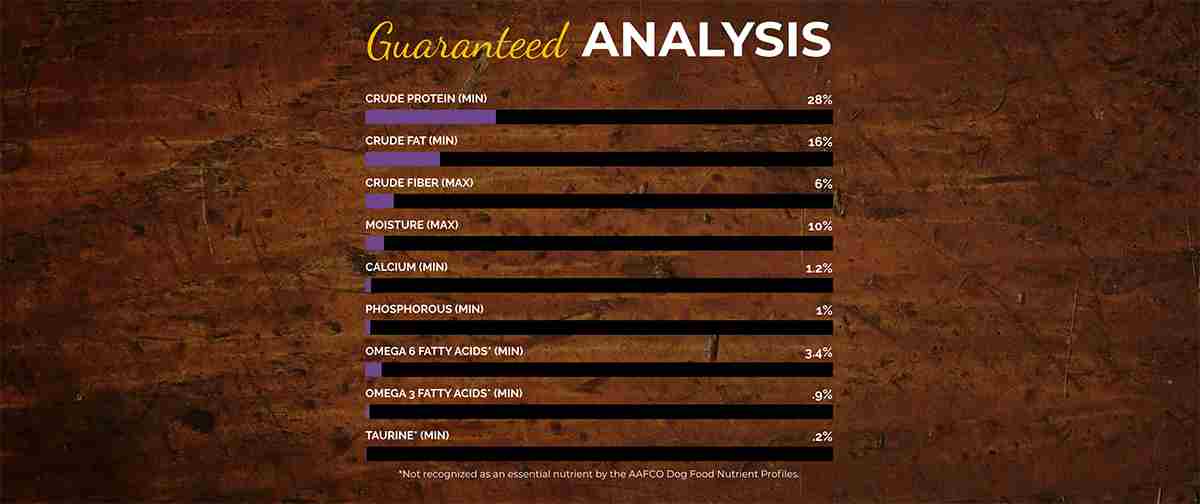 Nutritional Adequacy Statement
You may often see that various pet foods will make claims like "complete and balanced" or "100% nutritious". These aren't just phrases that sound good and are slapped on the label to help sell more food. When you see this label on pet food there will also be a nutritional adequacy statement on the packaging as well. This statement assures pet parents that when the pet food is fed as the sole source of nutrition, it meets or exceeds the nutritional requirements for a dog or cat at one or more life stages.
The AAFCO requires companies to identify that their product is complete and balanced for a particular life stage using one of three ways. They can simply label it as "formulated to meet nutritional levels set by the AAFCO", conduct feeding studies by AAFCO standards that resulted in success, or they can conduct a trial on one product and all similar products will be assumed to work as well.
Note: The AAFCO recognizes "adult maintenance" and "growth and reproduction" or if the diet meets both, "all life stages". Profiles for senior, geriatric, small breed, large breed, weight reduction or weight maintenance don't exist.

By clearly stating their products abide by AAFCO standards Zignature makes sure everyone knows they are complete and balance and can be used as the sole source of nutrition for dogs.
Feeding Guidelines
The feeding guidelines on pet food labels are pretty straightforward — it will tell you how much and how often to feed your pet daily based on their weight. However, nutrition is not really a precise science, since every pet is different you can't rely solely on feeding guidelines. Use these guidelines as a starting point for determining a pet's nutritional requirements.
Often times near the feeding guidelines/directions you will find a statement of caloric content as well. Calorie content will be expressed in kilocalories per kilogram of food or kilocalories per can, per bag, per cup, etc. Customers will want to be sure their pets are getting the correct calories for their pet's age, weight, and species.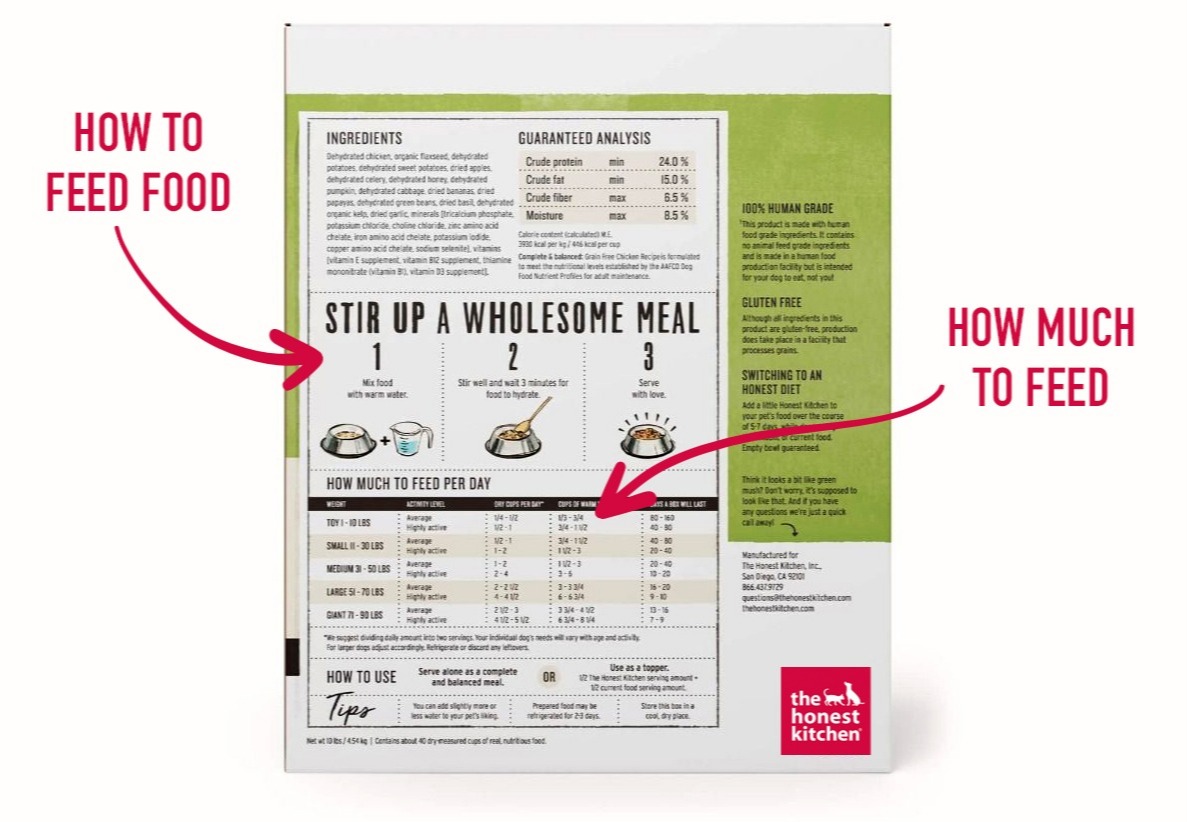 Where Does it Come From?
One small but important piece of information on any pet food label is the manufacturer name, address, and contact information. Every pet food label is required to identify the party that is responsible for manufacturing or distributing that product. Usually, you will find the city, state, zip code, and sometimes the street address if they are not listed in their local telephone directory. Often times, many labels will also have a phone number if you need to contact them with any questions, comments, or concerns.
You can also reference manufacturer websites to find even more details about the brand in question. Make sure to let customers know that this information is available if they want to learn more or feel the need to reach out to the manufacturer for any reason.
The Benefit of Understanding Labels
As a pet store owner, you're privy to lots of questions about dog nutrition. It is important that you take the time to give both your employees and customers the tools to find the perfect food for their pets. The growth of the pet industry and the wide variety of pet foods out there can be overwhelming to the average pet owner. Helping pet parents make well-informed decisions about their pet's nutrition is one of the best ways you can keep your customers coming back.
Check out and share the full infographic created by Marketing Manager, Stacy Wood, below: