Every year, Global Pet Expo in Orlando is the gateway to another tradeshow season for the people in the pet industry. Each show is bigger, brighter, bolder, and better than the last, and draws vendors, retailers, distributors, and now even influencers to the massive show floor where over 1,000 exhibitors showcase new products, refreshed packaging, and show-stopping booths that tell the story of their brand.
On the heels of over $120 billion in sales in the pet market in 2022, Global Pet Expo opened the 2023 show with a singular goal in mind - to maintain the integrity of a simple core value: the love of pets and support for those that own them and work with them. Here are the three things that keep us coming back to Global year after year - aside from a way to get six months' worth of steps in within three days.
#1: THE SPECIAL EVENTS AND EDUCATIONAL SEMINARS
Where else can you find over 40 hours worth of FREE educational activities and seminars over the course of three days? With focus areas for leadership, PR & marketing, customer experience, profitability, and insights into the newest research in the pet industry, these sessions are an integral part of Global and provide insight that can serve anyone in any role all year long. A new addition for 2023 was the quick-hitting but massively informative 15-minute sessions. These snack-size segments meant attendees could maximize their time AND still reap the benefits of having access to industry experts. Here's a quick tidbit we learned from the Pet Market Outlook 2023 session with David Sprinkle - Even on a 'bad' year, the pet industry still beats any other consumer market in the world. Over 60% of people consider their pets to be a central part of their family and will spend the money to care for them, even as inflation, cost of living, and other factors continue to rise. This is fantastic news for an industry that seemingly keeps expanding and creating ecosystems in every corner of the globe. For retailers, this expansion means you have to think like a big box store - add a dog wash station, a mobile food delivery service, or a monthly nail trim day so your store becomes a one-stop shop for everything your customers (and their pets) need.
#2: The New Product Showcase
If you're able to snag a coveted spot in the 45,000 square-foot New Product Showcase area at Global, you've officially been granted the keys to the kingdom: 95% of attendees head to this portion of the show to scout the newest products for their customers. In 2023, Global boasted 1,000+ new product launches alone, thanks in part to 300+ first-time exhibitors. Besides being the most highly trafficked display area on the show floor, any product in the showcase automatically has a chance to win the Best in Show Award at the end of the expo, which not only gives you bragging rights but also garners retailer and media attention, both of which could change the future of your brand. 2023 Best in Show winners (and 2nd and 3rd place mentions) included PFX brands Bocce's Bakery and Earth Animal!
Bocce's Bakery took home first place in the Natural category for their food toppers, and Earth Animal snagged 3rd place in Dog for their Wisdom Original 3-Part Blend dog food.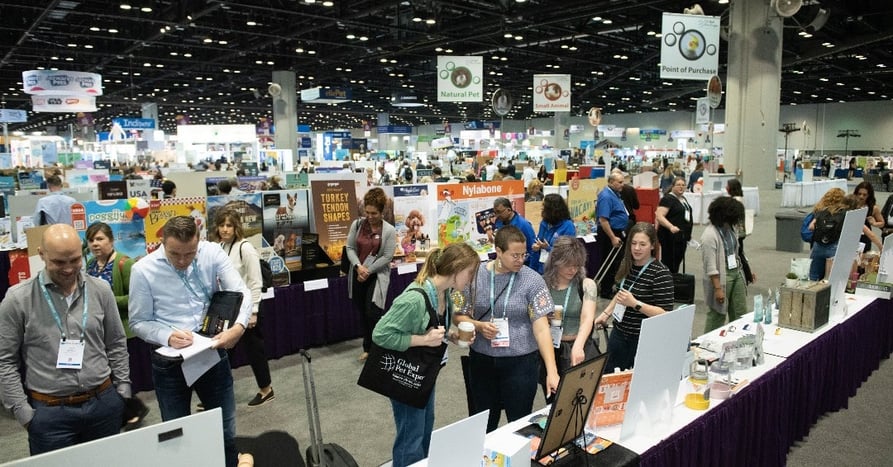 #3: THE COMMUNITY AND THE CONNECTIVITY
Yes, a trip to sunny and warm Florida in March is reason enough to go to Global. But really, we're all here for the same reasons. As a part of the pet community, this is a chance to seek out and dig into new products for your customers, to see your vendor partners face-to-face, which is getting more and more rare thanks to Google Meet, and to immerse yourself in the energy that comes with a show of this magnitude. The insight, conversation, deals, and opportunity to see new packaging or products in person are invaluable for any attendee (and vendor, marketer, or media partner!) There is no better place to not only learn about what's trending in the pet space but to see those trends in action and learn how to maximize that growth. This year, we saw a rise in new cat products across a multitude of brands, both big and small. Catering to our feline friends feeds into another nugget of pet market research that shows cat ownership is rapidly growing thanks to people living in condos and apartments or other areas where dog ownership may not be feasible. In addition to expanded product lines to be inclusive of smaller pets, new packaging, and updated branding rang supreme at Global with dozens of brands rolling out a new look for the second half of 2023. There's no better place to see the power of branding and the impact a brand refresh can have on a product - even when it's been around for almost a century like Old Mother Hubbard's!
If we've convinced you to book a flight to Orlando next year, Global Pet Expo has already released the dates for 2024 (March 20-22) AND for 2025 (March 26-28.) If you attended and are itching for the next show this year, we hope to see you at our own PFEXPO West in Anaheim, CA in July or at PFEXPO East at Mohegan Sun in CT in September. See you on a show floor soon!