We've got something incredibly special in the works for the spring of 2024! In partnership with HuggleHounds, we're launching two new HuggleCause™️ toys and it's up to YOU to vote on which two we create.
Over the course of the next year, Pet Food Experts will be working with HuggleHounds to create two, brand-new toys exclusive to PFX and available only to our retailers. A portion of the proceeds from these toys will go directly to Living Free Animal Sanctuary and the toys are modeled after some of Living Free's most remarkable rescue pups.
Living Free Animal Sanctuary, a nonprofit with a mission to rescue dogs, cats, and other animals whose time is up at public shelters, creates a refuge for those in need of a second chance. Living Free is more than a rescue - it's a permanent home where any animal that doesn't get fostered or adopted will be able to live indefinitely at the Sanctuary.
Meet the Living Free PupbassadorS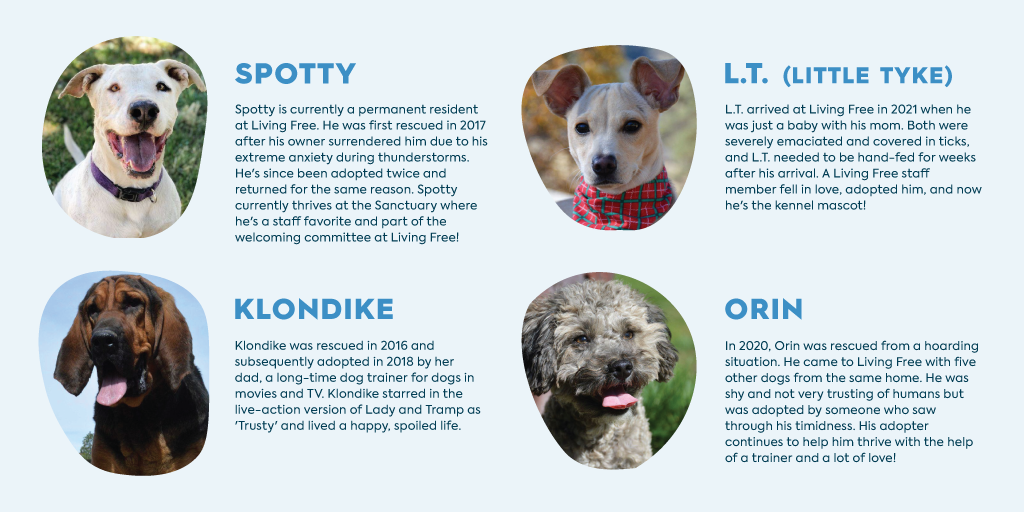 HOW IT WORKS AND HOW YOU CAN GET INVOLVED
Vote for your 'favorite' by choosing one of the two from the following groups (large dogs - Spotty or Klondike and small dogs - L.T. or Orin.) Voting will close on May 26, 2023, and the toys will go into production this year with a tentative launch next spring.

Once these toys are available, you can stock them in your store to further support Living Free Animal Sanctuary!