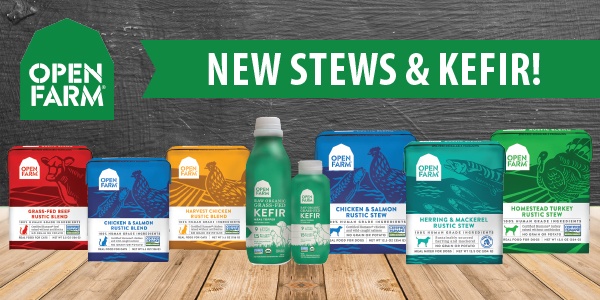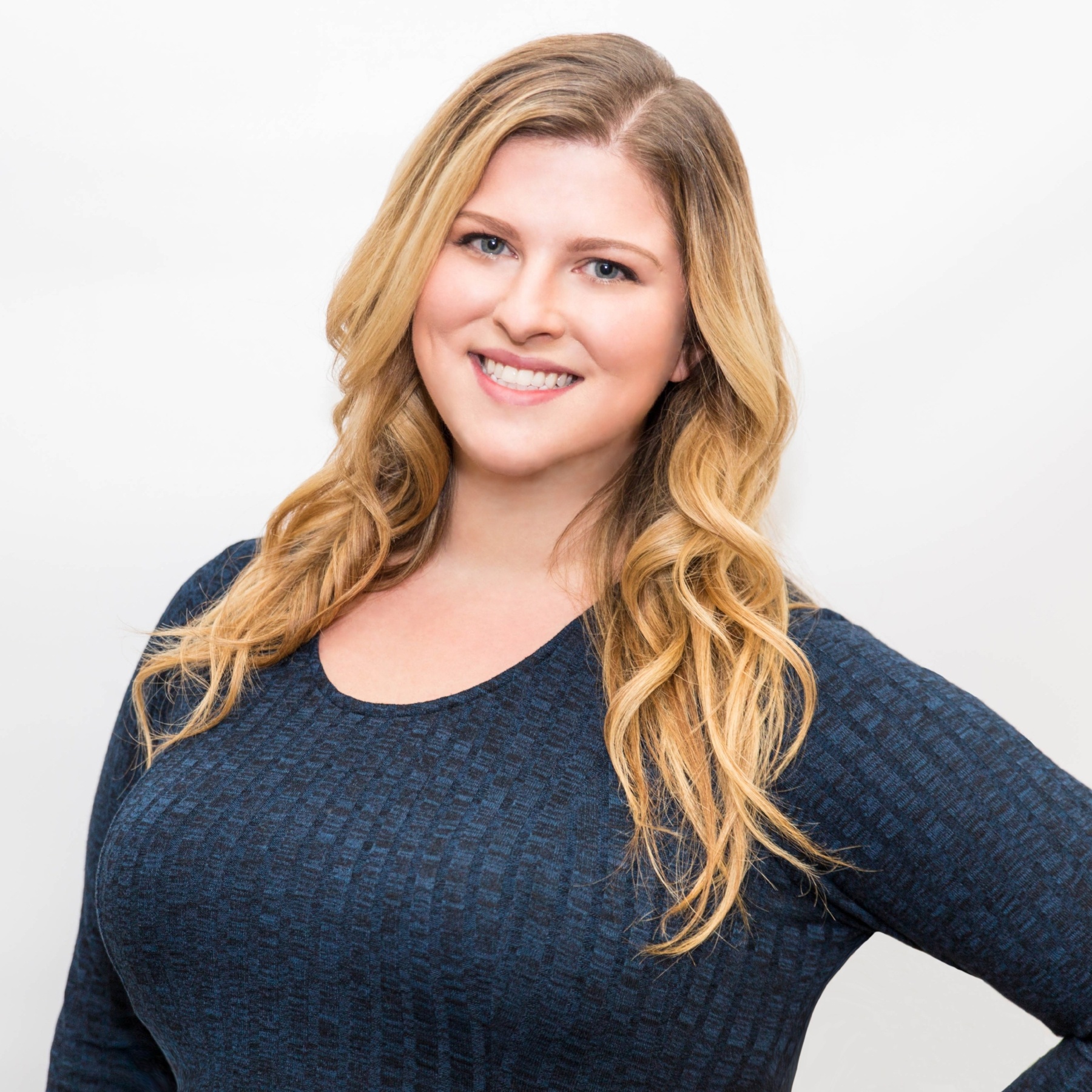 New from Open Farm: Rustic Stews & Kefir
Open Farm is making their way into the wet food and topper category with the launch of Rustic Stews and Kefir for cats and dogs! Introduced to retailers at Global Pet Expo, these products provide Open Farm's high standards for quality and transparency that pet parents expect.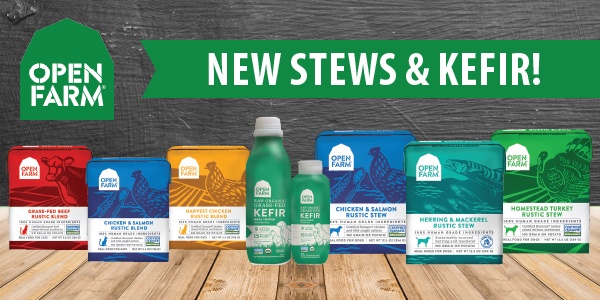 Human Grade Rustic Stews
Made with 100% human grade ingredients, Open Farm's Rustic Stews provide cats and dogs with a blend of nutrient-rich vegetables and superfoods sourced from humane and sustainable family farms and fisheries throughout North America. Just like Open Farm's dry food, freeze-dried food, and treats, pet parents can feel comfortable feeding their cats and dogs a diet with a fully transparent supply chain that you can trace back to the source.
Multiple rotational single-protein flavors, all made without grain, potato, or fillers

Delivered in a resealable and recyclable tetra pak container for easy serving as a meal topper or complete meal

100% Certified Humane/GAP meat and OceanWise fish ingredients
Available for cats and dogs, Open Farm Rustic Stews are available in six recipes: Harvest Chicken, Homestead Turkey, Grass-Fed Beef, Chicken & Salmon, Herring & Mackerel, and Wild-Caught Salmon.
Raw Organic Grass-Fed Kefir
Produced by Organic Pastures, a leading organic creamery in Southern California, Open Farm's Kefir is a powerful probiotic organic raw milk meal topper with 9 specialized live cultures. Made from USDA organic dairy from grass-fed cows raised without any hormones or antibiotics, Kefir is an easily digestible and delicious topper that can be combined with Open Farm's line of dry, freeze dried, or wet food.
Promotes a healthy gut, gastrointestinal tract, skin, and teeth for cats and dogs

Essential amino acids, omega-3 fatty acids, vitamins, immunoglobulins, minerals, and antioxidants

No antibiotics, synthetic hormones, toxic pesticides, or GMOs
Made with a powerful boost of cinnamon and tumeric, cats and dogs will love the flavor of this raw, organic topper with 1.5 billion active cultures per ounce. Open Farm's Kefir is available in 16oz and 32oz bottles for easy feeding on top of your favorite Open Farm recipe.

*At this time, Open Farm Kefir is not available to customers in the Midwest.
Contact your Pet Food Experts sales rep today to learn more about Open Farm's new products!
About Holly Everett
Holly joined the Pet Food Experts team in 2014, starting in a sales support role before joining the Marketing team as Communications Coordinator in 2015. She leverages her marketing knowledge, deep understanding of our customers' needs, and love of pets to provide latest in product, industry and Pet Food Experts news, as well as helpful tips to help our retailer partners grow their business. When she's not working, you will find her spending time with her friends and their dogs, cuddled up on her couch with her cats watching her favorite TV shows or reading about the latest news in marketing, pop culture, and the pet industry!