There is one thing all pet parents know is true; our pets love receiving a good treat. For pet owners, switching up treats and chews is a fun opportunity to spice up the life of their four-legged friends, which is why it is no surprise that pet treats are one of the highest-grossing product categories in the pet space. At Pet Food Experts, our carefully curated brand portfolio offers pet specialty retailers and the communities they serve trusted brands and high-quality products that keep consumers happy and their pet's tails wagging.
New to the Pet Food Experts family is Beg & Barker! Get to know Beg & Barker, what they offer, and see why it was love at first bite!
Who is Beg & Barker?
Beg & Barker was founded by Gary Moorcroft, a fourth-generation meat trader from South Africa. At just ten years old, Gary had his first experience with air-dried meat, a cultural staple in South Africa that would later become his life's work.
Gary's passion for healthy living and whole foods began with making meat snacks for humans. But as we all know, we feed our pets, if not the same as we do ourselves, better. So it was an obvious choice to start providing pets with the same wholesome quality air-dried meat snacks, and thus Beg & Barker was born.
What Beg & Barker Offers
Beg & Barker is a complete line of air-dried meat treats made in small batches in their state-of-the-art manufacturing facility in North Carolina, using human-grade ingredients that have been raised in the USA. The bold packaging is BPA-free, meaning your displays will look great, and most importantly, pet parents will feel great about these treats.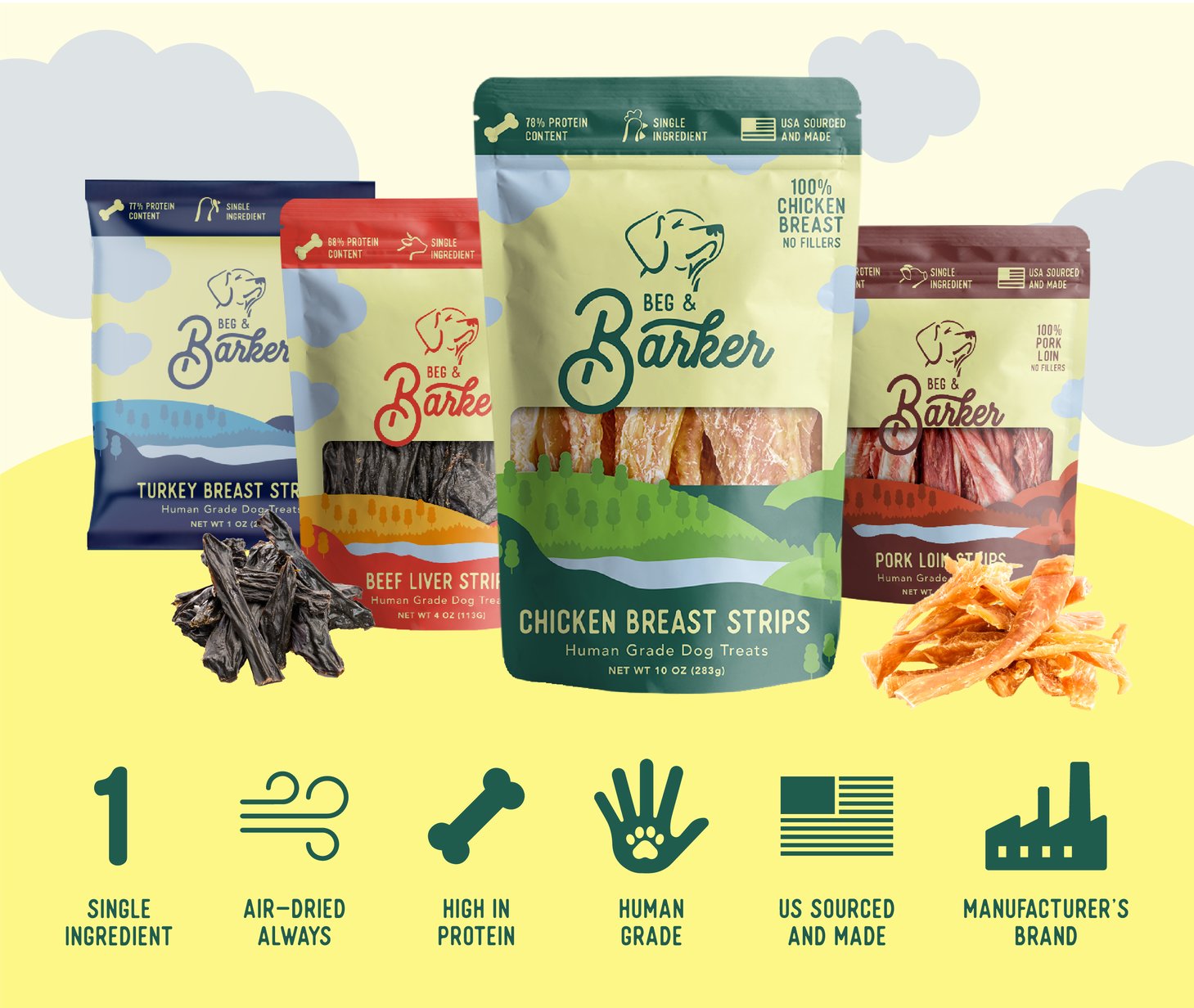 The time-honored tradition of air-drying meat locks in nutrients, vitamins, and essential fatty acids keeping your best friend's snack free of preservatives and fillers. Dogs will beg and bark for these single-ingredient, high-protein, low-fat goodies.
Why Beg & Barker?
Growth in the pet industry has been steadily increasing over the years, and it isn't expected to stop anytime soon. Pet food leads the pack with the most growth, but treats are not far behind. In fact, Packaged Facts projected that U.S. retail sales of dog and cat treats would reach $9.87 billion by the end of 2021, and they were right!
As Pet Food Experts, our mission is to identify new brands and products that will fulfill a need for your pet parents. With the exponential growth of the treat market, we know that providing high-quality treats they can trust is vital.
"As pet parents continue to seek more high quality treats, Beg & Barker's Air Dried, Human Grade, Single Ingredient, 100% Made and Sourced in the USA meat dog treats are already being well received."

- Antoine Seailles, Director of Market Strategy
Our vendor portfolio is chock full of brands that, through our incubation process, meet the PFX seal of approval. Helping to expand these offerings to consumers on your shelves invigorates the pet specialty channel for years to come. Beg & Barker fits into our criteria with its rich history and passion for protein that will leave pet parents and their beloved pets asking for more.
Beg & Barker is available in all PFX regions! Talk to your PFX Customer Experience Rep to learn more about how you can bring Beg & Barker into your store.