You may not realize it, but the cleanliness and organization of your store are not the only important things when it comes to the physical state of your store. Layout and design of your retail space plays an crucial role in your customer's journey especially with first time customers. The ultimate goal of a store layout is to guide the customer through the store and expose them to new products. You can use store layout design to influence the buying behaviors of your customers. There are some things in your retail space that cannot be easily moved like doors and registers. So, it's important that you choose the right layout for your store.
There are many contributing factors when it comes to planning your store layout. Depending on the size of your store, the amount of products, and the kinds of products you carry some store layouts may work better for you than others. With a pet retail store you also have to take into consideration store layouts that will work for a customer accompanied by a pet. But before you dive into the details, here are some basic things you can use in your store design regardless of the layout.
Back to Basics
Research shows that there are several behaviors customers frequently engage in when shopping. You can encourage more buying by designing your store layout to accommodate these behaviors. For many of these behaviors you can influence them with these basic elements of store design that can be used in your store regardless of the shape of your retail space.
The Decompression Zone is the first 5' to 15' inside the front door. This area is a transition area for your shoppers. It allows them to transition from whatever is happening in the parking lot to inside the store and allows them to refocus on shopping. Shoppers will step into your store and take a broad sweeping look of your store so things placed in this area will most likely not be noticed so it is important that you don't place key products in this area.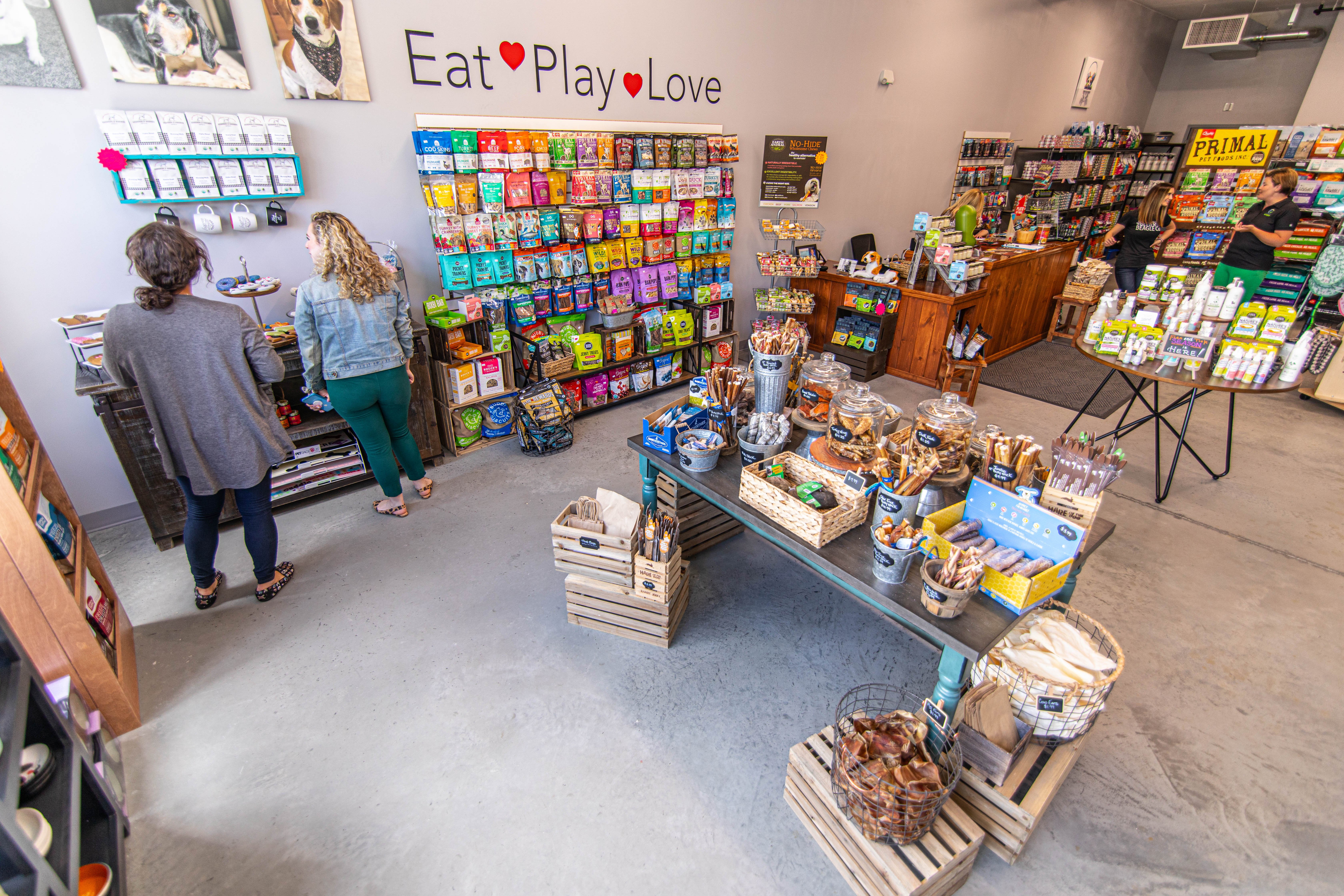 You can see a great example of a Decompression Zone in The Better Beagle Co. They have the good amount of space upon entry before you come upon the first display.A Power Wall is the wall your shoppers will see first, so it is the ideal place to put seasonal items or feature high-profit items. The Power Wall should be just past your Decompression Zone. Studies show that 90% of shoppers will turn right when they enter a store, so it may be best place the Power Wall to the right. However, depending on the placement of your front door and register placing it to the left may work better.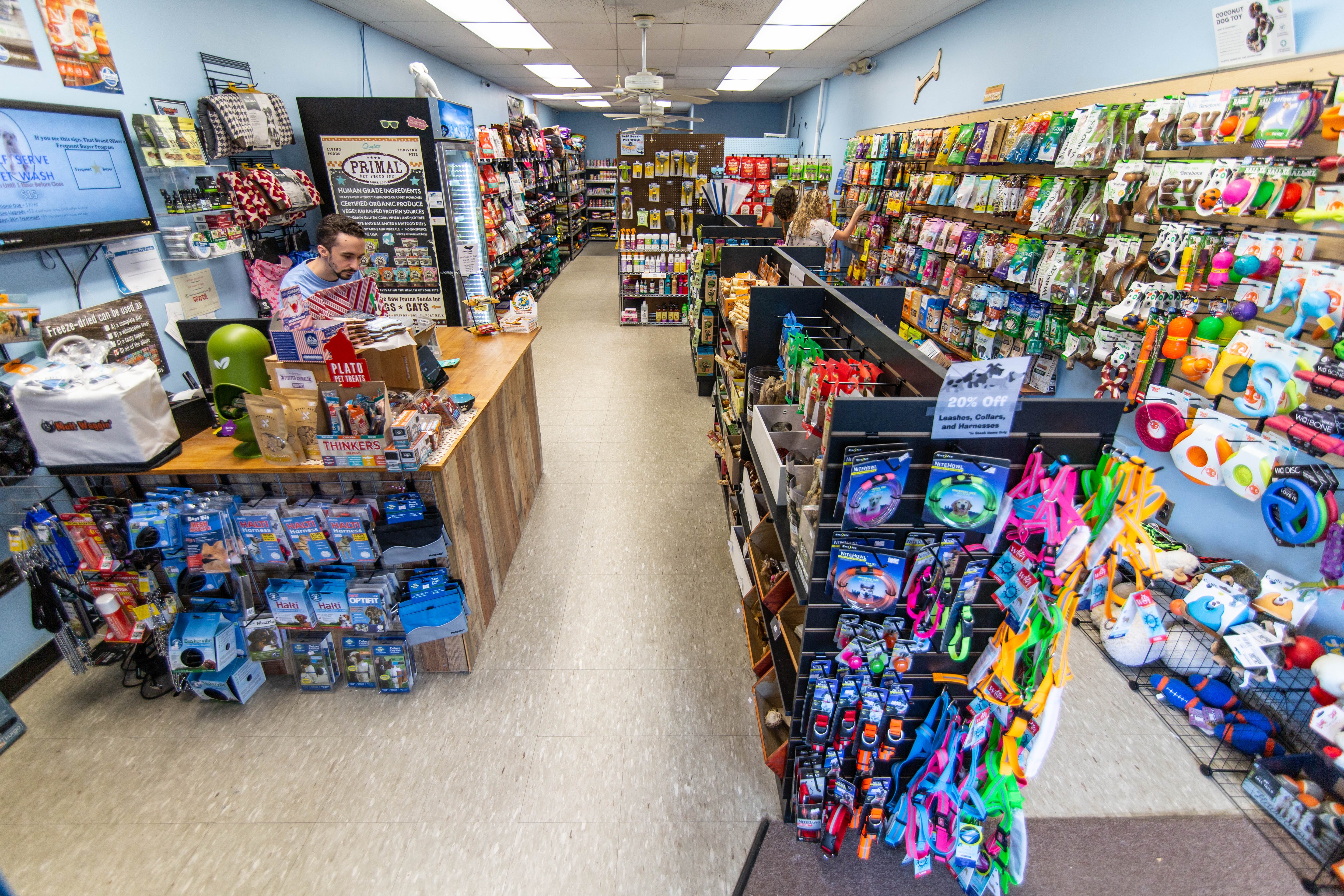 The toy and treat wall shown above in the store Mutt Waggin' is a great example of a Power Wall. Toys and treats are a frequently purchased item by pet parents so displaying them to the right of the door is an excellent way to influence buying behaviors.Speed Bumps are fixtures and displays that will slow down the shopper when they first enter the store. This is another area where you can put seasonal items or even staff picks you may want to highlight. Be sure to rotate items on your Speed Bumps at least once a week.
Pro tip: Slat board four ways and small tables make for great easy to rotate Speed Bumps.
You may think to yourself that there cannot be that many options for store layout, but there is actually quite a few. Let's check out some options to help you figure out the best layout for your store.
On the Grid
This is a very common layout we are all familiar with. Every grocery store, pharmacy and convenience store employs this layout. Merchandise will be laid out in a predictable pattern where customers will weave up and down the aisles as they shop. This style includes fixtures and displays running parallel to store walls.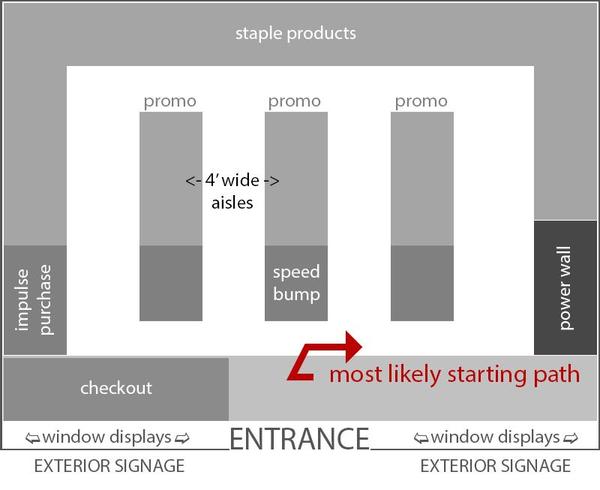 The grid floor plan maximizes the available floor space and allows you to rotate promotions on endcaps to help move product and optimize sales. This is ideal for stores with a lot of merchandise, especially if it's varied merchandise. However, this is a common store layout, so your customers' shopping experience will not be nearly as memorable. If your goal is to create an experience and stand out in your market your store layout can be a crucial part of being successful. If this seems like the best option for your store consider getting creative with your merchandising to make your store stand out from others.
Loop-de-loop
If you have ever shopped in an Ikea store then you are familiar with this layout. The loop layout takes the simplicity of the grid layout and makes it even simpler by creating a deliberately closed loop for shoppers to travel past all the merchandise to check out. If you want to make sure that you get maximum product exposure and high assurance that promotions will be seen then the loop layout would be an excellent fit for you business. The loop layout gives customers no other option but to walk through your store and see everything you have to offer.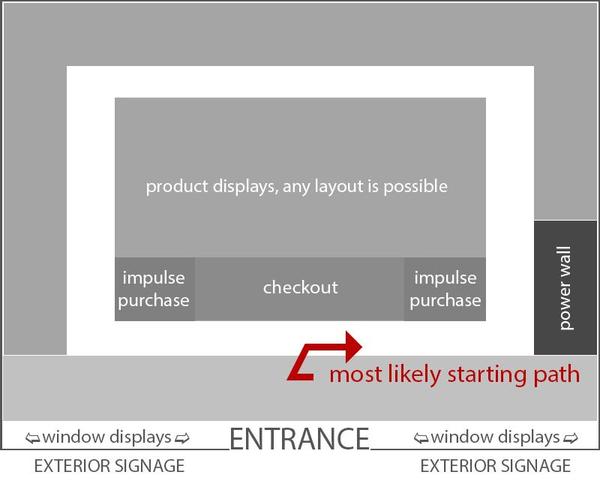 The loop layout creates a longer shopping experience where customers are encouraged to spend more time viewing all the products on offer.However, in a pet retail space you have to take into consideration the four legged companions that customers may bring shopping with them. If you allow pets in your store you may want to consider whether a closed path where a stressed pet cannot avoid other visiting animals is the best idea.
There are other reason this layout may not work for everyone as well. Since this design does not allow customers to browse at will. It may not work for high volume store where customers don't frequently linger and instead come in for what they are looking for and leave. If they are not able to easily pop in and out they may avoid shopping at your store since it is more of a hassle to get to the product they are looking for.
Go With The Flow
Free flow is different from all the other layouts in the sense that it does not intend to direct the journey of the customer in any particular direction. In this layout, the power wall location will remain the same, but from there, there are very few rules to follow. Typically, you will see several small displays or shelving units scattered through the store.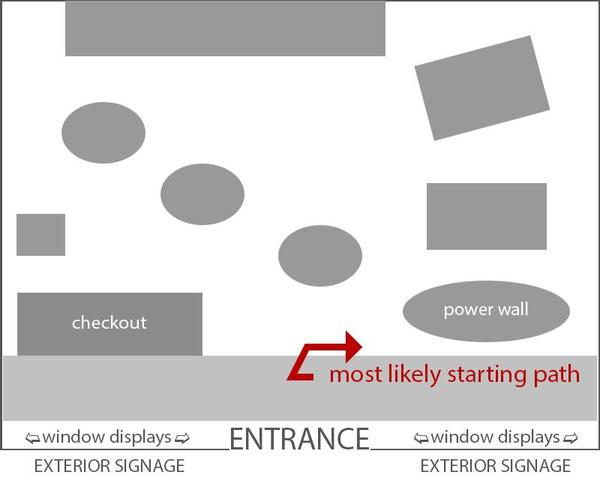 The free flow layout allows you to frequently switch up your product displays allowing customers to have a unique experience every time they shop with you.
This layout is ideal for small spaces because it allows more space between products. This layout is also the one most likely to create an experiential retail space. If you are a more boutique store without a lot of merchandise this can be a great way design for your store. With free flow you can get creative with displays and leave a lasting impression on visitors. However, since this layout design has little to no rules it also leaves a lot of room for error. If your store becomes too 'busy' with displays scattered around this may cause customers some confusion when navigating your store.
Lay It Out
It is important to remember that one design may not be the best, sometimes combining elements of different designs may work better for your store. You could combine loop design with free flow design by making the merchandise section free flow, but the outer perimeter a loop. Lay it out on paper so you can really imagine what it would look like. For many of you changing your store layout may be difficult or impossible, but try making use of the basic elements of store design like Power Walls and Speed Bumps to help guide a customers journey through your store.
If you decide to switch up your layout or add some displays we would love to see it. Tag us on Instagram or Facebook and we'll be happy to give it a like and share!