PAWTUCKET, R.I. — February 21, 2022 — Pet Food Experts announced today the retirement of James Bettencourt, Chief Operating Officer, after over four decades of devoted service effective this month. Effective immediately, William May has been appointed Chief Operating Officer.
The announcement of Mr. Bettencourt's retirement honors his impressive career with the company and remarkable leadership to Pet Food Experts. He first joined the Baker enterprise in 1974 as a clerk, working under his father George Bettencourt at Rumford Aquarium
"There's simply no way to put into words the tremendous impact Jim has made on Pet Food Experts and my family over the years," said Michael Baker, President and Chief Executive Officer. "Jim has brought infectious passion, integrity, and inspiration to generations of PFXers, from warehouse associates to delivery drivers across the country, many of whom are now in key leadership roles across our organization. Pet Food Experts would not be the company we are today without his sweeping knowledge of the supply chain ecosystem and heart for the business," continued Baker.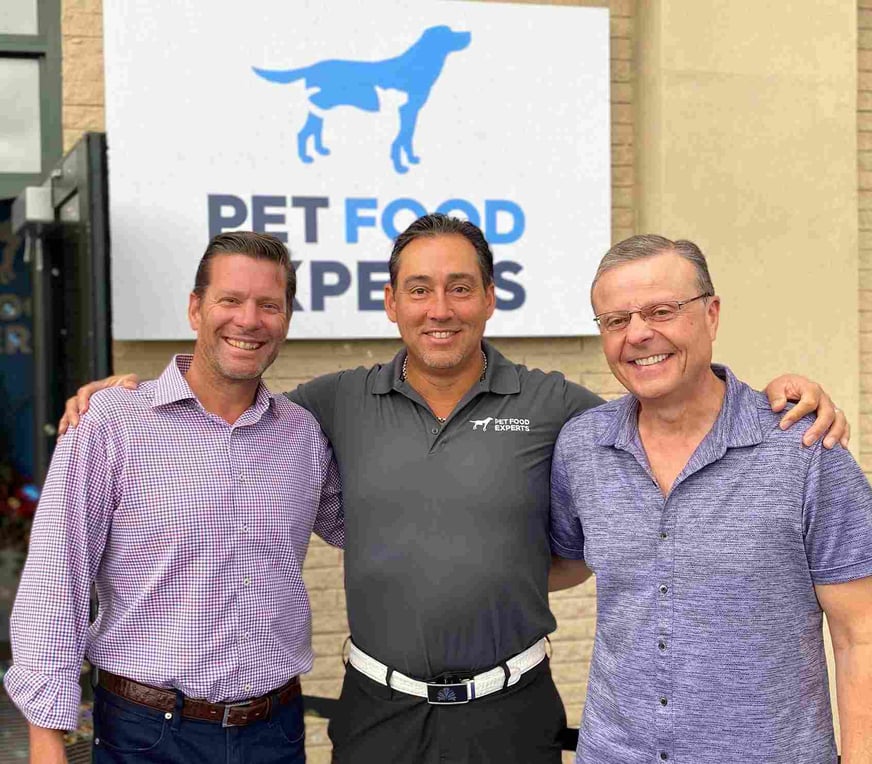 Pictured from left are William May, Michael Baker, James Bettencourt.
Throughout his tenure at Pet Food Experts, Mr. Bettencourt has established a legacy of operational excellence and an unyielding commitment. He spearheaded initiatives to improve and streamline processes within our distribution centers. He implemented the Quality Through People program and onboarded the Lydia Voice Activated Picking Solution, which increased order picking accuracy significantly.
Bettencourt's leadership was vital in the rapid growth Pet Food Experts has experienced over the past two decades. From scouting local real estate in expanded territories to leading training and onboarding of distribution center staff, Bettencourt helped lay the foundation for PFX's several successful acquisitions and expansions. From the first expansion into the Mid-Atlantic in 2011 to most recently in the West Region, Bettencourt played a crucial role in Pet Food Experts' success.
"I've been in the pet industry all my life and decades of it with Pet Food Experts and the Baker family. As I retire, it's easy for me to recall, appreciate, and feel so fortunate to have worked with so many talented, wonderful people. As exciting as it is to start the next chapter in my life, it is equally exhilarating to think of all the opportunities in store for Pet Food Experts and the industry in general," said Bettencourt.
William May joined Pet Food Experts on June 7, 2021, as Vice President of Supply Chain Operations. Prior to PFX, May served in multiple supply chain-related roles with increased levels of responsibility. "After an exhaustive national search, we were thrilled to meet William May. William's life-long experience in supply chain leadership and strong cultural fit made him a perfect candidate to succeed Jim as our COO," said Baker.
"I feel confident in handing off the "baton" to William May, who came to the PFX family with a high level of expertise; he will continue to provide the leadership necessary for our continued success and operational excellence," said Bettencourt.
"I am deeply honored to have the opportunity to succeed Jim and lead Pet Food Experts on the next phase of our important journey to becoming a dominant national player in pet specialty distribution," said William May. "Never before has our mission been more clear. Together with the Pet Food Experts' leadership team and the entire PFX family, I will work to build on the strong foundation Jim has put in place. I am highly confident about our company's future and look forward to further accelerating the value we bring to our customers and vendors."
About Pet Food Experts
Pet Food Experts (PFX) has been putting people first for over 30 years. PFX has grown to be a leading distributor of pet food and supplies, partnering with 6,500+ pet specialty retailers in 38 states across the U.S. PFX is an award-winning, relationship-driven service innovator offering best-in-class customer experience and delivering long-term success for its partners and industry at large. Learn more at PetFoodExperts.com, Facebook, Instagram, Twitter, LinkedIn, or company blog.