"Multi-laminate packaging" its a term you may or may not be familiar with, yet it is a very big part of your life. This term can be used to describe most if not nearly all of the packaging we see on pet store shelves. Although this packaging looks sleek, is eye catching on the shelf, and better protects product from being damaged during shipping, it is also much more difficult to recycle. So, what exactly is multi-laminate packaging? And how do we deal with its negative impact on the environment? Well, it just so happens that there is a new pilot program, finally rolling out in early August that aims to help consumers (and pet stores!) make a big impact when concerned with the issue of recycling in the pet industry. Let's take a look at what to expect!
To begin, I wanted to touch upon how multi-laminate packaging plays a role in my life and the life of my four-legged companion.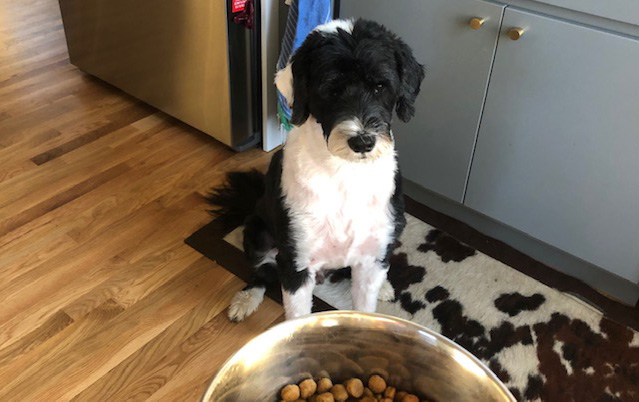 When I open that 27 lb bag of dog food, my pal Ike struggles with containing his excitement. The "who's a good boy?" upright sit, ears perked, eyes focused, dedicated stillness until the bowl is on the ground and an "OK!" releases him to eat. This ritual happens twice a day and never fails to make me smile, but the unfortunate news for our oceans, streams and landfills is that Ike's magical source of joy comes in a pouch that is not currently recyclable.
However, this is not a problem with just Ike's brand of dog food. Truth is, most pet food and treats comes in multi-laminate packaging. Which is why a recycling solution for this specific material is so important.
The Facts About Multi-laminate Packaging
Multi-laminate packaging has become ubiquitous in pet food (indeed, human food too!), because it does the job exceptionally well: it is lightweight, durable, can be sealed, can include clear windows for consumers to view the product and it doesn't rip if you drop the bag. For brands and manufacturers, nothing competes when it comes to getting their products from the manufacturing facility to the consumer without damage. Not to mention, it just looks great!
However, it is estimated that 300 million pounds of multi-laminate packaging are generated by the pet industry in the US alone each year, and the number is increasing as pet ownership rises.
In addition to clogging landfills, multi-laminate packaging is made from a non-renewable resource: plastic. A 2019 research study conducted on behalf of Only Natural Pet by the Pet Sustainability Coalition and Eco-Cycle, one of the country's most respected recycling and zero waste think tanks, describes multi-laminate packaging as "currently a linear system: from design to consumer to the dump."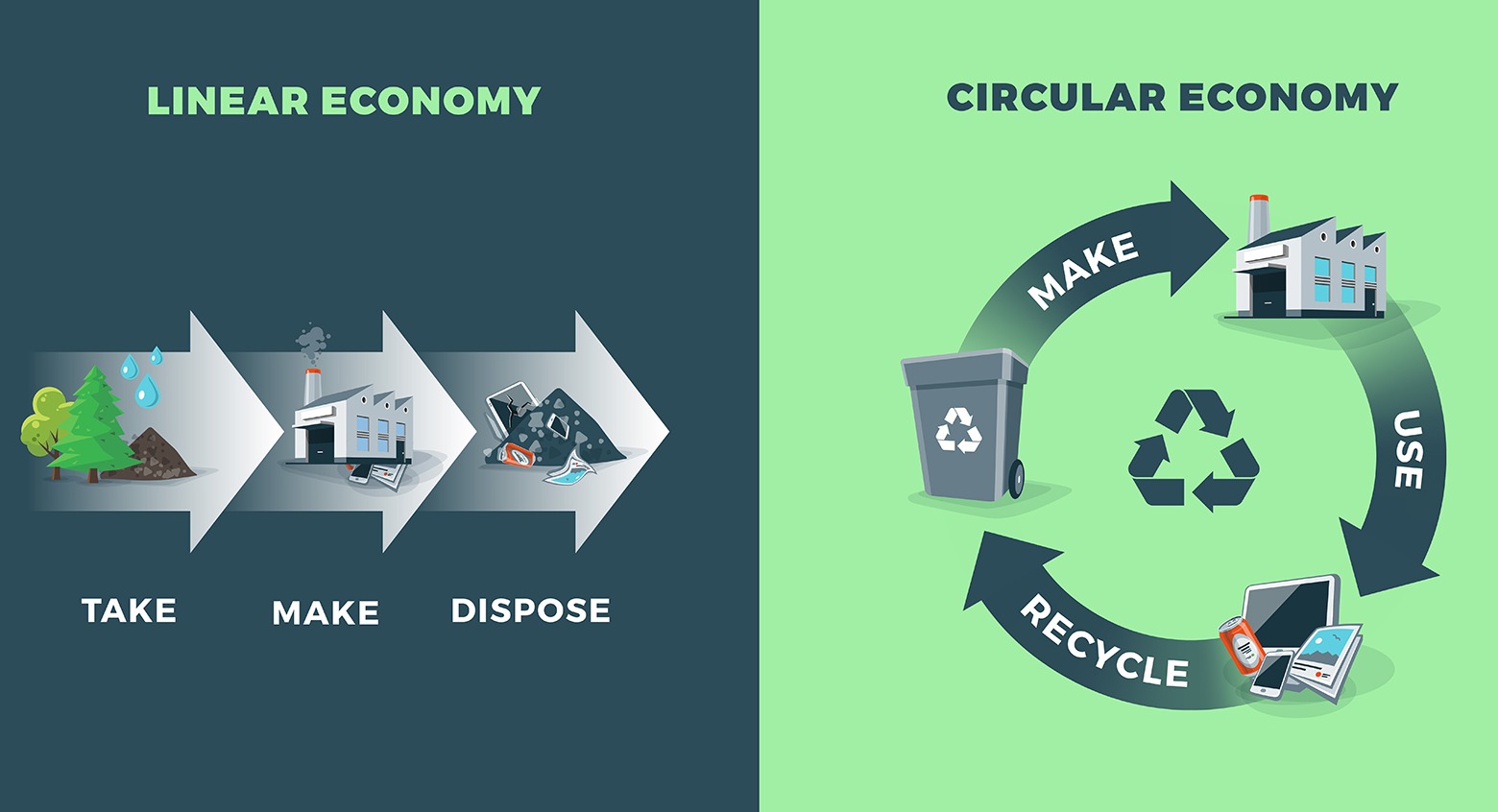 Mono vs. Multi-laminate Packaging
In my previous blog post, What Retailers Need to Know to Up Their Recycling Game, we discussed the recyclability of "mono-material" bags, which are constructed with only one material (most typically polyethylene). Think, plastic shopping bags. Although rarely accepted in municipal recycling programs, mono-material bags and packaging are recyclable in drop off receptacles found at large chain stores and grocery stores.
Multi-laminate or multi-material packaging, on the other hand, is just what the name implies: there is more than one type of material in the packaging.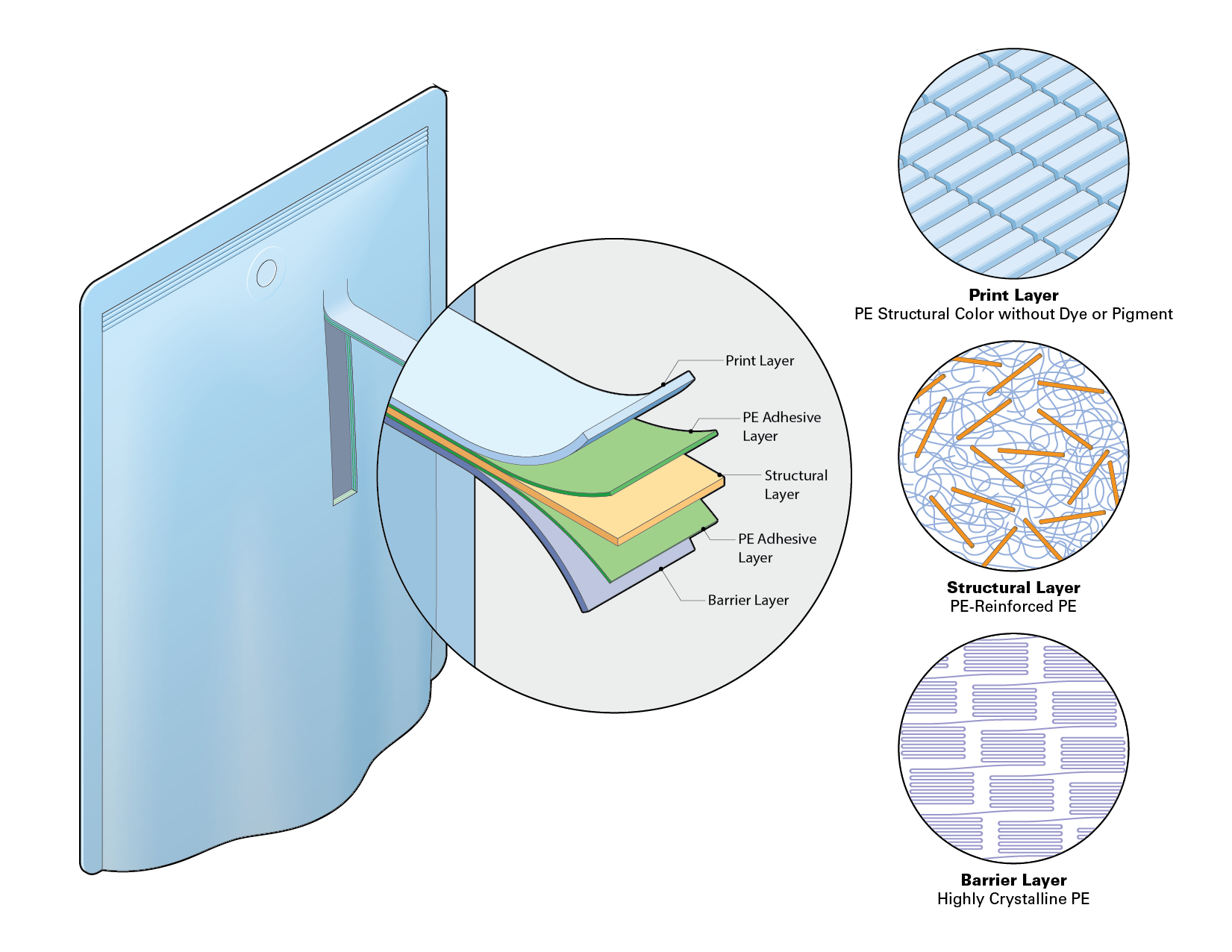 Each layer plays a key part in the packaging needs of the product, from freshness to strength, moisture to rigidity and print. The layers are not compatible with each other when mechanically processed or melted.

A study by the Sustainable Packaging Coalition outlines, the complexity of separating these materials is challenging for recyclers.
"Current compositions of multi-material flexible packaging vary from three layers up to nine. Because there is no standard composition, and different resins are utilized across the various layers, there is no existing program anywhere across the globe to provide for the public recovery of these materials."
You may ask, If we can put a man on the moon, why can't we recycle multi-laminate packaging?
Good question! In fact, the technical and engineering expertise to recycle multi-laminate packaging does exist, but not in commercially viable ways today. Some private recycling centers have the means to mechanically or chemically recycle multi-laminate packages, but the key phrase in the SPC's report is "public recovery." Basically, with today's technology, the costs of this recycling method far outweighs the value of the end product.
Recycling Requires An End Market
All recycling depends on an end market. That's right, recycling is a business and the commodity is subject to the simple laws of economics: supply, demand, and of course, profit. Recyclers must have the ability to sell the recycled material for more than the cost of what it takes to complete the recycling process.

"There is a future for the recovery of multi-material flexible packaging," says the Sustainable Packaging Coalition, "but significantly more investment, research and innovation is required. Long term viability will be dependent upon the development of viable end markets."
Researchers, investors and others dedicated to fostering a circular economy are intently focused on finding viable recovery options for multi-laminate packaging. Organizations like the Sustainable Packaging Coalition and Closed Loop Partners have provided funding and awards for research around flexible packaging recovery processes, but more is needed.
Enter Flex Forward!
Earth Animal, Pet Food Experts, and the Pet Sustainability Coalition have all embarked on an ambitious journey to launch a return-to-retail program to help drive innovation in sustainable packaging solutions in the pet industry. This program is aptly named, Flex Forward.
Flex Forward brings together consumers, retailers, brands, packaging suppliers and recyclers in a major collaboration to reduce the impact of multi-laminate packaging. The program will collect 5,000 pounds of post-consumer plastic packaging over 3-4 months in select independent retail locations serviced by PFX. The program is brand-agnostic: meaning consumers can return packaging from any pet food and/or treat bags (excluding raw food).
PFX will collect and transport the bags using reverse logistics to minimize carbon impact. Thanks to generous sponsorship from Earth Animal, retailers who participate will incur no costs and will be provided with everything they need, including a collection vessel, retail associate training, digital content, incentives, and consumer support to ensure they bring their packaging back to the store. PFX will collect the full receptacles during regularly scheduled deliveries and ship the collected packaging to a recycler. A private recycler will then grind the packaging into pellets with the intent of upcycling it into new pet products.
To complete the circle, two members of the Pet Sustainability Coalition who specialize in making sustainably manufactured pet hard goods, West Paw and Moderna, have agreed to experiment with the recycled pellets to make specially designed products, which post-manufacturing will be donated to animal shelters and rescues nationwide.
The Flex Forward pilot is currently focused on stores in PFX's network in the Pacific Northwest region, and is scheduled to commence on August 3rd, 2020. After logistical and operational processes become seamless in the smaller scale pilot, Flex Forward will digest the learnings and be in a position to pursue opportunities for scaling the program nation-wide.
How You Can Be A Part Of The Solution
Retailers and consumers have the power to be part of solutions to the challenge of multi-laminate packaging. Here are some suggestions:
If you are a specialty pet food retailer in the Flex Forward pilot territory, please sign up! And if you are a retailer working with PFX outside of the pilot territory, add your store to our expansion list.
Join or donate to The Pet Sustainability Coalition so that we can continue to advance major industry-wide initiatives like sustainable packaging. PSC is a rapidly growing nonprofit organization that helps brands, businesses, manufacturers, suppliers and retailers throughout the pet industry improve their environmental and social performance.
As retailers, scrutinize the practices of the brands that you carry and choose your brands wisely. Is the brand a member of the Pet Sustainability Coalition? Choose brands that are actively collaborating on solutions to complex sustainability issues.
Help create demand for recycling by buying products that include or are made out of recycled content.

Flex Forward is an important endeavor to help advance the major challenge of multi-laminate package recycling in the pet industry. Partners in the collaboration and all organizations that care about sustainable packaging will learn more about the roadmap toward sustainability in flexible packaging through this program. You can be a part of this change by taking some of the actions listed above!