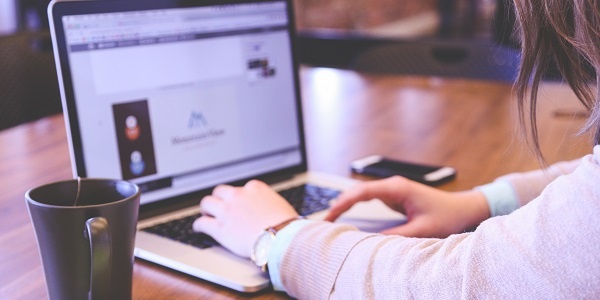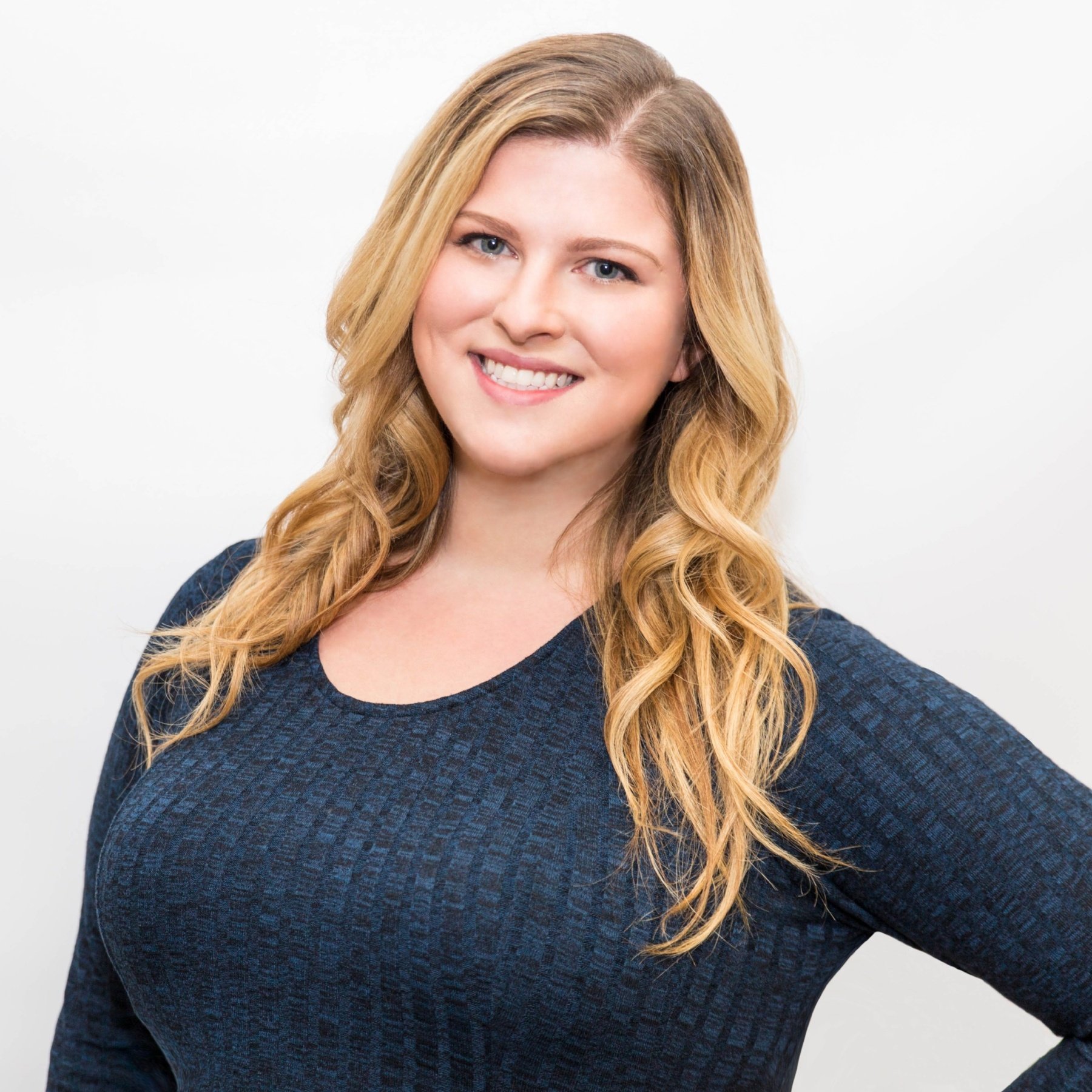 A Retailer's Guide to Facebook Advertising
If you're tired of your Facebook posts reaching a limited number of people, you're not alone. Organic reach for businesses is at an all time low, but luckily the social media website offers a powerful tool to change that: Facebook Ads. This platform gives small business marketers a louder voice and a chance to break through the clutter that fills up our news feeds, conveniently located on a website that we all use every day.
Why Should I Advertise on Facebook?
With over 1 billion active users, Facebook gives small businesses a unique opportunity to easily acquire new customers in the community and retain current clientele. By using their targeting features, retailers can ensure that the ad is reaching those who will most likely shop in their stores. This cost effective advertising method costs less than other online marketing channels, resulting in a higher return on investment compared to other marketing tactics
How Does Facebook Advertising Work?
When a Facebook ad is created, it will show up on a News Feed and looks like an ordinary post—the only difference being the word "Sponsored" under the name of your store and a call-to-action on the bottom right of the advertisement.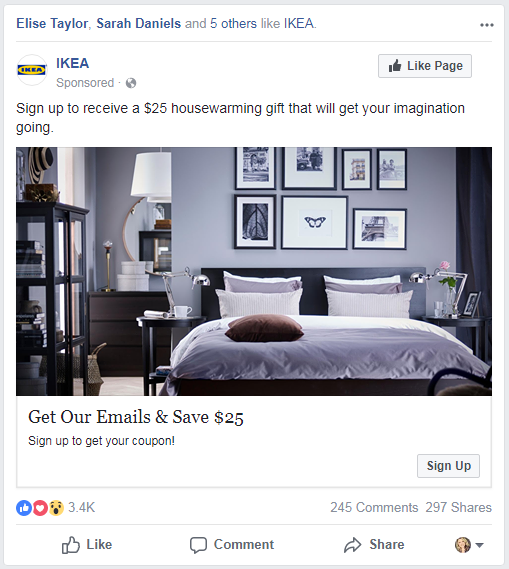 These ads blend in seamlessly with other posts in the News Feed, making it easy for your target audience see the ad and learn more about what your business has to offer.
How Do I Create a Facebook Ad?
The Facebook Ads Manager makes it easy to create your own advertisement for your pet store. Create your ad by selecting "Create Ads" from the drop down in the top right corner of your Facebook home page.

Step 1 — Selecting Your Marketing Objective

marketing objective. What do you want to accomplish with this ad? Facebook offers three silos of marketing objectives that make up the Buyer's Journey.
Awareness generates interest in your product or service.
Considerations get people thinking about your business and searching for more information.
Conversions encourage people interested in your business to purchase your product or service. There are ten types of advertisements broken down by each stage.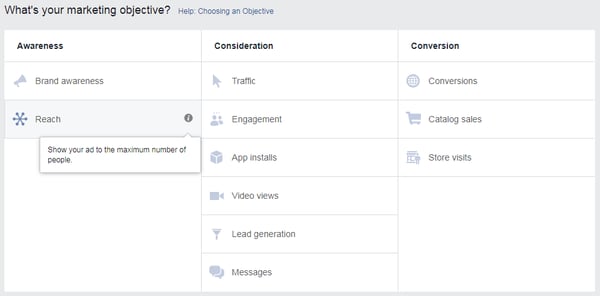 Tip: Hover your mouse over the "i" next to each objective to learn more information about each advertising option.
For your local pet business, you will want to primarily focus on building brand awareness, reach, traffic, engagement, and store visits.
Step 2 — Defining Your Target Audience
Once you've selected your objective, it's time to find the right target audience for your ad. This is critical to a successful campaign and will define whether your ad is effective or not. It's beneficial to refine your audience as much as possible, and for your small business, you'll want to focus on your local community.
You can condense your audience based on age, gender, languages, and even dig a little deeper by selecting specific demographics, interests, behaviors, and more under "Detailed Targeting". Finally, you'll use the "Connections" feature to reach people who have a specific kind of connection to your page.
Step 3 — Setting Up Your Budget and Schedule
For your Facebook advertising, you'll need to decide how much you'll spend either daily or over a lifetime. Facebook ads are significantly less expensive to run compared to traditional advertising methods, making them a perfect fit for small business owners.
You can schedule to run your advertisement continuously or within a start and end date, depending on the type of ad you are running.
Step 4 — Designing Your Advertisement
Here's the fun part! You advertisement will be the face of your business on this social media platform and will be a first impression for many consumers. Creating a clean, easy to understand ad is crucial to the success of your campaign.
You will choose from four different formats for your ad: a carousel of images, one single image, a video, or a slideshow.
Tip: When choosing an image the recommended size is 1200x628 pixels. You can either upload your own or add one from the free stock images that Facebook offers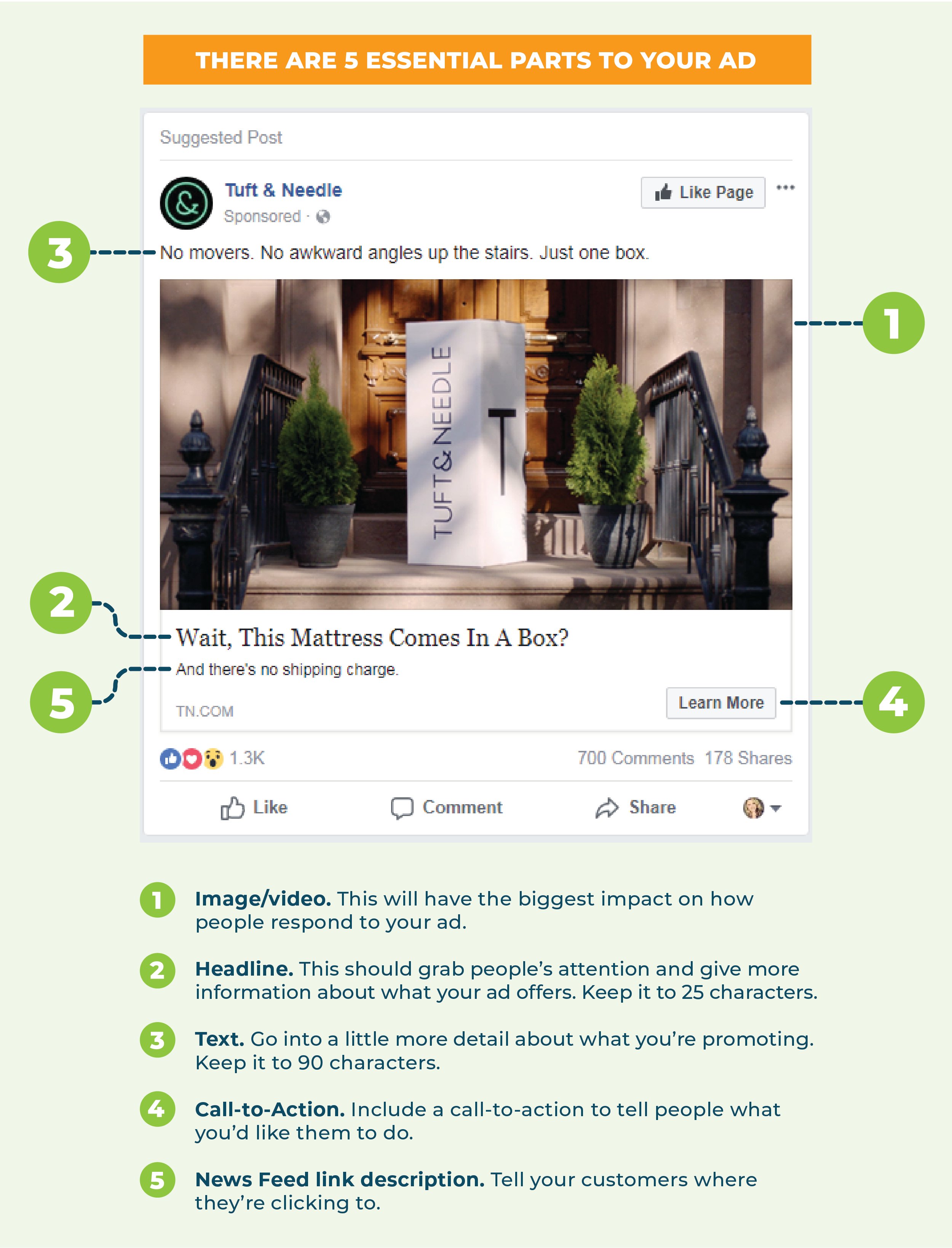 Once you've designed your ad, you'll be able to preview it before purchasing. Don't forget to add your website URL!
Step 5 — Analyzing Your Advertisement
Once your advertisement is up, you can analyze its performance using Facebook Ad Reports. There is a wealth of data you can filter through to find out what's important for you to measure. Columns show things such as performance, engagement, and clicks. Breakdown shows results by age, location, video view, type, or day, etc.
Checking your ad's analytics is important to learning what worked or didn't work in your ad. Periodically testing and switching up your ad's copy, offers, and photos is helpful to achieving the best results from your investment. This refresh with new creative will help you find out what tactics align best with your store and ensure success with Facebook Ads in the future!
For more information about getting the most out of Ads Manager, visit Facebook's Advertising Help Center.
About Holly Everett
Holly has written over 100 pet-related blogs for Pet Food Experts. She has leveraged her marketing knowledge, and love of pets to share the latest in product, industry and Pet Food Experts news, as well as tips to help our retailer partners grow their business. When she's not working, you will find her spending time with her friends and their dogs, cuddled up on her couch with her cats watching her favorite TV shows or reading about the latest news in marketing, pop culture, and the pet industry!