According to a 2022 study, end caps and other secondary displays account for an average of 40% of store sales. For a fun-in-the-sun display, focus on travel beds, water sports, leashes, harnesses, themed summer flavor treats, and of course, your freezer section.
Once your display is set up, tie it together with a themed sign. You can advertise a discount on summer products for the remainder of the season, advertise a buy-one-get-one offer, or feature hot new items. Use a free Canva template and add your logo or display a sign you already have created.
Pro-tip: Share your new display on social media or your website, and prep your team to talk through the products with pet owners in your store. It's best to attack any special promotion from all angles to get the best result.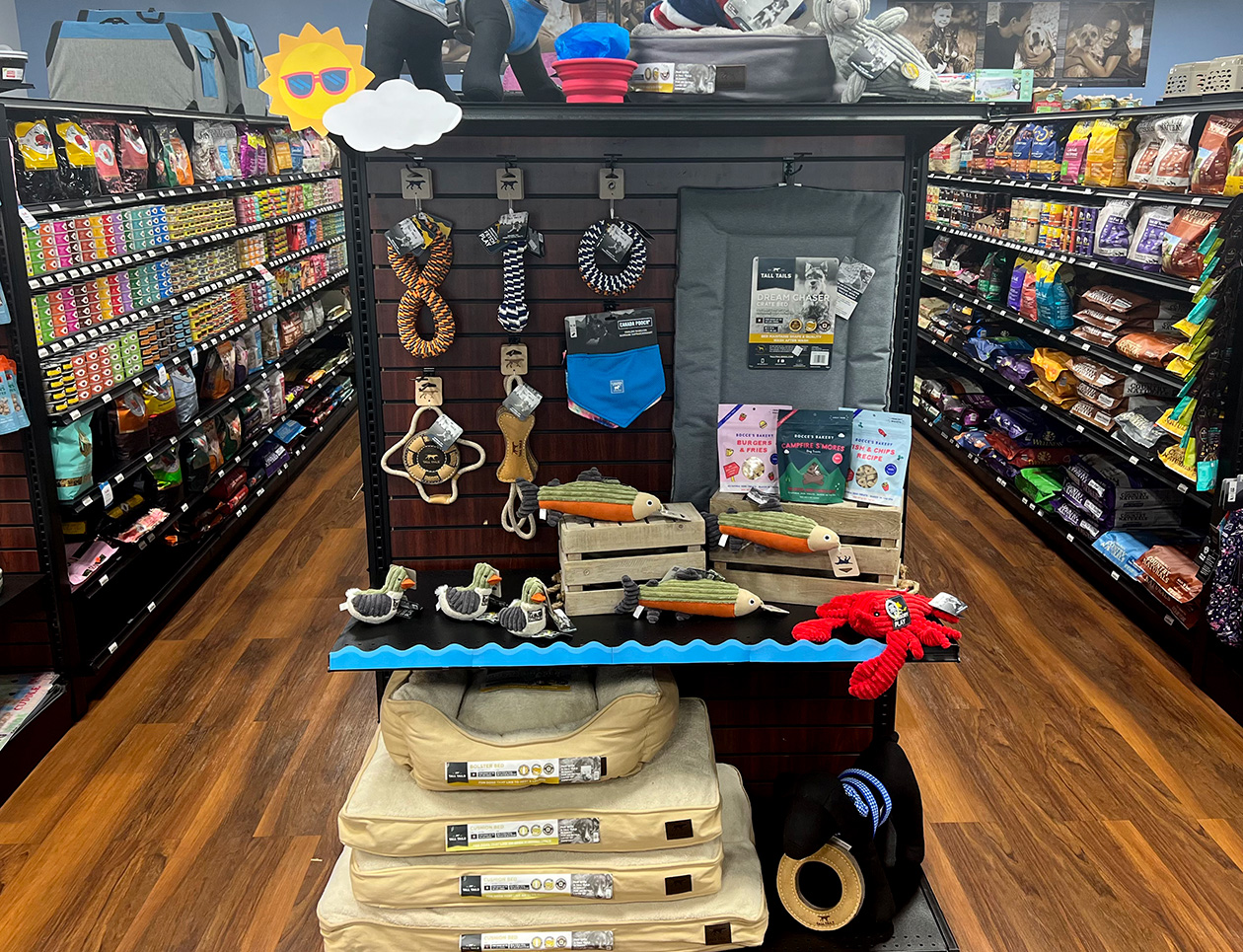 Image caption hereCheck out this amazing end cap: It highlights some summer-themed treats (campfire s'mores flavor!) and Tall Tail's crate beds, which are great for summer travel.
To help you get your wheels turning, we rounded up some of our favorite products that are specifically designed for versatility, portability, and cooling down on hot summer days. Taking your dog on a road trip? We've got you covered with Tall Tails crate beds. Need to stock your freezer section? Check out Nugget's Healthy Eats and The Bear and the Rat frozen treats. Summer is a great time to focus on warm-weather-specific pet supplies and share them directly with customers looking to keep their pets cool and happy.
Increase Your Average Ticket with Tall Tails Crate Beds
Tall Tails has created the perfect crate bed made for use anywhere, and everywhere you and your dog are headed and make for a wonderful add-on to an existing crate sale. Available in five sizes from small to XX-Large, they're made from Oxford fabric for a cooler sleep surface. These crate beds can be used on their own as a comfy spot to curl up or placed inside of a crate for travel. Bonus: They're fully machine-washable for easy clean-up after a hike or beach trip!
Tall Tails crate beds have a warm-weather specific design but can also be used in colder temperatures by simply flipping the bed over to the plush side. Typically thought of as a cold weather item, bed sales can drop in the warmer months. With Tall Tails Deluxe and Classic dog beds, you offer a versatile product that meets any adventure needs!
Stay Cool & Healthy with Nugget's Yogurt Treats
Humans aren't the only ones with an 'ice cream everyday' mindset in the summer. Nugget's Healthy Eats offers made-from-scratch, low-fat Artisan Yogurt cups that are made with milk from healthy, happy cows who are hormone and antibiotic-free and grass-fed. Pop them out of the freezer or into a cooler for the perfect post-park treat.
Frozen treats and food are rapidly gaining popularity in the pet industry, so maximize your freezer! Be sure to display clear signage for where these items can be found in your store, and consider how the shelf within your freezer section is stocked.
Refreshing Frozen Yogurt from The Bear and the Rat
The Bear and the Rat (named for a Lhasa Apso who growls like a "Bear" and his brother from another mother, a "Rat" Terrier) make frozen treats for dogs and cats that are good for the gut. Each cup contains one serving of prebiotics and digestive enzymes for healthy bellies. They offer fun flavors like bacon and peanut butter, pumpkin and cinnamon, and goat milk with coconut.
Putting these items on sale during the warmer weather is a great way to drive sales. Consider offering free samples with a discount at purchase or host an ice cream social with toppings you'd find in your store with a coupon that can be used for later.
Now is a great time to expand your inventory or revisit what you purchased back in the spring for a fun summer sale. However you choose to set it up, a colorful, summer-themed display is a great way to grab shoppers' attention, boost sales, and move products during the final months of the summer. In fact, according to a 2019 study, 40% of shoppers remember fixating on the end caps so don't waste that display space!
Take advantage of exclusive PFX deals for any of the products listed above by contacting your PFX Customer Experience Representative or chat live with us. Stay cool out there! 😎