Ziwi's story starts in the green, free-range farms and blue, pristine Southern oceans of New Zealand. They want this beautiful corner of the world preserved for the future, that's why they choose to only source from sustainably and humanely managed local farms.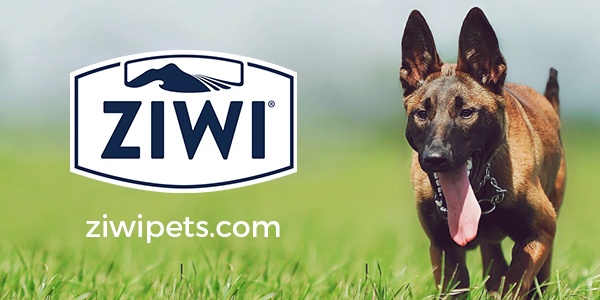 Born of love. Crafted with goodness. Made in New Zealand.
What does this mean for pets? It means the cleanest, purest, most natural ingredients in the world, benefiting your pet for a long, happy, healthy life.
All ingredients are sourced from humane, ethical and sustainably managed local farms that exceed the strict New Zealand government regulatory standards.

New Zealand has a temperate climate which allows Ziwi to use only animals that are free ranging, and grass fed, all year round.

New Zealand is an island nation with strict bio-security and there are no infectious animal diseases such as BSE (mad cow) or foot and mouth disease.

All of their meat and seafood ingredients are sourced from human grade, export certified facilities.

They are proud to have over 95% fresh meat, organs, bone and seafood in each Ziwi air-dried product.
Ziwi is proud to be 100% family owned by New Zealanders.

Image: Ziwi Pets
Dogs and cats are carnivores and thrive on meat, not allergy inducing, low cost fillers such as grains, corn, potatoes, wheat and rice. That's why they include organs like heart and lung in their food because that is what a dog or cat eats when they catch their prey in the wild. The first seven or eight ingredients, which constitute over 98% of the total recipe, are fresh meat, organs, bone and seafood.
Each recipe is air-dried in small batches in their own facility in New Zealand to naturally preserve meats. Their modern method stays true to this artisan approach, while eliminating the need for artificial preservatives, sugars or glycerines. The slow, gentle, twin stage air-drying process crafts a food that is as nutrient-dense and digestible as a completely raw diet but safe and clean to handle.
Ziwi is available for our customers in all four territories. If you'd like to learn more about Ziwi, contact your Pet Food Experts sales rep today!