When winter snow and ice arrive many people use ice melter to prevent slips and falls. Did you know that most ice melters contain salt that can harm pets, children, and the environment? Before the winter weather hits, stock up on Safe Paw, the only pet safe ice melter on the market!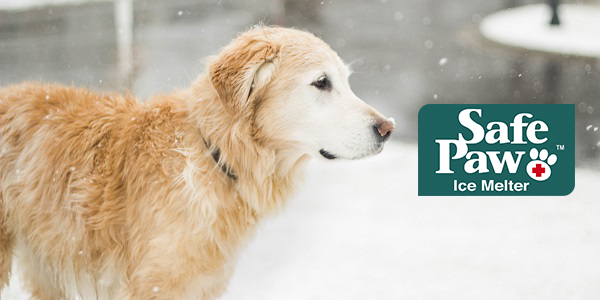 What is Safe Paw?
Safe Paw is an ice melter proven 100% safe for pets, children, all surfaces, and the environment.
How does Safe Paw differ from other ice melters?
It is unique in its compound and benefits without utilizing any salt as an ingredient and gives off no heat to melt ice. Safe Paw is a patented dual-effect compound, made up of crystalline amide core infused with special glycols. This non-corrosive composition gives Safe Paw a two-way timed-release action. The liquid component starts melting ice instantly while breaking its surface tension. This allows the crystal-core to quickly penetrate and destabilize the ice and speed up the melting process. Safe Paw actually attracts heat to make it even more effective but does not give off heat.
What makes rock salt and ice melters containing salt dangerous for pets?
Exposure to salt and salt-based ice melting products, a common occurrence, can cause dogs severe dermatitis, inflammation of the paws and serious gastrointestinal problems including vomiting and internal burns of the mouth and digestive tract. When dogs eat the snow, many of the ice melt products sit on the surface of the ice. Dogs either ingest these ice melt pellets or they get frozen into their paws, and later when they are inside with higher temperatures, the ice melts and dogs begin to lick their paws. The salt can heat up as high as 175 degrees and not only burn their skin, but their mouth and digestive system.
Safe Paw is available for our customers located in our Northeast, Mid-Atlantic and Midwest territories. Contact your sales rep today to stock up on Safe Paw and keep your customers happy and healthy this winter!