Nearly two years ago, the Pet Food Experts home office team of 85 people moved into a newly renovated office space in Pawtucket, Rhode Island; the home of the industrial revolution, the downtown area of the city is now undergoing a major revitalization. Now, over 100 members of the Pet Foods Experts team travel to Pawtucket Monday through Friday to help our independent pet retail partners succeed. With the purchase of the Blackstone Valley Visitors Center building on Main Street, across the street from historic Slater Mill, Pet Food Experts invested in the City of Pawtucket, and we are happy to call the city "home".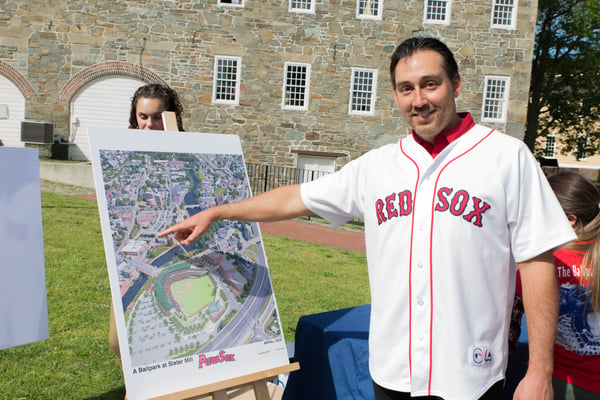 On May 16th, the Pawtucket Red Sox, Triple-A affiliate of the Boston Red Sox, and the City of Pawtucket announced a proposal to keep the "PawSox" in their home city by building a new stadium on the Blackstone River, within eyesight of the Pet Food Experts home office. Above, CEO Michael Baker points out just how close our office would be to "Ballpark at Slater Mill", the potential new home to the PawSox. As a part of a larger downtown re-development project, the new stadium would join Pet Food Experts as key organizations supporting the revitalization of the city. "It will be more than a ballpark," said PawSox Chairman Larry Lucchino. "It will be a city park, open year-round. It could have football in the autumn, hockey in the winter, concerts in the summer, and joggers every day when the team is out of town."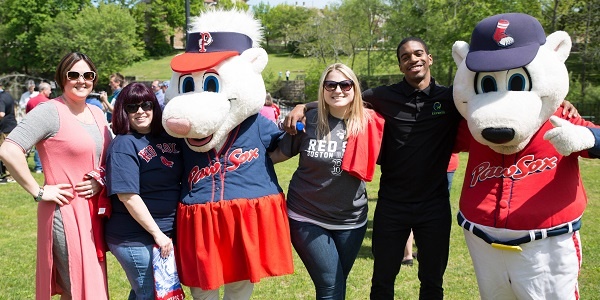 The Pawtucket-based Pet Food Experts team joined the owners of the PawSox, city and state officials, and members of the community at Slater Mill for the official announcement. The team is thrilled about the possibility of the PawSox stadium being located within walking distance of the office. "I recently moved to Pawtucket with my four-year-old daughter and it would be awesome to have another beautiful park in Pawtucket to take her to. I'm glad the team plans to stay in Pawtucket and help the city thrive," said Lisa Kamp, Northeast Key Account Representative (pictured above, second from the left, with Northeast team members Melissa Cameron, Kelsey Moan, and David Holliday).
Eileen Wilmarth, Director of Marketing (pictured below with a "Pawtucket is Home" shirt), grew up in Pawtucket and is hopeful that the Ballpark at Slater Mill will be approved by the Governor of Rhode Island and the State Legislature. "Pawtucket will always be 'home' to me and I'm happy that the PawSox organization, which is an important part of the community, feels the same way."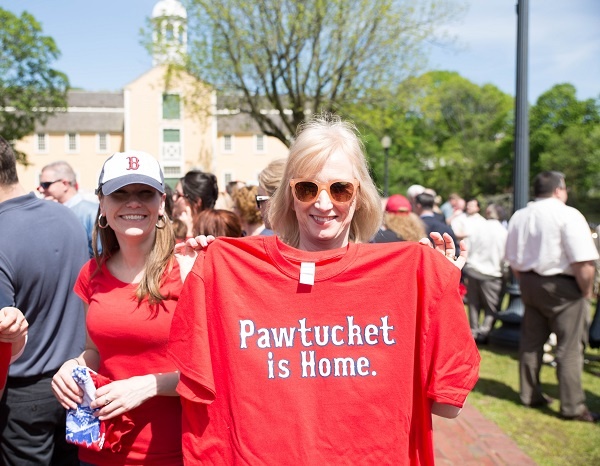 Click here to learn more about the Pawtucket Red Sox and their commitment to Pawtucket!